Ariel Sharon Dies at 85; Influential Ex-Israeli PM Passes Away After Long Coma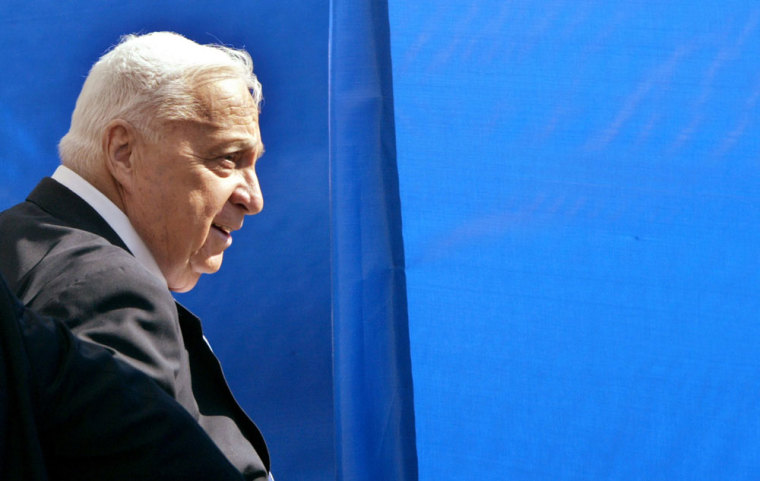 Ariel Sharon, the influential former prime minister of Israel who had a hand in many of the country's most defining events, died Saturday at the age of 85 at a hospital in Tel Aviv. He passed away after eight years in a coma after suffering a debilitating stroke that left him comatose.
Sharon's long political and military careers encompassed some of the most historic events in Israel's history and shifted the country's foreign policy toward its Arab neighbors. Serving as a major general, Sharon was credited for Israel's stunning win against the armies of Egypt, Jordan and Syria in the 1967 Six-Day War that resulted in Israel occupying most of the Sinai area. Sharon is considered one of the country's greatest military strategists and field commander.
In politics, Sharon was responsible for ordering the withdrawal of Israeli settlers from Gaza in 2005, which stunned many people, especially Israeli, because he was a Zionist who believed that Jews must defend the land connected to their history and culture, and not be overly dependent on outside forces.
But Sharon, who left the Likud Party to form the Kadima party to support his position of withdrawal and formation of a Palestinian state, had said earlier in 2001 that, "I can talk and look in the eyes of the citizens of Israel and convince them to make painful compromises."
It was under Sharon that part of the 450-mile barrier that separates Israel from the West Bank was completed. This barrier served as an outline for the future Palestinian state.
The seemingly unstoppable Ariel Sharon who led Israel with confidence and strength then suddenly was struck by a stroke in January 2006 while serving his fifth year as prime minister. Despite his sudden vacating of the seat, Sharon's party still won the election in March 2006, and Ehud Olmert, his former deputy, became prime minister.
In 2009, Sharon's former Likud Party regained control and political opponent Benjamin Netanyahu took control. Netanyahu, whose party had strongly opposed Sharon's policy to disengage from the Gaza Strip, surprisingly also announced that he supports creating a Palestinian state neighboring Israel.
Sharon, whose nicknames – from admirers and critics – include "The Bulldozer," "the Butcher of Beirut," "The King of Israel," and "The Lion of God," spent the years after his incapacitating stroke in the hospital with little consciousness.
Ariel Sharon, whose birth name is Ariel Scheinerman, was born on Feb. 27, 1928 on a farm called Kfar Malal, a short distance north of Tel Aviv. His parents emigrated from Russia and his maternal side was wealthy but had to flee the country during the Russian Revolution. His father was a Zionist youth leader, and at the young age of 10, Sharon also joined the Zionist youth movement named Hassadeh, and by age 14, he joined the Gadna, a paramilitary youth battalion. Later he joined the Haganah, an underground Zionist paramilitary force and the precursor to the Israel Defense Forces.
"He was not an ideologue; he was a political architect," explained Raanan Gissin, a close aide to Sharon, according to The New York Times. "As a military man he knew one thing from the battlefield – you have to seize the initiative, you have to be the one driving the action. Even if peace was impossible, he wanted the process seeking it to be on his terms. And while he was in power, it was."