Ariz. Business Owner, Children Receive Vile Death Threats Over SB 1062 Support
A local business owner in Gilbert, Ariz., has received numerous hate emails for her support of S.B. 1062, a religious freedom bill that has been lambasted as "anti-gay" by media outlets.
"Die you ----. And I hope your children die too. You hateful ---- demon," the email declared. "We're not going to reveal the words other than to say they were extremely vile and derogatory terms that have no place in public discourse," said Joe La Rue, legal counsel with Alliance Defending Freedom. The family contacted ADF, which then reviewed the emails and determined that they are authentic, La Rue told The Christian Post in an interview on Thursday. He also mentioned that ADF and other groups have received similar threats.
La Rue explained that in "the early days" when Senate Bill 1062 was being debated in the Arizona State House and State Senate, many business owners voiced their support of the bill – which was vetoed by Gov. Jan Brewer this week. The business owners wanted to defend their faith and the beliefs of their employees from government discrimination, the lawyer said. Furthermore, some insisted that the bill would draw further business to Arizona because people want to do business in a state that respects religious freedom.
A Media Firestorm
"When the hysteria broke, the business owners realized they needed to go underground for their own safety," La Rue told CP. He argued that, contrary to many media reports, the bill is not "anti-gay" and would not have allowed egregious attacks on people based on skin color or sexual orientation.
La Rue explained that S.B. 1062 opponents "said the bill would allow people to deny services because of their skin color and to kick gay people out of restaurants and deny them medical care." The attacks generated a firestorm of anger because "Americans don't want to see that happen to people." But La Rue insisted that "the bill itself does nothing like that."
In 1993, both houses of Congress passed the Religious Freedom Restoration Act and President Bill Clinton signed it. RFRA aimed to prevent laws that substantially burden the free exercise of religion. The law was questioned in a 1997 Supreme Court case, but many states passed their own versions of the law, including Arizona in 1999.
These laws have protected individuals in various settings, La Rue explained. He mentioned a Muslim cop who refused to shave his beard when the city instituted a clean-shaven policy – the law defended his right to refuse a razor. La Rue also mentioned a school teacher who ordered a child to stomp on pictures of Jesus in class. When a religious rights group asserted a RFRA claim, the school stepped down.
What the Bill Actually Would Have Done
S.B. 1062 was introduced in order to clarify the existing law, following a 2013 New Mexico Supreme Court decision, Elane Photography v. Willock, that the state's RFRA did not apply in a case where a private party sought to enforce a state law against another private party. Citizens can only use RFRA as a defense if the government sues them. If they are sued by a private party, the law does not apply.
La Rue laid out a scenario explaining how Arizona's S.B. 1062 would protect religious freedom.
If the Westboro Baptist Church walked into a Phoenix bakery owned by a person who identified as homosexual, and the baker refused to bake a cake that says "God hates f**s, "under current law, Westboro Baptist Church would be able to sue, and could potentially win," due to the New Mexico Supreme Court decision, the lawyer said.
The baker's religious belief, from John 3:16, that God loves everyone, including homosexuals like himself, would not stand as a reason to deny service.
"Alliance Defending Freedom would be on the side of the homosexual baker, because we don't believe that any baker should be forced to make a cake with an image that offends his conscience or his dignity," La Rue declared. Furthermore, "S.B. 1062 would have made it impossible for Westboro Baptist Church to make a defense."
The Aftermath of Brewer's Veto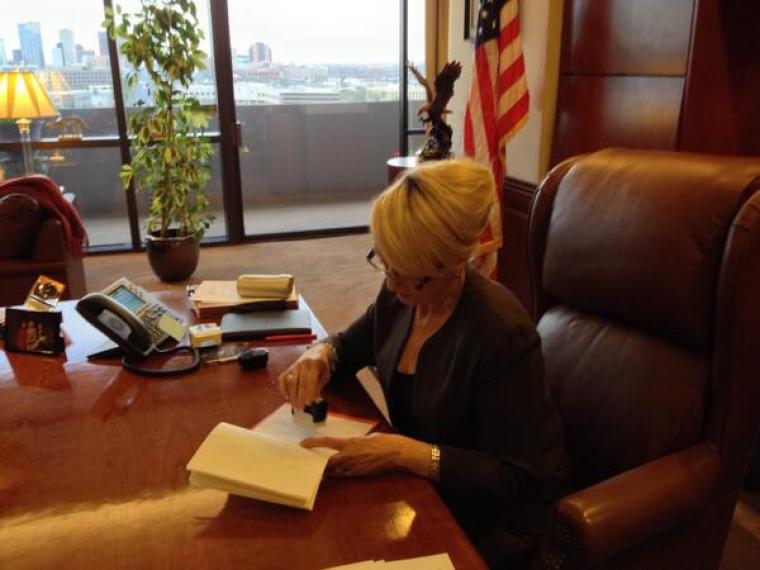 Gov. Brewer vetoed S.B. 1062 on Wednesday, but La Rue said the bill's failure "doesn't change anything." Arizona's RFRA is still on the books, and courts do not have to follow New Mexico's interpretation of the law, the lawyer explained.
"There is a small but vocal group of people who are opposed to religious liberty and also opposed to anyone being allowed to disagree with the concept of same-sex marriage," La Rue explained. In order to further their agenda, this lobby misrepresented S.B. 1062 and created the climate for the death threats against an innocent business woman.
"To my knowledge, the only denial of service that occurred because of S.B. 1062 was by the opponents of the bill," La Rue declared. "Nobody who supported it denied service to anybody or intended to deny service, but some of those who opposed it gladly denied service to people." The lawyer mentioned a restaurant in Tucson that posted a sign saying, "We reserve the right to refuse service to Arizona legislators" in the wake of S.B. 1062 passing last week.
This culture of intimidation is the very opposite of tolerance, La Rue said. "They're the ones who are demanding that everyone not only tolerate their view but agree with their view, and we have a fundamental disagreement with that."