Asaram Bapu Arrested: Rape Allegations at Religious Retreat Made by 16-Year-Old (VIDEO)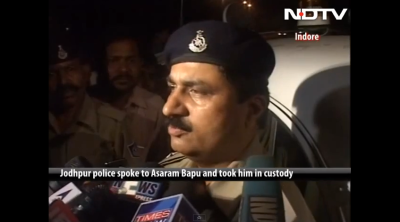 Asaram Bapu has been arrested on allegations of the rape of a 16-year-old schoolgirl at a religious retreat in India, according to officials at the weekend.
Asaram Bapu was arrested on Sunday in Indore in an incident that is said to have shocked his followers. The 72-year-old self-styled Hindu guru, who is known for attracting many followers, was flown to the western city of Jodhpur where the allegations of sexual assault against the girl took place.
Reports from the region claim that the girl's parents were members of Asaram Bapu's congregation.
Asaram Bapu was previously given a deadline to surrender himself to a police station in relation to the charges, but he refused to give himself up voluntarily, leading to his forced arrest on Sunday.
A police spokesman has said, "An opportunity was given to Asaram Bapu for presenting his version regarding the allegation leveled against him by the 16-year-old girl."
The guru has refused to entertain the claims against him, dismissing them as a "political conspiracy."
The allegations claim that the attack took place in August when Asaram Bapu was holding a retreat for his followers, which included the victim and her parents, police in the region have reported.
The parents have reported to police that the guru told them he needed to meet with their daughter alone as he was concerned she was possessed by evil spirits. The parents claim that when they met together he sexually abused her.
Asaram Bapu was plunged into controversy earlier this year when he claimed that a 23-year-old student could have avoided a fatal gang rape against her in New Delhi last December, is she had just begged her attackers for mercy. Those comments drew strong backlash as he said that the blame for the gang raping should not rest only with the attackers.
Here is a video news report into the incident: