Assyrian Christian Children Forced to Watch ISIS Beheadings: 'What Kind of World Is This for Kids to Grow Up In?'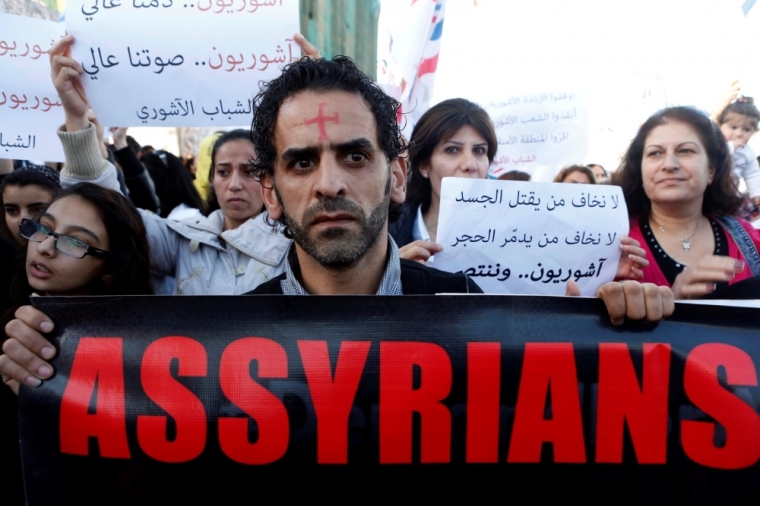 Assyrian Christians fleeing ISIS from Syria who've made it to Beirut, Lebanon, have said that their children were forced to watch beheadings and other atrocities carried out by the Islamic militants. Over 220 Assyrians remain in captivity, with ISIS demanding millions in ransoms, but there's no one who has the ability to pay.
"Our children saw many beheadings," said Jack Zayya, an Assyrian Christian refugee, according to World Crunch. "We were obligated to watch public executions. What kind of world is that for kids to grow up in? They were always scared."
Zayya said that ISIS has destroyed his livelihood back at his hometown of Al-Hasakah in Syria, and has told Christians they must pay taxes to the jihadists or be killed.
"Kidnappings were about getting ransom from rich families or individuals at first," he continued. "With Daesh [ISIS], though, there is no negotiating. We had to pay the jizya tax or die."
When an ISIS sheik was appointed as emir of the Al-Hasakah area, the militants moved to remove and destroy church crosses. They banned Christians from wearing crucifixes, from driving or riding in cars, and ordered women to wear burkas.
ISIS has heavily targeted Assyrian Christians in the past year, and in February kidnapped over 220 of them from 35 different village in the Hasakah province. The terror group has asked for $23 million for their release, but Syrian Catholic Archbishop Jacques Behnan Hindo said in April that no one in the region has the financial ability to pay the ransom.
"Those of Daesh usually ask what they know they can get. In this case, the goal of getting $100,000 for each hostage would be completely unattainable, and they know it," he said.
In another attack in the city of Hassaké in April, jihadists surrounded Assyrians for two days, but Kurdish militias managed to ward them off.
One refugee from the Al-Hasakah area village, who asked to not be named, revealed that close to 90 of his relatives from his wife's extended family are among those held hostage by ISIS.
Lebanon has seen an influx of refugees, despite officially closing its borders earlier this year. Syrians are fleeing not only ISIS, but the ongoing civil war in their country, which is fought between the government of President Bashar al Assad and various rebel groups.
Members of Beirut's Assyrian community have been helping other Assyrian families flee to Lebanon, and anticipate that more will keep coming.
"Of course, we're in touch with the families that are still in Al-Hasakah," Lebanese Assyrian Church Bishop Yatron Koliana said. "When they want to come, they send us their names, we send their names to the border and they are let in. Now the Lebanese army will not let a Syrian citizen into the country unless his name is on the list."
A problem for the arriving families, however, is that they have little in terms of possessions other than what they could bring along with them, and are legally barred from working in Lebanon. This leads to problems in paying for healthcare, education and rental costs.
"The three biggest problems they face are sickness, education and a place to live," the bishop added.
"For the time being, most families are dependent on donations to get by. Now we have the capabilities to continue because we have food and money donations, but how long will these last? This situation can't continue for much longer. Another six months? Difficult. Another year? Impossible."