Asylum Seeker Who Killed 5-Y-O in Germany Claimed Christian Conversion to Escape Deportation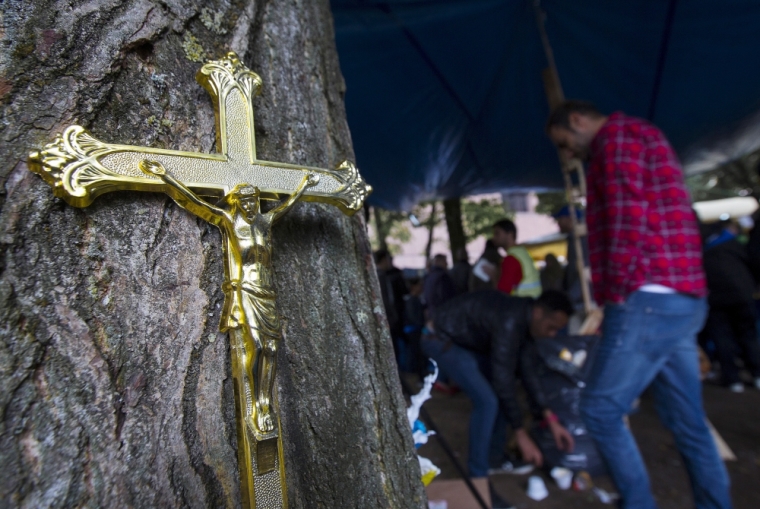 A German police chief has said that some asylum seekers at migrant camps are claiming to have converted to Christianity so they won't be deported.
Breitbart News reported on Thursday that Braunschweiger Criminal Police Chief Ulf Küche made the statement in the German Tag 24 report, where he also said that a migrant had murdered a 5-year-old child in an asylum home over the weekend.
The asylum seeker, who was shot dead by police, had apparently changed his religion to Christianity to avoid deportation after having committed arson years before.
"If the deportation of the offender has failed because he has changed his faith, then one has to put two and two together," Küche said, noting that some asylum seekers have been using Christianity as a cover.
"Muslim's aren't allowed to change their faith," he added. "A lot has to happen that Muslims would abandon their religion."
Ralf Meister, the evangelical regional bishop of Hannover, agreed that conversions need to be confirmed as legitimate.
"Abusive, frail baptisms cannot be tolerated," Meister said.
"It is the task of state courts to take decisive action against this form of abuse," he added.
Matthew Kaemingk, a professor at the Fuller Theological Seminary in Seattle, Washington, said  in an article for Fox News in March that Europe is seeing a "Christian revival" due to the influx of refugees coming to Jesus Christ.
"European churches have struggled for decades to share the Gospel with modern secular Europeans," Kaemingk said at the time. "They have found Muslim immigrants to be much more open to the message of Christianity."
Persecution watchdog group Open Doors and other organizations have also reported that numerous Muslims have converted to the Christian faith at refugee camps across Europe, but have also warned that such new converts face attacks and other hostilities at those camps.
Open Doors said in an October 2016 report that it had identified at least 743 Christian refugees at the time who had been attacked at German camps, blaming authorities for failing to act where necessary.
"The documented cases confirm that the situation of Christian refugees in German refugee shelters is still unbearable. As a minority they are discriminated against, beaten up by and receive death threats from Muslim refugees and partly by the Muslim staff (securities, interpreters, volunteers) on grounds of their religion," the report noted at the time.
"Taking these new cases into consideration there are now 743 Christian refugees who have reported religiously motivated attacks. With more staff at hand, a significantly higher number of cases could have been included in the survey," it added.
Concerns that some Muslims have been converting only to gain benefits have also grown, however.
One Syrian migrant named Ibrahim Ali separately revealed at a refugee camp in Lebanon earlier this year that he knew of many migrants converting for asylum reasons.
"A lot of people are doing it to get to Europe, the U.S., and Canada. While I plan to stay in Lebanon, I know hundreds who been baptized just to help their applications. They would do anything to have security for their family," Ali said.