Atheist Billboard 'Why Is Jesus Commander in Chief' Sparks Controversy in Colorado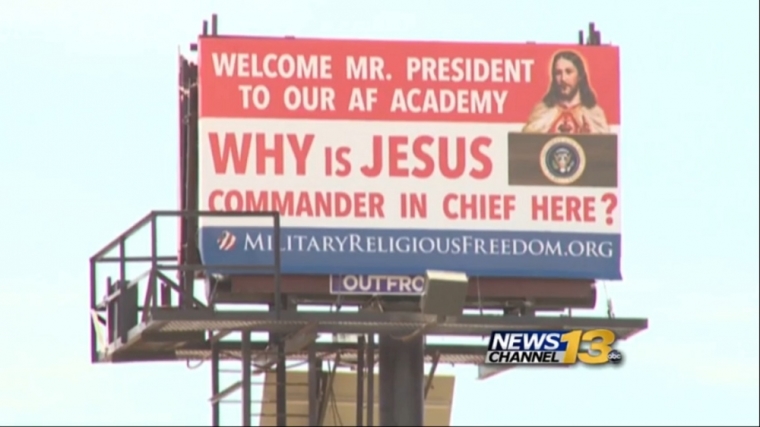 A billboard erected in Colorado Springs, Colorado, by a group claiming the United States Air Force favors Christianity over all other religions is sparking controversy.
News Channel 13 reported that that the sign, which reads "Welcome Mr. President to Our AF Academy. Why is Jesus Commander in Chief Here?" is provoking mixed feelings among drivers on the I-25 near Garden of the Gods, with some stating that it goes too far.
"Comedy and sarcasm is always a good way to get attention, but this is a little much. I think it raises a lot more questions than answers," said Kate Harris, who works close to the new billboard.
The ad was put up by the Military Religious Freedom Foundation, which petitions for the separation of church and state in the military on a number of issues, with founder Mikey Weinstein calling on President Barack Obama to tackle the alleged support for Christianity.
"We want people to be judged on their value, talent, patriotism and their character, not whether they accept Jesus Christ as their personal lord and savior. When it comes to separating church and state, the Air Force Academy shows overt favoritism to one version of Christianity," Weinstein argued.
He went on to call the AF record on the separation of church and state a "train wreck."
"The United States Air Force Academy's adhering to the constitutionally guaranteed right of separation of church and state in the U.S. military is a train wreck," he added in another interview.
The billboard is expected to be displayed between May 23-June 5, with a 15-second TV spot also scheduled to run 1,322 times from May 27-June 2 on MSNBC, CNBC, CNN and Fox News.
Hopes are that Obama himself will see the sign when he comes to visit Colorado Springs on June 2 for the AFA graduation.
"We are watching everything the AFA does and it's made no significant progress. It pains me to say it because I'm a graduate," Weinstein said.
MRFF has in the past tried to stop AF football players from praying on the field before games, but back in January the AF ruled that the players are protected by the Constitution.
In its statement to MRFF, the AF said that it places "a high value on the rights of its members to observe the tenets of their respective religion or to observe no religion at all."
It added that an inquiry into the football prayer issue found that the players are protected under the free exercise of religion and religious accommodation.
"The United States Air Force Academy will continue to reaffirm to cadets that all Airmen are free to practice the religion of their choice or subscribe to no religious belief at all," the statement added.
"The players may confidently practice their own beliefs without pressure to participate in the practices of others."