Franklin Graham Defends Marine Base's 'God Bless the Military' Sign After Atheists Fight for Its Removal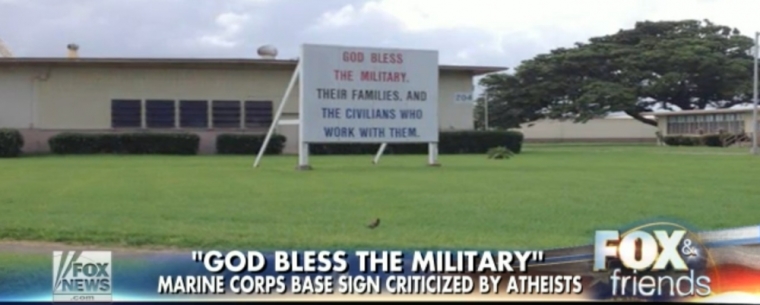 Evangelical preacher the Rev. Franklin Graham has backed a "God bless the military" sign at a U.S. Marine Corps base in Hawaii, pointing out that it was erected after 9/11 and is a source of comfort for Marines. An atheist group has called for its removal, however, and argued that if it stays up, similar signs praising Satan or Allah should be erected too.
"The (atheist) group says it is 'divisive.' You've got to be kidding me! But Chaplain Justin 'Chappy' Roberts is defending the sign and says it has been a source of hope and comfort for over 10 years. Fox News says in this report that, tragically, 22 veterans a day commit suicide. Pray for our military — and share this with others who will pray," Graham wrote on his Facebook page on Tuesday, linking to a Fox video on the issue.
The Military Religious Freedom Foundation, which stands up against what it sees as a breech of the separation of church and state, has been campaigning against the sign, which reads in full: "God bless the military, their families and the civilians who work with them."
The Marine Corps Times noted that MRFF President Mikey Weinstein is calling for the sign to be taken down and moved to a base chapel instead.
"This sign is a brazen violation of the No Establishment clause of the Constitution, as it sends the clear message that your installation gives preference to those who hold religious beliefs over those who do not, and those who prefer a monotheistic, intervening God over other deities or theologies," wrote Blake A. Page, special assistant to Weinstein.
Weinstein added that if the sign continues to stay up, other signs should also be considered, such as ones that read: "There is no God to bless our military, their families, and the civilians who work with them" or signs pointing to "Allah, Satan or the flying spaghetti monster."
Weinstein revealed that it was 23 active-duty Marines, 21 of them identifying as Protestants, who brought the case to MRFF's attention.
Ron Crews, executive director of the Chaplain Alliance for Religious Liberty, told OneNewsNow, however, that Weinsten is "going through his usual rant."
"He's demanding of the commander that he take [the sign] down ... and as usual Mikey is wrong," Crews said. "There's absolutely nothing wrong with a sign that says God bless our military."
Crews added that MRFF has a "great misunderstanding of the First Amendment" if it believes that the sign is unconstitutional.
Graham has commented on a number of religious freedom cases involving Marines, and back in May stood up for Marine Lance Cpl. Monifa Sterling, who was court-martialed for refusing to remove a Bible verse from her computer at work.
"Unbelievably, she was criminally prosecuted by the U.S. government for displaying this encouraging scripture on her computer in her workspace. Give me a break, really? Can our society be at a point where a supervisor can order a young Marine to remove a Bible verse from her computer?" Graham asked at the time.