Christians in Kansas Fight Back When Atheists Remove God Bless America Sign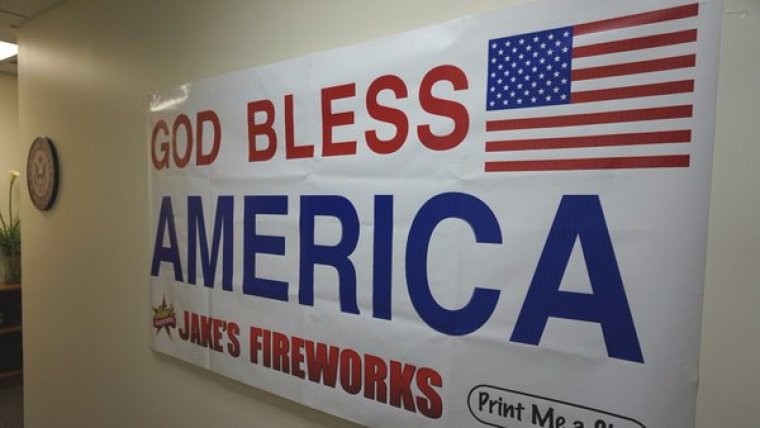 Well known atheist organization, Freedom from Religion Foundation (FFRF), targeted a small midwestern post office in Pittsburg, Kansas, but it couldn't imagine that the removal of one "God Bless America" poster would incite the posting of some 1500 similar signs.  
Local newspaper The Morning Sun first reported the incident in late January and just days later Jake's Fireworks, a retail store located in the area, responded by printing 1,200 "God Bless America" yard signs and 300 similar banners, 1500 in total.  Within 45 mins, residents snatched up all 1500 signs.  
"Obviously, we're among the majority that didn't agree with the decision to take the sign down (at the post office)," Jason Marietta, the store director, told the Sun.
The original "God Bless America" poster was removed from the post office when FFRF on behalf of a Pittsburg resident forced it to be taken down by legal means, claiming the banner "violated the separation between church and state."
The original banner was put up at the post office after Sept. 11, by postal employees, many of whom were reportedly veterans. Many took to social media to express their anger.
"It is outrageous that some would aim to divide a community over a banner that has been proudly displayed since Sept. 11, 2001. I commend the Pittsburg community for rejecting this decision and I stand with them," U.S. Senator Jerry Moran (R-Kansas) wrote on Facebook. "The Constitution guarantees a right to freedom of religion, not freedom from religion. This banner is not only an expression of faith, but of love for country."
The banner was displayed for nearly 15 years on the side of the post office and U.S. Congresswoman Lynn Jenkins said in an email released to the press that she wants the sign to be displayed again.
"This banner has been proudly displayed in the Pittsburg community for nearly 15 years. Should all the owners (who bought the banner) agree my office would be a fitting place to move it to, I would be honored to hang it outside of my office on Broadway Street," she said. "Since the attacks on Sept. 11, 2001, this banner has been a patriotic symbol in the Pittsburg community and I would be proud to continue this great tradition."