Atheist Group Demands Marco Rubio Stop Tweeting Bible Verses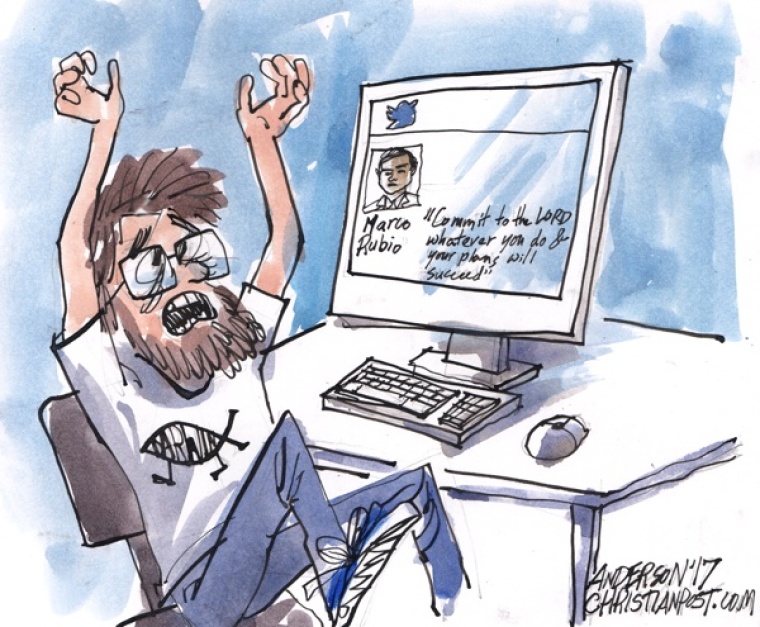 The nation's largest atheist organization is demanding that Sen. Marco Rubio, R-Fla., stop tweeting Bible verses from his Twitter account, telling him that doing so is a violation of the United States Constitution.
The Wisconsin-based Freedom From Religion Foundation, which advocates for strict adherence to separation of church and state and has over 1,400 members in Florida, sent the 46-year-old 2016 presidential candidate a demand letter on Tuesday to complain about an increase in Rubio's Bible-themed tweets since May.
"We understand that you have been tweeting Bible verses from @MarcoRubio to nearly 3 million followers. It appears that you began tweeting the Bible in mid-May and have been doing so regularly ever since. This is not an errant Bible verse or two, but more than 60 Bible verses in three months," the letter, written by FFRF attorney Andrew Seidel, reads.
"That's enough verses to tweet the entire book of Jude. Twice. One of the most recent verses, tweeted during the eclipse, appears to suggest that the eclipse is the work of God, quoting Exodus 10:21.1."
Seidel argues that the Establishment Clause of the First Amendment to the U.S. Constitution means that government can't "promote one religious book over others or promote religion over nonreligion." Seidel contends that this clause also means that public officials cannot "appear to endorse Christianity."
He cited a ruling from the Ninth Circuit Court of Appeals earlier this year in striking down President Trump's proposed travel ban that found tweets on the president's Twitter feed are considered "official statements by the President of the United States."
"[W]e see no legal reason to treat your Twitter feed differently," Seidel says in the letter to Rubio.
"In this instance, by tying your government title to a social media page, you have intimately entwined your official position with the messages you send on that platform, creating the appearance of official endorsement," the letter states.
Seidel also cited a federal court ruling in Davison v. Loudoun County Board of Supervisors that found that a public official couldn't block a constituent from her Facebook page.
"Partly because of the power and influence of [social media] accounts, the private social media accounts of people who assume government office can become accounts that speak for the government, unless these officers carefully distinguish their public and private roles," the letter continues.
"The @MarcoRubio account has not been scrupulous or thorough in this regard. It regularly, indeed mostly, transmits official statements and would be considered government speech. Citizens cannot be expected to discern the difference between an official government statement and a private statement when the source of those statements has not itself bothered to make the distinction clear."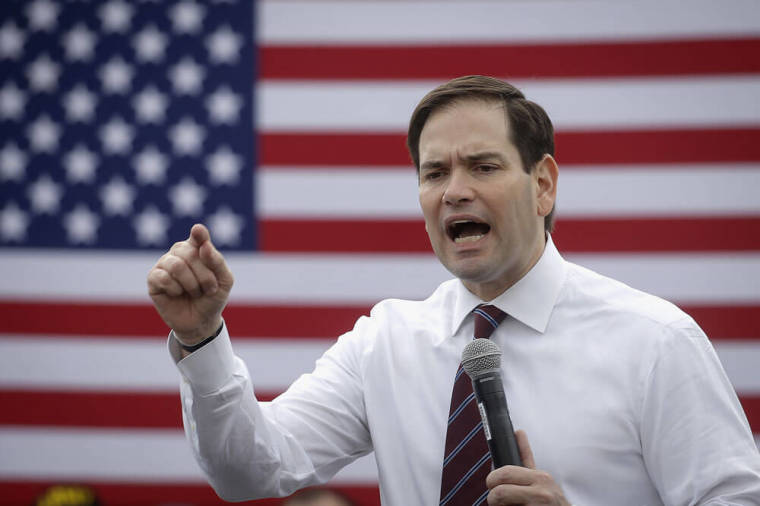 Although Rubio has an official press twitter account with the handle @SenRubioPress, Seidel maintains that the existence of the press account "does not alter the official nature of your @MarcoRubio account."
"The government is not confined to making official statements from only one platform," Seidel added. "The tweets from President Trump's @RealDonaldTrump were held to be 'official statements' despite the existence of several other official accounts, including @WhiteHouse and @POTUS."
The letter adds that press releases from Rubio's office have said that @MarcoRubio is a "personal" Twitter account. However, the releases have encouraged constituents to follow the account for official updates.
Seidel's letter suggests there are two solutions to the so-called "constitutional violation." The first is for Rubio to stop tweeting Bible verses and other religious endorsements from his @MarcoRubio account. The second is for Rubio to remove "all traces of the public office" from the @MarcoRubio account and only conduct official business from his @SenRubioPress account.
"Lawsuits to vindicate the rights of constituents regarding the social media accounts of government officials and the government have been successful," Seidel wrote. "The ACLU has sued three cities in Indiana, Maine Governor Paul LePage, Kentucky Governor Matt Bevin, and Maryland Governor Larry Hogan over social media accounts. San Mateo, California, was sued and settled. Honolulu forked over $31,000 in attorneys' fees for deleting comments from Facebook. San Diego also paid attorneys fees. And of course, the Knight First Amendment Institute at Columbia University has sued President Trump for blocking constituents."
The Christian Post reached out to Rubio's office for comment on the letter and will update this article with any response we receive.
Despite the FFRF's letter to Rubio on Tuesday threatening a potential lawsuit, the senator took to his Twitter account on Wednesday to tweet the words of Proverbs 23:33: "Your eyes behold strange sights, and your heart utters incoherent things."
This is not the first time that FFRF has pressured a public official to stop tweeting about his Christian faith.
Earlier this year, FFRF pressured the University of Mississippi to prevent its former head football coach Hugh Freeze from using his Twitter account to post about his Christian faith and God.
At the time, Jeremy Dys, an attorney with The First Liberty Institute, told The Christian Post that FFRF was "wrong."
"Football coaches do not lose their First Amendment rights simply because they work for a public university," Dys said. "The First Amendment protects the right of Americans like Coach Freeze to engage in religious expression on their personal Twitter accounts. ... The FFRF has resorted to intolerant bullying in an attempt to silence and censor Coach Freeze."