Atheist Shoe Company Founder to Close Business After Finding Jesus…Or Did He?
David Bonney of German company "ATHEIST Shoes" announced on Tuesday that he would be discontinuing his popular line of God-denying footwear.
"I will not be continuing with Atheist Shoes, because I have been touched by the most beautiful experience, one that has forced me to question everything I was so certain of before," David said in a statement. "It is a deeply personal experience and I am somewhat embarrassed to talk about it at any length, but I know people will have questions."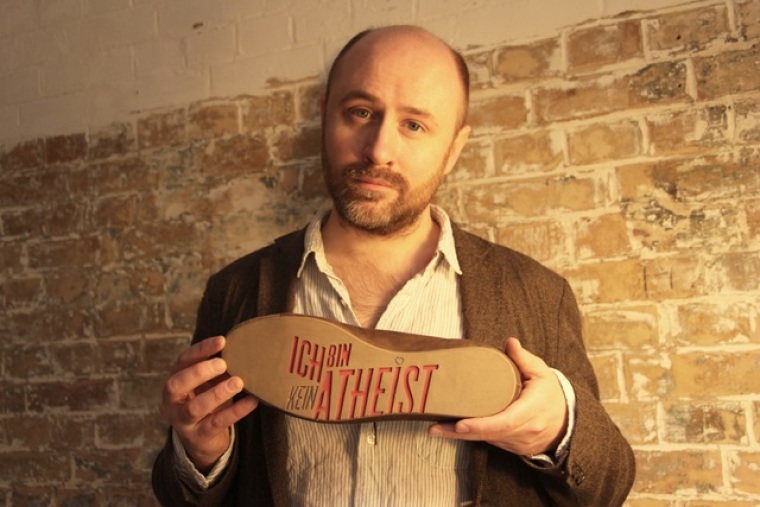 According to David, in recent weeks, his "heart has grown to an extent I could not have imagined. I have felt a truly complete understanding, connection and purpose that I have never felt before. Some might call it revelation, but it was not a thing of the brain, but of my entire being… and it feels divine."
David, whose shoes read "Ich Bin Atheist" on the soles, acknowledged that it was "deeply hypocritical" for him to continue selling his ware and consequently ATHEIST shoes "will shortly discontinue its operations."
"Whilst we achieved something godly in the incredible comfort of our shoes (something of which I remain proud) I cannot, in good conscience, ever make an ATHEIST Shoe again," he continued. "...But we still have a lot of stock to shift (unfortunately I am not yet in God's Kingdom and I still owe some money on a scooter, whilst Tobin's baby will need to eat while his father is job-hunting). So we are announcing a 20 euro discount, on all shoes, starting now."
However, the sudden U-turn in David's stance has made many skeptical, especially given the timing - Tuesday is April 1, aka April Fools Day!
Reached for comment on David's alleged confession, a colleague called Tobin at Atheist Shoes said that while the "whole thing really does seem like a huge April Fools joke, and my colleagues and I are still hoping that it is...unfortunately we can't yet confirm one way or the other" as their boss had been unavailable since Tuesday morning (April Fools Day). So once again, the timing of David's alleged disappearance tends to suggest not everything may be as it seems.
Also making sure to plug the company's products, Tobin added that David "did write in his statement that he would be happy to have the word 'kein' lasered into the soles of the shoes for fellow believers who might like to wear a pair of shoes with soles that say "Ich bin kein Atheist" (translated, this means "I am NOT an Atheist")."
He added, "Perhaps that might actually interest your readership?"
Although whether Christians would be happy to throw money at a company that strongly markets its atheism may be a little far-fetched.
The promo code for the "conversion" April 1 deal is "shakenbyangelonearth."