Atheists Can Now Officiate Weddings in Indiana
Atheists Can Now Officiate Weddings in Indiana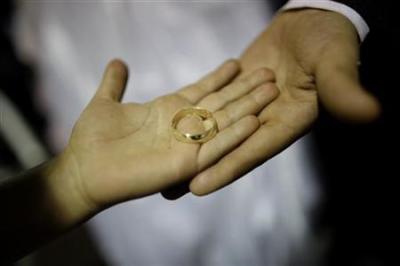 Correction Appended
Long the domain of church and state officials, in Indiana the solemnization of marriages now can be overseen by people who profess to have no religion at all.
Indiana has opted to not try to delay a decision from a three-judge panel of the Chicago-based United States Seventh Circuit Court of Appeals allowing for non-theists to officiate weddings.
The Center for Inquiry, a secular group with chapters across the United States, brought the lawsuit against Indiana regarding their ban on atheist solemnization of marriages.
Reba Boyd Wooden, director of the CFI secular celebrant program and plaintiff in the case, said in a statement that she approved of the decision."We're delighted to have the equal status of the nonreligious recognized and finally made official in Indiana," stated Wooden.
"Our secular celebrants stand ready to accommodate any couple — religious or nonreligious — who desire a secular ceremony, whether it be a private solemnization or a large wedding in front of family and friends."
In 2012, CFI filed a lawsuit in district court against Indiana over its regulations restricting who can solemnize a marriage.
According to Indiana Code 31-11-6, titled "Authority to Solemnize Marriages," those who can perform marriages include a "member of the clergy of a religious organization (even if the cleric does not perform religious functions for an individual congregation), such as a minister of the Gospel, a priest, a bishop, an archbishop, or a rabbi."
The code section also lists certain government officials as well, and specifically notes the Friends Church, German Baptists, the Baha'i faith, The Church of Jesus Christ of Latter-day Saints, and an imam of a mosque as those who can solemnize marriages.
In December 2012, U.S. District Judge Sarah Evans Barker of the Southern District of Indiana ruled that CFI could not perform solemnization services for marriages, arguing that the CFI has "not succeeded on the merits of their First Amendment or Equal Protection claim."
"Because plaintiffs cannot demonstrate actual success on the merits in either of their stated causes of action, their remaining arguments are wholly unavailing," wrote Evans.
"As a result, and pursuant to guiding case law, plaintiffs' motion for permanent injunctive relief must be DENIED. Final judgment shall now issue in conjunction with this entry."
CFI appealed to the Seventh Circuit, which ruled last month that humanists should be allowed to officiate weddings, overturning Barker's decision.
Ronald Lindsay, president of CFI, said in July that he found the judges' ruling "deeply satisfying," stating the judges have "recognized that nonreligious Americans are entitled to the same rights as religious Americans."
Indiana Attorney General Greg Zoeller had initially entertained the possibility of continuing to defend the state code last month, but then decided against it.
Correction: August 8, 2014
An article on August 8, 2014 incorrectly stated that Indiana decided not to appeal the decision. Indiana decided not to try to delay the decision.