Atheists File Lawsuit Against Michigan City Over Rejection of 'Reason Station'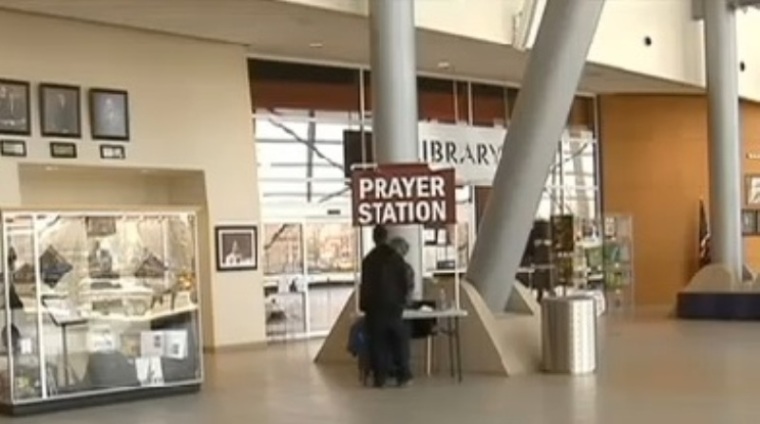 A city in Michigan has become the subject of a lawsuit after refusing to allow an atheist to display a "reason station" at its city hall atrium.
Three groups filed the lawsuit on behalf of Douglas Marshall against the city of Warren and its mayor Wednesday in the U.S. District Court for the Eastern District of Michigan, Southern Division.
"When the government opens a forum for private speech, it must treat viewpoints equally, and it is strictly forbidden from favoring religious expression over non-religious speech," read the lawsuit's introductory statement.
"In this case, the government has opened a forum in which religious speech is allowed, but plaintiff's atheist speech is prohibited. This is unconstitutional viewpoint discrimination."
Marshall is represented by American United for Separation of Church and State, the American Civil liberties Union, and the Freedom From Religion Foundation.
James R. Fouts, mayor of Warren, told The Christian Post that he considers the lawsuit the act of "an isolated group attempting to disparage traditional religious beliefs in a public forum."
Fouts said that any religion "can put a display" in the city hall space, noting that a Ramadan display presently stands there.
"However, this group is a non-religion and I don't know what display they're going to put up unless they are attempting to disparage our prayer station, which I cannot tolerate," said Fouts.
"I will not allow either a racial hate group to go up, a religious hate group to go up, or a group that disparages a particular ethnicity to go up on the city hall atrium."
Warren's municipal government is based in the Warren Civic Center, which has an atrium area that allows for assorted groups to reserve the space for their use.
A regular presence in the atrium space is a prayer station that has operated in the atrium since 2009 for about four days a week.
Overseen by a Pentecostal church, the prayer station includes volunteers, religious literature, and a banner that reads "prayer station."
According to the lawsuit, Warren resident Marshall requested in April to have a reason station, which would be about the same size as the prayer station, but include atheist literature.
Later that month, the mayor of Warren rejected Marshall's application, arguing that the reason station will wrongfully disrupt the prayer station.
Alex Luchenitser, associate legal director with Americans United, told CP that his organization became involved courtesy the Marshall.
"Plaintiff Marshall complained about the deprivation of his rights to Americans United, as well as to the other civil liberties groups representing him," said Luchenitser.
"The lawsuit was filed yesterday. At the same time, we filed a motion for a preliminary injunction asking the court to order the city of Warren to allow placement of Mr. Marshall's reason station in the city civic center's atrium."
In addition to the issue of religious expression, Fouts told CP that the space at town hall was a matter of property and the right to use property in a given manner.
"It's often said that individuals have freedom of speech but the municipality also has freedom of speech, and with that in mind we can have some control over our property," said Fouts.
"While city hall is certainly a public forum, it is a limited public forum. We don't have infinite amount of space to allow every group to put up what would be some sort of a point they'd want to make."
This is not the first time the atrium at Warren's city hall has been the subject of a lawsuit over its religious displays.
In June 2012, a Michigan federal district court upheld Warren's right to have a nativity scene display during the 2011 Christmas season and not include an atheist group's sign.
Known as Freedom from Religion Foundation, Inc. v. City of Warren, Michigan, the city won once again before a three judge panel of the Sixth Circuit Court of Appeals in February 2013.
"Warren has won soundly on our grounds," Fouts told CP regarding the past legal battles over the city hall space.
"Now apparently they're not happy with the court results and they're going to try to do something to bring it up again."