Mich. Mayor Says Atheists Can't Put Up 'Disruptive' Display Next to 'Prayer Station'
Mayor Jim Fouts of Warren, Mich., recently denied an atheist's request to set up a "Reason Station" next to the "Prayer Station" in City Hall, saying the display would be disruptive.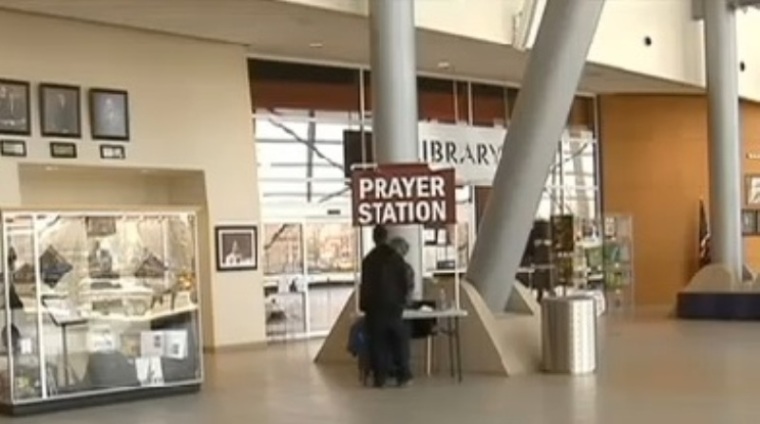 When Douglas Marshall, a resident of Warren and a member of the Freedom From Religion Foundation [FFRF], learned that a "Prayer Station" had been set up in the atrium in City Hall, he applied to have a "Reason Station" set up next to the "Prayer Station" for one year, beginning May 1. The "Reason Station" would have reportedly included literature from the Freedom From Religion Foundation and a sign quoting Thomas Jefferson that read: "Question with boldness even the existence of God."
Marshall received a letter from Warren Mayor Jim Fouts, who told the FFRF member that because atheism is not defined as a religion, it is not protected under the First Amendment.
"To my way of thinking, your group is strictly an anti-religion group intending to deprive all organized religions of their constitutional freedoms or at least discourage the practice of religion," Fouts wrote, adding in underlined print: "The City of Warren cannot allow this."
"Also, I believe it is group's intention to disrupt those who participate in the Prayer Station which would also be a violation of the freedom of religion amendment," he added. "For these reasons, I cannot approve of your request."
Marshall has spoken out against Fouts' decision, saying the mayor is only choosing to reference one part of the First Amendment, failing to allow both freedom of religion and freedom of speech.
"The mayor is restricting my freedom of speech. He is allowing religious speech, but not non-religious speech," Marshall told WJBK-TV. The FFRF member reiterated to the Detroit Free Press that before he could speak further on his next move, he'd have to get counsel to see what his options are.
Last year, a federal appeals court ruled Fouts did not violate free speech rights when he denied the FFRF permission to add their own sign to the city's holiday display. The sign would have said, in part, that religion is but "myth and superstition that hardens hearts and enslaves minds." Fouts denied the request, arguing that the purpose of the sign was to attack religion.