Texas City Council Votes to Display 'In God We Trust' at New $60M City Hall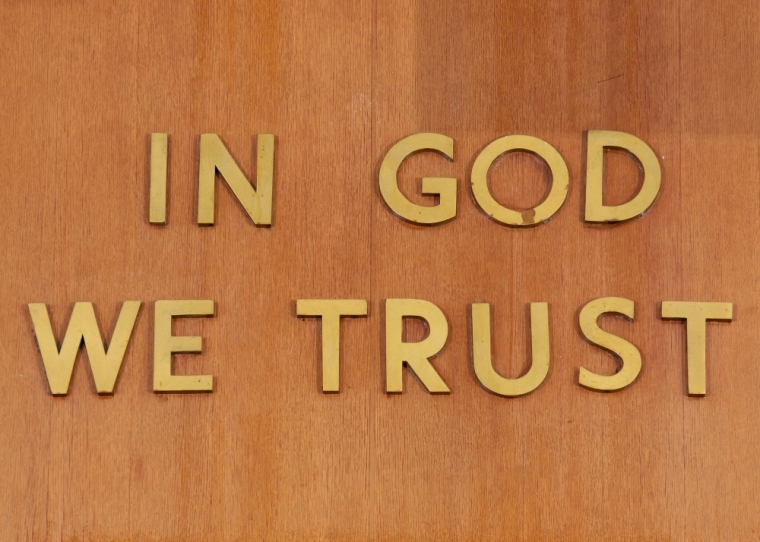 A city council in Texas has voted to have an "In God We Trust" plaque installed at its new City Hall building.
Oscar Trevino, the mayor of North Richland Hills, said the recent 4-1 city council vote to approve the display should not be viewed as an endorsement of religion.
"We understand and respect that our residents come from different backgrounds and have different beliefs," Trevino told the local Dallas-Forth Worth CBS station. "We're not seeking to advance any particular belief."
The motto is set to be displayed at the newly-constructed City Hall in a "prominent location," city council members have agreed, although it remains undetermined where the display will be.
According to the Star-Telegram, city council member Tim Barth said that while he understands the vote may be perceived as a "slippery slope" to government endorsement of religion, he believes the move is a nod to America's history.
"I think it is an acknowledgement of our history from the very beginning and the principles that make this country great," Barth said.
As local media outlets report, atheists present at Monday's council meeting spoke out against the motto, saying it made them feel alienated in their local community.
The new City Hall is set to be opened this spring at the location where the North Hills mall used to sit, the Star-Telegraph reported last December. The $60.1 million project for the 180,000-square-foot building is hoping to bring in new restaurants, apartment complexes and entertainment venues.
There are several city councils across the U.S. that have approved the "In God We Trust" motto for their government buildings.
In December, the city council in Irvine, California, voted to allocated $10,000 to have the phrases "In God We Trust" and "E Pluribus Unum" placed at the back of their meeting room.
The phrases will be erected above a "freedom shrine" displaying documents related to American history, city council members determined.
Earlier this year, the local government of Lake Charles, Louisiana, joined several other cities in agreeing to have "In God We Trust" stickers placed on city vehicles.
City Councilman Rodney Geye told local station KPLC-TV back in January that he hopes the stickers will bridge a sense of trust between residents and law enforcement.
"I think when the citizens of Lake Charles see such stickers displayed on our vehicles they have a feeling of trust in their elected officials," Geyen said at the time.
While some are attempting to use more of the "In God We Trust" phrase, other groups are attempting to remove it.
In January, Michael Newdow, an atheist activist from California, filed a federal lawsuit in Akron, Ohio, seeking to have the phrase removed from U.S. currency.
Newdow has waged similar legal battles before. In 2004, the Supreme Court determined that the atheist activist had no merits to sue when he attempted to have "… under God" removed from the Pledge of Allegiance.