'Attending College Should Not Cost Me My Faith,' Says Chi Alpha President Whose Chapter Lost Official Status on Campus for Requiring Leaders to Be Christian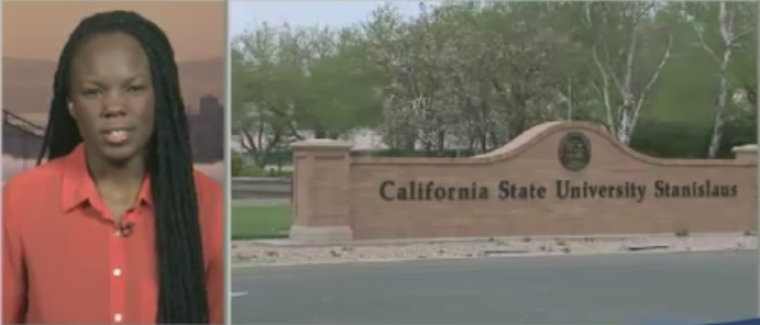 A Christian fellowship student group is no longer being recognized at California State University, Stanislaus because its requirement that student leaders be Christian is considered discriminatory and a violation of a statewide non-discrimination order.
The University System of California is no longer recognizing Cal State Stanislaus' chapter of the Christian student organization Chi Alpha, which under the name of Stanislaus Christian Fellowship has been a part of the campus for over 40 years.
The group was deactivated after the school discovered that the group's constitution required students to hold a Christian faith in order to be placed into leadership positions, which is in direct violation of a state university system executive order of non-discrimination.
"I don't feel like that attending a college/university should cost me my faith," Bianca Travis, president of the Chi Alpha Stanislaus chapter, told Anna Kooiman of Fox and Friends Weekend.
"We had meeting after meeting with them and they refused to put anything in writing. At one point, they told us that they were done playing games with us and they no longer want to work with us about this," Travis continued. "And so, I feel like we've done everything we can, and I really want to be a part of the campus community again."
Although it makes sense for a leader of a Christian fellowship organization to be an actual Christian, CSUS Associate Vice President Tim Lynch proclaimed that no student group at a California state university can technically be "faith based," nor can they place religious requirements on leadership positions.
"What they cannot be is faith based where someone has to have a profession of faith to be a leader," Lynch told KMVT. "Every club is allowed to establish its own standards for how leaders are selected, as long as its non-discriminatory, and then they are voted on by the members. Fraternities and sororities must comply with all the requirements there of, but there is a gender exemption."
Travis rebuttled Lynch's statement and explained that it would simply not make any sense to put a nonbeliever into a leadership role of a group that focuses on prayer and worship of Jesus.
"We lead Bible studies. We lead worship services and prayer, and I don't see how anyone could effectively lead the group if they don't follow those beliefs. For instance, how could they lead you into a prayer to a God that they don't even believe in?" Travis asked. "That's why we feel like this is so unfair, and how it doesn't make sense how anyone could try to lead a group that they don't believe their mission."
Adele Keim, legal counsel with the Becket Fund, which is representing the Chi Alpha chapter, said that the group's requirement of its leaders to believe in what the group believes is valid and should not be considered "discrimination."
"Asking your leaders to believe in what your group teaches isn't discrimination. It's just integrity," Keim told Fox 40 Sacramento.
Local Turlock City Councilman Matthew Jacob told KMVT that the school's actions should be considered "religious discrimination."
"It goes against the very purpose of the organization to begin with — to have somebody that doesn't even uphold that faith system to be teaching and mentoring other students in that capacity," he asserted.
Although Lynch claims that two other faith-based groups on the campus have complied with the non-discrimination order with no problem, Jacob says forcing faith groups to comply to such demands could have a greater impact in the long run.
"'Other clubs have given in so you might as well, you know.' I think that when you start making statements like that, it's just a slippery slope," Jacob stated.
Travis also feels that the school's goal of forcing diversity on its campus has come with the cost of religious liberty.
"For just religious groups on campus, I feel like the whole idea to bring diversity on college campus and going about it this way is actually driving religious groups out and diminishing diversity on our campus," Travis said.
Although Stanislaus Christian Fellowship has not been "banned" from campus, its derecognition will prevent the group from receiving benefits like school funding, reserving campus facilities for events, having a campus mailbox, or using certain accounting services.
"Non-recognized student organizations are welcome to meet on campus and engage in student life," Lynch explained to the CSUS student newspaper, the CSU Signal. "What they cannot do is avail themselves of the privileges that recognized student organizations do."