Author Challenges Christians to 'Vote the Bible,' Not Political Parties
Attorney David Kennedy enjoys attending church and worshiping God, but one thing he dreaded was whenever someone brought up politics at church. Too many times Kennedy felt like the other person's opinion of a candidate or issue did not match up with how he read and interpreted God's word. In his book, You Voted for Who? And You Call Yourself a Christian, Kennedy examines what Scripture has to say about many of the hot-button issues facing our country.
A trial lawyer by profession, Kennedy has practiced law for the past 28 years. He served as an elder in a local Baptist Church but left after he didn't like what the Christian Coalition was doing when they printed voter ballots in the mid-1990s. He then helped plant a non-denominational church that he felt espoused biblical principles over political or church-related politics.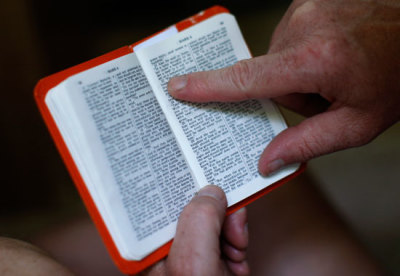 Fiscally conservative and socially liberal, Kennedy describes himself as a Democrat as far as party allegiance goes, yet believes abortion and same-sex marriage are wrong according to Scripture. However, he lays plenty of blame at the feet of the GOP for their rigid positions on immigration and not doing enough to help the poor and downtrodden.
"Both major parties are run by the extremist," Kennedy told The Christian Post. "It seems their objectives are either to scare people into believing the other party is the devil incarnate or that one party is the second coming of Christ. The only time either party references Scripture is when it meets their own needs, and then it's usually used out of context."
Kennedy fully embraces what is known as "The Great Commission," where Jesus lays out his instructions for his followers to "make disciples of all the nations."
"I am a firm believer that your vote is often an act of your discipleship," Kennedy writes in his book. "Regardless of what is worn on your sleeve, God knows what is worn on your heart. He knows your motivation for the vote. And something as mundane as casting a vote will tell Him an awful lot on whether you are on mission in discipleship as He directed you."
Kennedy also points out that a Christian's greatest commandment, also known as the "Great Commandment," is to love your neighbor as you would yourself. "Personally, I think if both parties would embrace the Great Commandment, we could solve a lot of our social ills."
Below are some of the topics Kennedy discusses in his book:
Abortion
"We're gotten nowhere in the abortion debate in the last 40 years," said Kennedy. "The 'all or nothing' approach Republicans take has certainly not worked. Although I'm personally opposed to abortion, I believe both society and the government should do more to help women avoid circumstances that may lead to an unwanted pregnancy. The Democrats are reluctant to address the issue because they feel too strongly about trampling on a woman's right to choose."
Kennedy argues politicians should do more than just give lip service to the abortion issue. "If Christians are going to champion 'right to life,' then let's put our money where our mouths are. Instead of spending untold fortunes of time and money attempting to elect politicians and political judges who will decide in our favor on when a life is a life, why not redirect those fortunes toward that group where there is no doubt that rewards await us for helping – the expectant mothers and their families. Why not follow the 'Great Commandment'"?
Another problem the author argues is that any abortion law with exceptions such as rape, incest and the mother's health exception is unenforceable. "Unlike other legal issues such as tort reform or even the death penalty, pregnancies have a time limit and it's a lot less than nine months.
Same-Sex Marriage
The controversial hot-button issue of same-sex marriages is another area where Kennedy differs from the majority of Democrats. "God has recognized the institution of marriage as being between a man and woman only. Nowhere in Scripture can it be interpreted as recognizing any other type of union. It cannot be remotely argued otherwise."
"Additionally, God makes clear his disdain for homosexuality," Kennedy writes. "The fact that a same-sex marriage may have a foundation of love between two consenting adults does not remove the act as sin in God's eyes. God did not in any manner qualify His position."
God in Schools
Kennedy questions the issue of whether God was ever taken out of our schools. "Whoever said God isn't in our schools?" asked Kennedy. "God certainly never said 'I'm outta here,' so why is this such a big issue?"
The real implication surrounding prayer in schools, specifically public schools, began when liberal groups such as the American Civil Liberties Union (ACLU) and others challenged prayer during school hours or before school sponsored athletic events.
"I am all for Jesus being in public schools," said Kennedy. "In fact, hope and pray that everyone is praying in the name of Jesus because he is our one and only Savior. It irritates me when I hear a prayer that is so politically correct that it does not invoke the name of Jesus Christ."
However, Kennedy believes we need to teach our children to honor God by teaching them how to pray in their own hearts rather than just listening to a recited prayer over an intercom system.
"God wants that personal relationship with us," explained Kennedy. "Rather than years of battle over a pharisaic practice of grandstanding prayer from the grandstands, why not bow your head and pray, 'Thou alone dost know the hearts of the sons of men?' He wants us covering with prayer our sporting events and participants. He would not want hypocrisy that is offered for elevating man."
Having spent some time on the local school board, Kennedy says the biggest disagreements he witnessed over prayer were between the Baptist, Catholics and the Mormons. "The Catholics and the Mormons were always ticked off at the Baptist over the prayer before the football game. As for those who are opposed to prayer in all forms, I think we should worry less about the process and pray harder for their souls."
Prejudice and Bigotry
"Prejudice and bigotry is an acquired taste," Kennedy writes. "We are not born with those impairments, but permit them to be a part of who we are by being exposed to the influence of family, friends, media and many other outside forces."
"Prejudice and bigotry are against biblical teachings. In some respects, especially as it concerns the immigration policies and answers, there is not much being offered by either party that would cause me, as a Christian, to support that party. Immigration is an issue of massive proportions, and does not lend itself to an easy solution. The citizens are entitled to have their borders secure, and neither party has a good history of welcoming those in need."
Kennedy feels the political rhetoric will only get worse as the budget battles in Congress continue and with the 2012 elections on the horizon.
"I just encourage Christians to read their Bible and pray about the candidates they choose to vote for. We need to vote the Bible, not a party platform," Kennedy said.
Kennedy's book, You Voted for Who? And You Call Yourself a Christian, is available through Kindle or can be found in local bookstores.