Author Larry Taunton Denies Claim Atheist Christopher Hitchens 'Accepted God' Before Death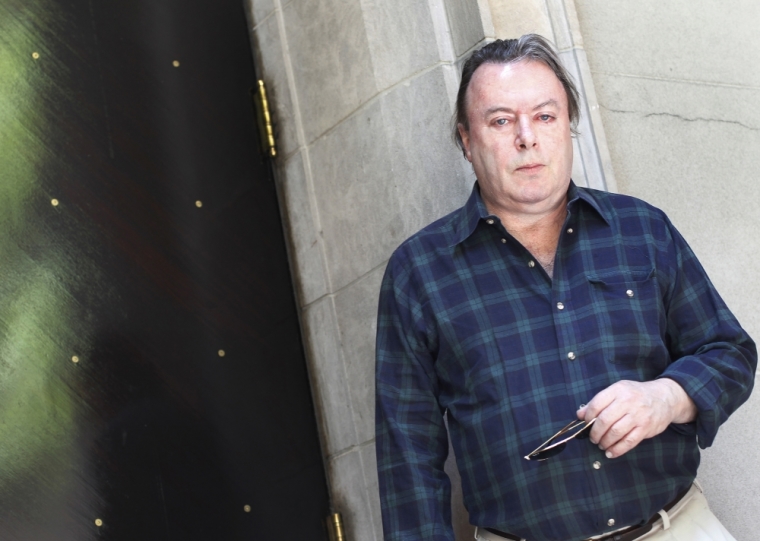 Evangelical author Larry Alex Taunton cleared up rumors that he claimed notorious atheist Christopher Hitchens "accepted God" before he died, in an interview with The Christian Post.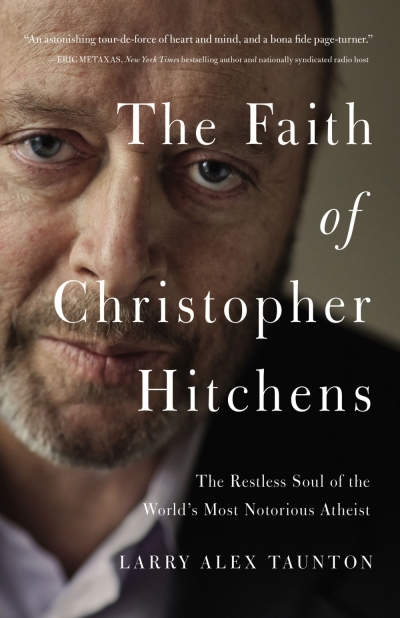 Taunton, the founder of the Fixed Point Foundation and a public debater and columnist, declared in his recently released book, The Faith of Christopher Hitchens, that Hitchens was privately "not certain" about his atheism despite what he led the public to believe. But he never claimed that Hitchens turned to God before he died, as some media outlets misreported.
In the book, Taunton explained how he got to know Hitchens well during two lengthy road trips they took together following Hitchens' diagnosis of esophageal cancer in 2010. Taunton wrote how he and Hitchens had in-depth, heart-to-heart conversations about religion and death. He added that they even studied from the Bible's book of John.
Taunton wrote that private conversations he had with Hitchens, a man facing the reality of death and the possibility of Hell, "revealed a man who was weighing the cost of conversion."
Although Taunton never explicitly wrote that Hitchens accepted God and explicitly stated in the book that there are no claims of a deathbed conversion, Taunton has in recent days been forced to refute personal attacks from people who have never read his book and have been misinformed about the book through misleading media.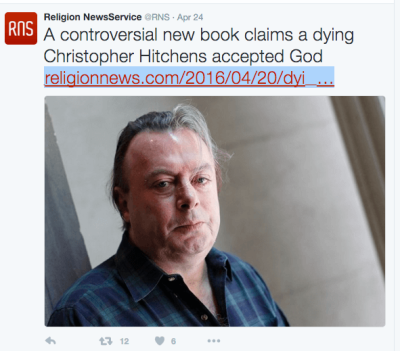 One tweet posted by Religion News Service on Sunday that links to an article on the book written by freelance religion reporter Kimberly Winston states: "A controversial new book claims a dying Christopher Hitchens accepted God."
Taunton responded on Monday with with tweets of his own.
"The astonishingly bad journalism continues. I say no such thing," Taunton wrote. "Do any of these people read books?"
To RNS' credit, the outlet issued a retraction tweet on Tuesday morning, stating that it had "erroneously quoted book saying Hitchens accepted God."
In an interview with CP, Taunton also spoke out against a misleading headline, which he originally thought was published by CP but was actually published by Charisma News. The headline asks, "Did Famed Atheist Author Christopher Hitchens Accept Jesus Before He Died?"
"Although that is not a false headline, it is misleading," Taunton told CP. "It leads people to believe that is what the book is about. It isn't."
"I am saddened by [the headline and tweet] because not only [are they] not true, it detracts from what this story really is about," Taunton added. "If I was going to create a fictitious story, I would have had Christopher Hitchens dramatically receiving Christ somewhere in the Shenandoah Valley during our first road trip or perhaps on our second road trip in Yellowstone National Park. I would have ended the story that way."
One of Taunton's main objectives with the book was to explain that Hitchens maintained two different "books" in his life — a private book and a public book. Taunton claims that Hitchens wanted his atheist followers to believe that he was riding the same ideological line that they were. However, Taunton says Hitchens was not personally "defined" by his atheism and wasn't afraid to seriously weigh deep ideological questions privately.
Taunton stated in his book that one of the most defining moments of their study in the car was when the dying Hitchens read about the death of Lazarus and was confronted with the promise of John 11: 25-26: "I am the resurrection, and the life: he that believeth in me, though he were dead, yet shall he live: And whosoever liveth and believeth in me shall never die."
Taunton explains that only Hitchens and God know whether Hitchens actually converted, adding the "final pages" of Hitchens' private book are "faded and obscure."
Michael Shermer, the publisher of Skeptic magazine who was quoted with a blurb on the back cover of Taunton's book, has since withdrawn his endorsement of the book and called for his blurb to be removed after he took issue with Taunton's assertion that Hitchens had a private and public book. Shermer explained that Taunton's suggestion meant that Hitchens was "dishonest in all those essays, reviews, articles, lectures debates and best-selling books."
Douglas Wilson, an evangelical pastor who had a similar "road trip" experience with Hitchens and was also featured in a documentary with Hitchens about their relationship during a debate tour, backed up Taunton's "two sets of books" assertion in a book review for Christianity Today's Books & Culture.
"While Christopher would treat certain private things very publicly, he was also very reticent about other things," Wilson wrote. "He really did keep two sets of books."
"But (keeping the idea of two books in mind) Hitchens was also a contrarian to himself," Wilson added. "His public persona was contradicting the conventional views he found all around him, conventional believers and unbelievers both, but that public persona was also contradicting a much more reflective Christopher, one who was considering certain ultimate questions much more carefully than he could afford to let on."
Taunton added that he has been "personally assailed" on Twitter and in media by atheists whom he claims didn't read the book. He predicted atheist backlash in the book when he wrote that his assertion that "Christopher had doubts" was "enough to cause consternation among the God-haters." He told CP that he believes atheists desperately "needed [Hitchens] to die as a confident unbeliever."
"In a weird kind of way, it validates the last chapter of the book," Taunton said of the controversy surrounding his book.