Baby Alfie's Mom Forced to Leave Hospital, Dad Begs Pope to Save Son's Life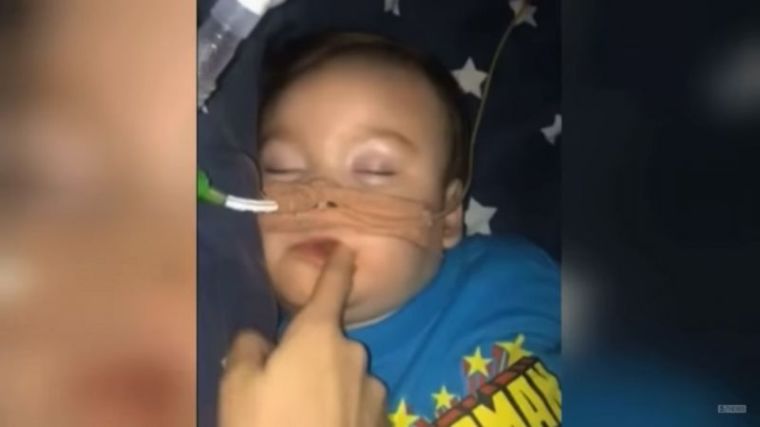 The mother of 23-month-old Alfie Evans, who is involved in a legal battle with a hospital in Britain that wants to switch off her child's life support due to his mystery brain condition, was ejected from the hospital ward, according to a report, as the child's father has urged Pope Francis to speak out to save Alfie's life.
"The chief nurse has removed Alfie's mummy Kate off the ward!" reads a message posted early Saturday by the administrator of a Facebook group called "Alfies Army Official," which has over 206,000 followers.
"Kate has done nothing to warrant being stopped from seeing her baby boy," the post adds.
Pope Francis mentioned Alfie Evans during his Sunday sermon as he asked for prayers for the infirm. "I entrust to your prayers people ... as the little Alfie Evans in England," a translation of his remarks reads.  
On Friday, police were called to the Alder Hey Children's Hospital in Liverpool after hundreds of protesters gathered outside calling for a reversal of the decision to turn his life support off, The Sunday Times reported.
According to a court ruling earlier during the week, the hospital can remove the child's life support. However, a Court of Appeal has scheduled a hearing on the case for Monday, as the parents have urged judges to allow their son to continue to receive medical care and treatment.
A hospital in Italy is willing to look after Alfie to help him with his undiagnosed medical condition. The child's father, Tom Evans, has called on the pope to save Alfie.
"If he dies in Italy at least we've tried and I believe in Italy," The Sun on Saturday quoted the father as saying. "The pope knows we want to go there. We want the pope to speak out again. Someone save Alfie."
Alfie, who was admitted to the hospital in December 2016, is in a coma and suffers regular seizures, and the hospital insists that long-term ventilation and intensive care to the child be withdrawn.
Test results showing two mitochondrial gene variants suggest Alfie could suffer from a form of mitochondrial disease like the one that killed Charlie Gard, a British baby who became the subject of a bitter dispute during the summer between his parents and doctors over whether he should be taken to the United States for experimental treatment.
The 11-month-old Charlie Gard suffered from an extremely rare genetic condition causing progressive brain damage and muscle weakness, and his parents' long struggle to save him drew an international outpouring of sympathy. The child required invasive ventilation to breathe and could not see, hear or swallow.
The case triggered a heated international debate in the press and on social media about who should decide a child's fate, and drew comments from U.S. President Donald Trump and Pope Francis.
Charlie Gard passed away last year.