Bachmann Speaks of Faith, Gender in Iowa
Republican presidential candidate Michele Bachmann shared the story of her salvation at an evangelical church in the first caucus state on Sunday, and told other Iowans that America needed a "strong woman" as its leader.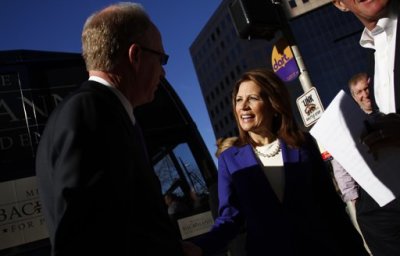 Days before Iowans are slated to cast the first ballots of the 2012 presidential race on Tuesday, the Minnesota congresswoman spoke at Jubilee Family Church in Oskaloosa, about an hour southeast of Des Moines.
"Turning on the power ... That's what we're going to do this morning," Bachmann said after a church volunteer turned on her microphone, according to the Los Angeles Times. "When you plug into the power source, there is no end to how far and wide His word goes."
Bachmann, whose support stood at 6 percent in Friday's NBC-Marist poll in Iowa, abstained from any direct reference to politics at church. She instead told the congregation how she, along with three friends, got saved at 16 in an open church on Halloween night in 1972, when "the Lord grabbed our heart and pulled us forward."
"I radically abandoned myself to Jesus Christ," she said. "The Holy Spirit cleansed me. I was free for the first time in my life." The three-term congresswoman also said her parents' divorce was a critical event in her life and contributed to her decision to accept Christ.
Bachmann said Jonathan, the son of King Saul and close friend of King David, was her favorite figure in the Bible. "What he did was step out in faith," she said. "That's something this church knows something about."
After Bachmann's talk, the church's pastor, the Rev. Bill Tvedt, encouraged the congregation to vote for godly leaders.
"It's not a question of who to vote for, it's what you vote for," he was quoted as saying. "Sometimes we're tempted to vote for the 'presidential looking' – tall and handsome. Sometimes, we're tempted to vote for just fiscal policy … Many are tempted to go by electability … I believe that simple obedience to a heartfelt decision is the most important thing you can do."
At a luncheon in Des Moines later Sunday, Bachmann reminded the crowd that she was the only woman candidate for the White House. "I'm an Iowa girl. And one thing I remember about Iowa is we are a state of strong women," The Associated Press quoted her as saying. "We need a strong woman to turn this country around, right?"
In Friday's NBC-Marist poll, former Mass. Gov. Mitt Romney finished first with 23 percent support. Texas Rep. Ron Paul stood at 21 percent, former Penn. senator Rick Santorum at 15 percent, former House speaker Newt Gingrich at 13 percent, and Texas Gov. Rick Perry at 14 percent.
Despite low poll numbers, Bachmann said she was "the best person to take on Barack Obama and defeat him because I will have a clear conscience when I stand on the debate stage." "I have no level of compromise when it comes to Obamacare, taxpayer funding of abortion, marriage between a man and a woman," she said.
The Christian Post Daily Report 01.02.12