Barry Black: America's first black Senate chaplain says this Bible verse saved him from a life of crime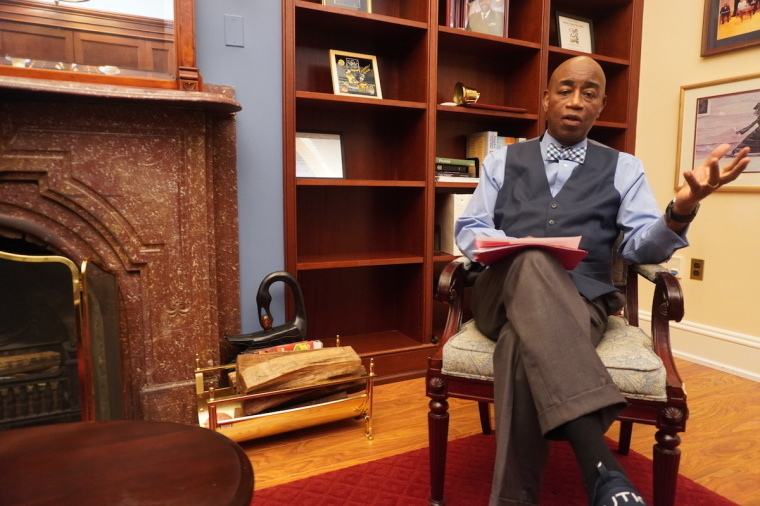 WASHINGTON — As the first black chaplain of the U.S. Senate, Barry Black can't help but wonder where his life would have ended up if it were not for the saving grace of God rescuing him from a life of violence as a teenager growing up in Baltimore, Maryland.  
Black, 74, became the first black man and Seventh-day Adventist to become Senate chaplain in 2003 after he was nominated for the position by then-Senate Majority Leader Bill Frist to be the upper chamber's 62nd chaplain after a long career in the U.S. Navy, where he rose to the rank of Rear Admiral.
"I see the hand of God throughout my life. I ended up as a teenager getting involved with a gang that could have caused me a tremendous amount of difficulty. Two of them [gang members] actually ended up getting life in prison for murdering someone," recalled Black in an interview with The Christian Post. He wouldn't be ministering today if God hadn't rescued him from gang violence. 
"I was in the right place at the right time — not with them. And reflecting on Proverbs 1:10, which was a Bible verse my mother gave me a nickel to memorize that kept me out of some of the troubles. So were it not for the grace of God, I would have probably been an accessory to murder and spent a lifetime, or at least 20 years, in prison." 
Proverbs 1:10 reads, "My son, if sinful men entice you, do not give in to them."
As February is Black History Month, Black looks back on what it's been like serving nearly 20 years of his life ministering to staff on Capitol Hill, an outcome that once seemed unlikely for a child growing up in a mostly single-parent home in the 1950s and '60s. 
'Never wanted to do anything but ministry'
As a long-distance truck driver, Black's father was absent for much of his upbringing. As a result, his mother was left to raise him and his eldest siblings by herself. However, he was involved in the lives of his three youngest siblings.  
His mother became a devout Seventh-day Adventist and raised her children in the faith and regularly took Black and his seven siblings to Berea Temple of Seventh-day Adventist Church on Madison Avenue to attend services and she'd host Bible studies in the home. 
His mother also enrolled Black and his siblings in a private Christian school and paid what she could for tuition and received support from a church program to cover educational expenses tuition. "We belonged to a church that emphasized and supported Christian education." 
From the earliest days of his childhood that he can remember, Black said he wanted to be an ordained minister. "I've never wanted to do anything but ministry. I think the primary reason is that when my mother was pregnant with me, she was baptized, and she asked, as she was being immersed baptismally, that the Holy Spirit would place a special blessing and anointing upon me as an unborn child."
Black was born about a month after his mother's baptism on Nov. 1, 1948. 
"I later showed tendencies toward interest in public speaking. I have a very extroverted and outgoing personality, even as a first-grader, second-grader and third-grader," he said. "So I never had an arrival in my vocation of affection. I've always wanted to be a minister, and I think it's because of my mom's prayers."
But when Black entered his teenage years he gravitated toward the streets and found brotherhood and fatherhood in a gang. "I think that growing up, when you rarely see your father, it's problematic because everyone needs an adult male role model," he said. 
Despite falling in with the wrong crowd as a teen, Black stressed that he had several male role models in his life, including teachers, neighbors and members of the church. 
"I was very blessed. ... I did a lot of talking to my heavenly Father because my mother had always instilled in me and my siblings' lives morning and evening worship in our home and taught us to talk to God as we would talk to a friend," Black recalled. 
"I was fortunate because I belonged to a very large church, probably 800 members. There were enough adult male role models who enabled me to make up for the deficit of not having that at home," Black added. 
"Moreover, the church school that I attended also had a number of male teachers and they served as role models as well."
Breaking the cycle 
Children born into poverty can fall into a multi-generational cycle of financial struggles and government dependence. But Black and his siblings were able to break free from poverty and take advantage of opportunities to prosper. 
"Whatever the environment is, growing up in poverty taught me a number of things. It taught me, first of all, that there's always something you can be thankful for. And no matter how difficult things have been in my life, since I was in poverty, I look back and I remember how little it really takes to live quite well," Black said. "We subsisted on beans and rice most days, except on the weekends. So that lets me know how little someone actually needs." 
"Secondly, growing up in poverty also has helped me to learn how thankful you are when you finally manage to get out of that cycle of poverty and pathology, and it causes you to appreciate a lot more what you have after you leave that spot on the socioeconomic ladder."
Along with his extensive military training and education, Black is an alumnus of several universities and educational institutions: Oakwood University, North Carolina Central University, Andrews University, Palmer Theological Seminary, Pine Forge Academy, Salve Regina University and Alliant International University. 
He received a Ph.D. in psychology, a doctorate in theology, a master's degree in management and a master's of divinity degree. He was commissioned as a U.S. Navy chaplain in 1976. In his 27 years of service, he rose to the rank of Rear Admiral and eventually served as Chief of Navy Chaplains until he became Senate chaplain in 2003. 
"I have used the training that I received and I put it alongside my experiences in military ministry to help thousands of people in Congress and senators over the years," he said. "I have a pretty solid foundation in academia that has helped me immensely in ministering to a group of people that are characterized by some significant diversity."
Working as Senate chaplain has been a rewarding vocation, he added, because there is a wide variety of people to tend to from varying denominations and religious traditions, including non-Christians to whom he is able to minister.
"You also have that in the military. As a Senate chaplain, you have kind of a chain of command and you have a majority leader. A majority where you're reporting to people to some extent, not quite the same as in the military. But to some extent," Black said. "You have many different Christian denominations worshiping together, studying together in the same way that you do in the military. The primary difference is the military will involve moving. You would go out on a ship for a six-month deployment away from the base. Or in my case, you may have an unaccompanied tour for a year." 
Reflecting on his role as a chaplain in the Navy and the Senate, Black said "both vocations are pretty much the same when it comes to the ministry." Except that, in the Navy, chaplains are "sometimes in a combat situation. So, you're away from one base ... or one geographical location." 
A day in the life of a Senate chaplain
Black said his everyday workday as Senate chaplain varies, but over the years, it has been rewarding.  
"My day-to-day routine is very much the routine of a pastor who is responsible for several thousands of people. I provide for Christians because I'm a Christian. I facilitate for non-Christians, Hindus, Buddhists, people from the Islamic tradition," Black said. 
On an average workday, Black will arrange meetings to visit people in the hospital and the workspace. 
"I advise lawmakers, particularly regarding military issues. Because I'm a retired two-star admiral with a significant amount of experience and particularly in the sea services: Navy, Marine Corps, Coast Guard and Merchant Marines," he said. 
"I teach Bible studies. I prepare sermons and preach. I write books and articles. I've written six books. ... I represent many chaplains, the Department of the Senate, in churches around the nation," he continued. "I officiated weddings and funerals. I do marriage preparation and marriage enrichment. So I do the work of a full-time pastor. ... That's one of the things that's exciting about this. Each day is different and rewarding."
Even though Black has to minister to lawmakers and their staff who fall on the polar opposite ends of the political spectrum, he said it's "not that difficult providing ministry to both parties." 
"The nature of the Senate legislative process is adversarial," he said. "It's similar in the House, although the House only needs a simple majority. In the Senate, many times we'll need a two-thirds majority. So I don't even have a difficult problem with that because I have an advisory function. And many of the things that I do in order to assist our lawmakers has to do with the theological, rather than the political."
Celebrating black history
As Black continues in his ministry role, he is especially grateful to have been the first black man to become a Senate chaplain and to have been able to impart knowledge that God gave him to thousands of others. 
"I'm very passionate about my country. I feel that America is very special. I think that God has blessed us with spacious skies and amber waves of grain, purple mountain majesties above the fruited plain, rivers flowing all over for transportation, to huge oceans buffering us from invasions from without," Black said. 
"It's a very special place and it is like a nation that is built on ideas. And I think in light of a history that included slavery, democracy has self-corrective forces that have enabled me to see what I never expected to see in my lifetime, and that is an African American president," he added. 
"It's a very special country, with a very special government. And that makes it a very rewarding experience to have had the opportunity to provide ministry at the epicenter of what's going on in government."