'Bathroom Bill' Will Cost North Carolina $3.76B, AP Analysis Says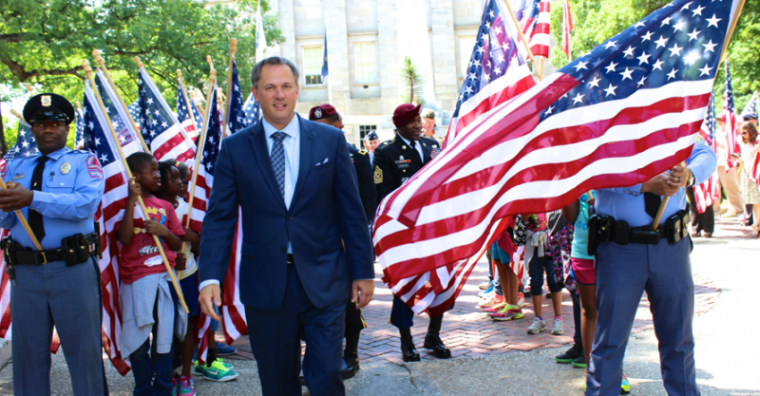 A year after North Carolina's controversial HB 2 "bathroom bill" was signed into law requiring transgender people to use restrooms corresponding to the sex on their birth certificates in public buildings, a new analysis by the Associated Press says the bill will cost the state $3.76 billion over 12 years.
The analysis comes after Lt. Gov. Dan Forest said last month that the state's economy is doing "extremely well" despite suffering small losses as a result of the passage of HB 2.
Companies like PayPal canceling a 400-job project in Charlotte, CoStar backing out of negotiations to bring 700-plus jobs to the same area, and Deutsche Bank scuttling a plan for 250 jobs in the Raleigh area are likely part of the losses. Other companies such as Adidas, which is building its first U.S. sports shoe factory employing 160 near Atlanta rather than a High Point site, and Voxpro, which opted to hire hundreds of customer support workers in Athens, Georgia, rather than the Raleigh area are likely factored in as well.
The state may also lose hundreds of millions more because the NCAA is avoiding the usually favored host. The group is set to announce sites for various championships through 2022 and North Carolina won't be among them as long as the law is on the books, the AP says.
Despite these projected costs however, North Carolina's economy remains one of the most robust in the country.
Both Forbes and Site Selection magazine ranked North Carolina as the No. 2 state in the nation for business last November. In July, CNBC ranked the state No. 5 for business while Chief Executive Magazine polled 513 CEOs across the nation last May, who ranked North Carolina as the No. 3 best state in the nation for business.
And just last month, Forest explained during a special Family Research Council webcast hosted by FRC President Tony Perkins that the state was doing "extremely well" all things considered.
"We are doing extremely well on the economic side and doing all the right things as Republicans to get our economy back in order again," Forest said. "We have created hundreds of thousands of new jobs over the last couple of years and businesses are still moving here and people are moving here in record numbers."
While the AP analysis also affirms North Carolina's robust economy, it suggested that the state could be doing much better without HB 2 having missed out on more than 2,900 direct jobs that went elsewhere.
"I don't know of any examples where somebody located here because of HB2," James Kleckley, of East Carolina University's business college told the AP. "If you look at a law, whether or not you agree with it or don't agree with it, there are going to be positive effects and negative effects. Virtually everything we know about (HB2) are the negative effects. Even anecdotally I don't know any positive effects."
Supporters of the law say they're willing to absorb the costs of the law however if it prevents sexual predators posing as transgender people from entering private spaces to molest women and girls.