Ben Carson Defends His Old Earth Creationist Worldview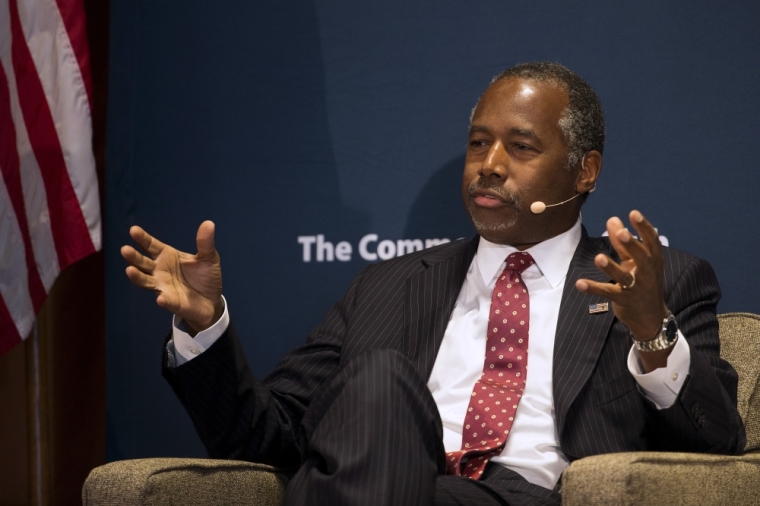 Now solidly a frontrunner in the presidential race, Dr. Ben Carson delivered two speeches at Cornerstone Church in Madison, Tennessee, Sunday, where he defended his Old Earth creationist worldview and American political liberties.
Speaking at the megachurch, Carson said his creationist views aided his career as a surgeon and medical doctor. The Tennessean reported that Carson's speech alternated between the style of a sermon and stump speech, while heavily critiquing some forms of evolutionary theory.
"They say, 'Carson, ya know, how can you be a surgeon, a neurosurgeon, and believe that God created the Earth, and not believe in evolution, which is the basis of all knowledge and all science," declared Carson.
"Well, you know, it's kind of funny. But I do believe God created us, and I did just fine. So I don't know where they get that stuff from, ya know? It's not true.
"And in fact, the more you know about God, and the deeper your relationship with God, I think the more intricate becomes your knowledge of the way things work, including the human body," he added.
News Channel 5 in Nashville reported that a local woman was in attendance that Carson performed extensive brain surgery on in 2001 when she was 13.
Carson, who is a Seventh-day Adventist, has been a popular speaker at churches in the wake of challenging President Obama on some of his beliefs and worldview at the 2013 National Prayer Breakfast. He subsequently said the White House called him after the event to pressure him into apologizing to Obama.
Carson and the Rev. Billy Graham are the only two people ever asked to speak at the event twice. The first time the Gifted Hands author spoke at the National Day of Prayer was during George W. Bush's presidency.
In his speech at the 2013 prayer breakfast, Carson defended political liberties in the founding tradition, noting, "Our country was designed for citizen statesmen, not necessarily for career politicians."
Carson added the government's main role is to "facilitate life, liberty, and the pursuit of happiness for us."
A new NBC/Wall Street Journal Poll released Tuesday shows Carson jumping out to a lead in the Republican presidential race. Carson leads Trump 29 to 23 points. The poll has a margin of error of 4.9 percent.
While establishment Republicans rally around Florida Sen. Marco Rubio, currently Carson has the highest favorable rating of any Republican and is the top choice of political outsiders.
In his address to the congregation, Carson urged visitors at the church to learn the story of Cornerstone's senior pastor Maury Davis.
The church's bio page for Davis says that he committed murder as a teenager while "strung out on drugs" during a robbery. Davis spent eight and a half years in prison and transformed his life.
"Pastor Maury Davis has chosen to let the dishonor of his sin be a tool in transforming lives. That decision does not make it any easier to face the consequences of sin, but it does make the journey worth it," reads his bio on the church's website.
"Declaring silent grace daily to overshadow his public shame is not an easy path; but at the end of the day, grace wins."
Davis' testimony is also available on the church's site.