Ben Carson: No to Muslim American President, Will Not Be 'Silenced by PC Culture'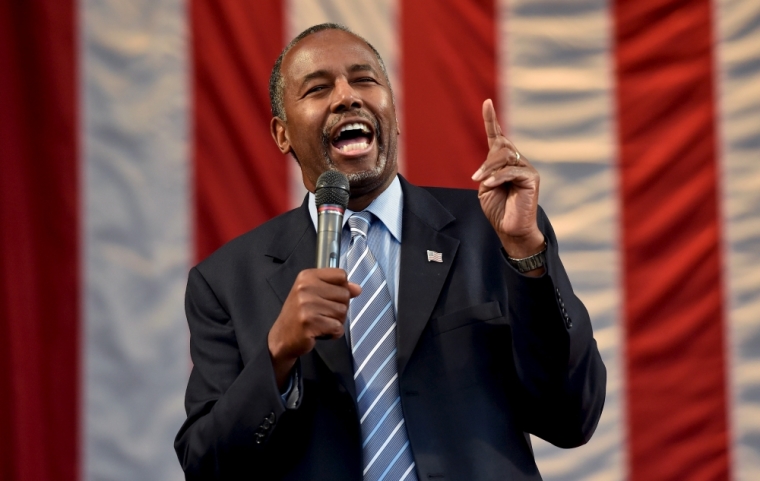 Republican presidential candidate Ben Carson said that he continues to oppose the idea of an American Muslim President, insisting that he will not be "silenced by a PC culture."
"Earlier this week at a town hall, I was asked to 'clarify' my statement on whether or not a Muslim should be President. What I said then is the same as what I believe now — a Muslim who accepts the tenets of Sharia Law is not compatible with the Constitution. I will not be silenced by a PC culture," Carson said on his Facebook page on Thursday.
"It is the responsibility of a leader to do and say things that are right and true, even if they are not popular with the media elite."
The town hall meeting in question occurred on Monday in Staten Island, N.Y., where a Muslim resident addressed Carson by reading from the U.S. Constitution.
"It says, 'No religious test shall ever be required as a qualification to any office or public trust under the United States.' You have said before, you wouldn't want a Muslim to be president of the United States. How can you reconcile?" the man asked.
The Republican candidate responded: "If you go back and look at what I said, I said I would not want a Muslim who accepted all the precepts of Islam, including Shariah."
Carson's GOP rivals, including Sen. Ted Cruz and Sen. Lindsay Graham, both spoke out back in September against Carson's initial remarks, with Graham, who has since dropped out of the race, calling on the retired neurosurgeon to apologize to the Muslim American community.
Carson explained his position in more detail in an interview with ABC News in September, pointing out that the problematic laws of Shariah stand in contrast with fundamental American values.
"What we should be talking about is Islam, and the tenets of Islam, and where do they come from?" he said.
"They come from Shariah. They come from the Quran. They come from, you know, the life works and examples of Muhammad [hadith]. They come from the fatwas, which is the writings of scholars."
Carson continued: "You know, and if you go back and you look at — what I would like for somebody to show me is an improved Islamic text that opposes Shariah. Let me see — if you can show me that, I will begin to alter my thinking on this."
The retired neurosurgeon has remained positive about his campaign despite falling poll numbers and changes to his campaign staff and strategy, NBC News said.
"Everyone's obviously heard about some of the changes made," Carson's Iowa state director Ryan Rhodes said at a town hall event in Winterset, Iowa, referring to the changes. "You're gonna see a reinvigorated campaign and a reinvigorated Ben Carson."