Ben Carson on 2016 Presidential Hopefuls: I'm Impressed With Rand Paul
Dr. Ben Carson, head of neurosurgery at Johns Hopkins Hospital in Baltimore, Md., said Monday that out of all the GOP leaders who could potentially run for president in 2016, he is quite impressed with Rand Paul, a junior U.S. Senator from Kentucky.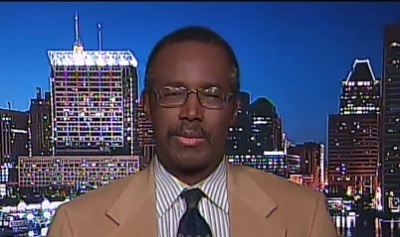 "I certainly like the individual you just had on, Rand Paul. And it's not just because he's a doctor, like I am," Carson told Fox's Sean Hannity on Monday when asked who he likes most out of those possibly seeking a 2016 GOP presidential nomination.
"[Paul] thinks quite logically, and, you know, he has courage. He's willing to take positions that some other people won't," Carson continued.
"And part of the problem that we're having right now is that a lot of people who lack courage, who always want everybody to adore them, and they just are not willing to take stands based on real convictions, and when I see that, I'm very impressed with it," Carson added.
Although Carson did express his support for Paul, he did not rule out the possibility of himself running for president in 2016.
"I would say certainly, if a year or a year and a half from now there's significant sentiment, I would certainly have to give it consideration, but you know how things come and go, so I think it's way too early to even think about it," Carson told Hannity.
Monday's segment of Fox's "The Sean Hannity Show" featured interviews of three rising stars in the GOP movement, including Senator Paul, Dr. Carson, and Ted Cruz, junior U.S. Senator for Texas.
All three of these men spoke at the Conservative Political Action Conference this past week in National Harbor, Md., considered to be the largest showcasing of GOP leaders in the nation.
During his CPAC speech, Carson covered an array of issues, including health care and taxes, but an especially poignant aspect of his talk was his encouragement that conservatives hold strong to their Christian values.
"We have to resist this war on God," Carson, who will retire from neurosurgery in June, told the CPAC audience, as previously reported by The Christian Post.
"People don't want to talk about God and don't you ever dare mention Jesus Christ. And this is supposed to be a country where we have freedom of religion and freedom of speech? It is absolutely absurd," Carson added.
Paul focused his CPAC speech more on the future of the GOP as a political party, suggesting liberty be the central platform of the conservative movement.
"The new GOP will need to embrace liberty in both the economic and the personal sphere. If we're going to have a Republican Party that can win, liberty needs to be the backbone of the GOP," Paul said.
Both Carson and Paul have been considered by many to be the new faces of the GOP movement, and critics contend that they have succesfully articulated many concerns of the GOP party.
Paul, who won wide attention after recently conducting a 13-hour filibuster against President Obama's drone program, recently won the CPAC straw poll, thus receiving the most public approval for a 2016 presidential run among the CPAC attendees.
Carson, although not officially holding a political office, gained a widespread amount of recognition in February for his "politically incorrect" speech at the National Prayer Breakfast, during which he voiced many concerns of the GOP party while standing feet away from President Barack Obama and Vice President Joe Biden.