Ben Carson Says Rapture Isn't Biblical, Hell Not a Physical Place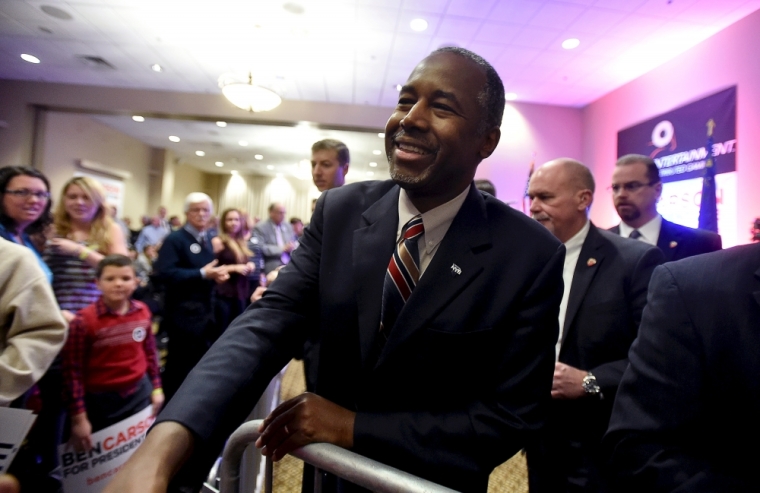 GOP 2016 presidential candidate neurosurgeon Ben Carson shot down as unbiblical a widely held belief among Evangelicals that there will be a rapture. He also said he doesn't believe Hell is a physical place.
The rapture is described in 1 Thessalonians 4:13-18 and 1 Corinthians 15:50-54, according to gotquestions.org. The theory posits that believers who have died will have their bodies resurrected and, along with believers who are still living, will meet the Lord in the air. The rapture is expected to happen in a moment, in the twinkling of an eye.
In an interview this week about his Seventh-day Adventist beliefs with The Washington Post however, Carson said there is no evidence in the Bible supporting the theory, and that Seventh Day Adventists believe in "the entirety of the Bible."
"With the rapture, people are just like lifted away and taken to heaven and I don't see any evidence for that in the Bible," said Carson.
He explained that he believes in the Apocalypse as described in the book of Revelation in the Bible and that "Christ is going to return to the earth again."
He, however, doesn't believe unredeemed people will get sent to a physical place called Hell.
"I don't believe there is a physical place where people go and are tormented, no I don't believe that," said Carson. Heaven on the other hand, said Carson "is where God is" and that is a physical place.
He "pretty much" believes that if you're good you will go to Heaven if you're bad you'll get annihilated. God however has given a choice to mankind, he said.
"He's a force that doesn't believe in dictating. He gives you a choice on whether you want to associate with Him or not. It can provide enormous strength and power if you do," added Carson.
According to the renowned doctor however, when it comes to punishing the wicked: "I see God as a very loving individual. And why would he torment someone forever who only had a life of 60 or 70 or 80 years? Even if they were only evil for 80 years why would you torment them forever?"
When asked why God allowed some many people to be tormented in the world for example by the likes of the terrorist group ISIS, Carson said: "Because we live in an evil world. If He didn't allow any evil to happen. We would be in heaven but we live in a place where we have choices and when we go to heaven you would have made your choice."
Things will be different in Heaven explained Carson because Heaven is a place where only people who choose to "live by the will of God" are allowed.
"For somebody whose heart is not in the right place, heaven would be torture for them. Can you imagine someone who likes to do bad things, they enjoy it and they enjoy evil and you put them in a place like that, that would be the worse torture ever," said Carson. "Why would anybody do something like that?"
Rather than being sent to Hell where they will suffer eternal torment Carson believes that bad people will just get annihilated.
"It's not about tormenting people, punishing people forever. It's about creating the perfect atmosphere," he said.
Dr. Richard Land, president of the Southern Evangelical Seminary who also serves as executive editor of The Christian Post, said Thursday that Carson's views on hell and the rapture are part of the reason some Evangelicals have a problem supporting him as a presidential candidate but he doesn't see it as a deal breaker.
"It's part and parcel of the denomination he affiliates with. That is one of the trademarks if you will of Seventh-day Adventists. It's why some evangelicals will find a difficulty supporting Dr. Carson. Others won't. I think that it will depend to a large degree on how important a person's personal faith is to the candidate they support," said Land.
He pointed to previous presidential candidates like Mitt Romney who went on to become the 2012 GOP presidential nominee despite having "beliefs that we (Evangelicals) believe are another religion."
After drawing a virtual tie with GOP presidential frontrunner Donald Trump four weeks ago, the Quinnipiac University survey released Wednesday showed Carson tumbling after withering scrutiny over his lack of foreign policy expertise and his personal tale of redemption.
When asked if he thinks Carson's faith could eventually cause a problem for him going forward in the presidential race, Land said not as much as his lack of national security experience and his quiet demeanor.
"I don't think his back story or his personal faith are as big a factor as his lack of national security experience. I think with the Paris event and what happened yesterday in San Bernardino are very hurtful to him. He doesn't have any national security cred," said Land.
"Trump comes across as this forceful figure, the people just sort of intuitively believe he would be very strong. I think in this climate, post Paris, post San Bernardino that Carson's lack of national security experience coupled with his calm demeanor probably are the most hurtful things. Or at least the best explanation for his drop in the polls rather than his faith or any questions about his back story," he ended.