Ben Carson Steps Down as Johns Hopkins Commencement Speaker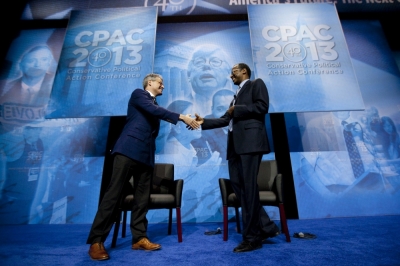 Citing the recent controversy over his comments on same-sex marriage, neurosurgeon and rising conservative star Dr. Benjamin Carson has voluntarily stepped down as commencement speaker at the Johns Hopkins School of Medicine.
The Baltimore Sun reported that Carson, who heads the department of Pediatric Neurosurgery at Johns Hopkins Hospital, informed medical school Dean Paul B. Rothman in a letter that he didn't want to "distract from the celebratory nature of the day."
"Given all the national media surrounding my statements as to my belief in traditional marriage, I believe it would be in the best interest of the students for me to voluntarily withdraw as your commencement speaker this year," Carson notes in the letter to Rothman who later shared it with the Johns Hopkins community.
In an interview with Fox News' Sean Hannity just over two weeks ago, Carson made comments during a discussion of marriage which some took as a shot at the gay community.
"My thoughts are that marriage is between a man and a woman. It's a well-established, fundamental pillar of society and no group, be they gays, be they NAMBLA, be they people who believe in bestiality – it doesn't matter what they are – they don't get to change the definition," Carson told Hannity.
Carson's comments prompted complaints from members of the Johns Hopkins community and other groups who felt Carson was equating homosexuals to members of pedophile advocacy group the North American Man/Boy Love Association and people who are involved with bestiality.
Less than a week ago, Rothman chided Carson for the comments he described as "hurtful."
"It is clear that the fundamental principle of freedom of expression has been placed in conflict with our core values of diversity, inclusion and respect," noted Rothman in a letter to Johns Hopkins colleagues.
Kim Hoppe, a spokeswoman for the university told the Baltimore Sun in an email that Carson's decision had nothing to do with Rothman's rebuke.
"This was purely Dr. Carson's decision," said Hoppe.
In his most recent letter to Rothman on the controversy surrounding his comments, Carson said he hoped that the emphasis on political correctness would be replaced by more rational dialogue on differences in the future.
"Someday in the future, it is my hope and prayer that the emphasis on political correctness will decrease and we will start emphasizing rational discussion of differences so we can actually resolve problems and chart a course that is inclusive of everyone," wrote Carson.
The 61-year-old neurosurgeon who is expected to retire from medicine in June shot to political stardom at the National Prayer Breakfast in February for dishing a politically incorrect speech criticizing government policy on issues like health care, education and taxation.
Since then, conservatives have been salivating at the thought of him running for presidential office in 2016. The Wall Street Journal even ran an editorial in support of the notion, titled "Ben Carson for President."
Carson also received a standing ovation at the recently concluded Conservative Political Action Conference where he did nothing to tamp down buzz about his political ambitions.
"Let's say you just magically put me into the White House," Carson said to the clamoring CPAC audience before pulling back with: "OK, I take it back. Let's say somebody were there... ."