Ben Carson Super PAC Well Prepared for 2016 Iowa Caucus: 136 Chairmen Named in All 99 Counties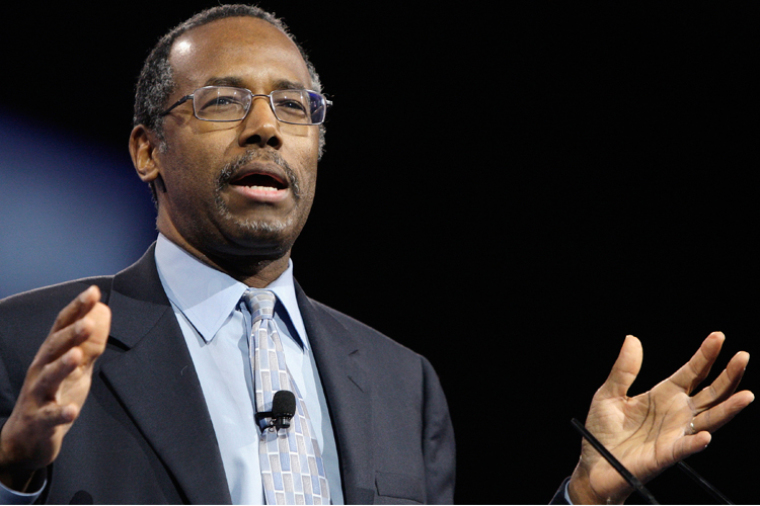 With the nation's first presidential primary result, the Iowa Caucus, about a year away, supporters of potential Republican presidential candidate Ben Carson have already established firm ties and support among Iowa Caucus-goers and have begun orchestrating a full-fledge grassroots campaign effort that will span across all 99 counties in Iowa.
Should Carson decide to run, he will already have a steady grassroots campain to rely on in the nation's first primary state, all thanks to an unaffiliated political action committee. The National Draft Ben Carson for President Committee announced on Tuesday that it has named 136 chairmen to their PAC that will cover every Iowa county. The chairmen will campaign for more individuals to support the 63-year-old retired neurosurgeon and best-selling author at Iowa's Republican caucus in January of 2016.
Carson seems to already have decent support in parts of Iowa, having already won a Polk County, Iowa straw poll in August and placing second in the recent Bloomberg/Des Moines Register presedential poll of likely caucus-goers. Carson also placed second at the Values Voters Summit straw poll of social conservatives.
Having established a presence in all of the Iowa counties with 16 months left until the caucus, the committee's campaign director, Vernon Robinson, said the committee is in "great shape" to put Carson in a position to succeed in Iowa should he officially decide to run for president.
"We are really in great shape at this point, 10 months from Iowa straw poll and 16 months from the caucuses," Robinson told The Christian Post in a Wednesday interview. "Dr. Carson has enough support where it is not one of those instances where the only people that support him are Tea Party folks and newcomers to the political process."
Robinson also said that by already naming chairmen in every county in Iowa, his committee has completed a milestone accomplishment that is rarely reached.
"Establishing chairs in all 99 Iowa counties is a benchmark few presidential campaigns reach," Robinson said in a press release. "Achieving this goal 15 months prior to the Iowa Caucus shows that Dr. Carson is a strong contender for the Republican candidate."
Robinson added that the committee has already identified over 900 individuals who will speak on behalf of Carson at the Caucus. However, it will take thousands more for Carson to win the Caucus. For the 2012 Iowa Caucus, former Sen. Rick Santorum, R-Pa., won with over 29,000 votes.
In the committee's quest to lure more Iowa conservatives in support of Carson, Robinson said the committee has the benefit of using a list provided by the Iowa Republican Party, which includes the contact information of 74,000 Caucus-goers.
Robinson said the role of each of the chairmen is to work with the committee's regional campaign director, Tina Goff, to ensure that all the state's individual precincts have individuals that will speak in support of Carson. Robinson said there are some precincts in the state that don't currently have any individuals that will speak for Carson at the Caucus.
He added that it is especially important that the committee's effort in Iowa work to get more evangelicals, and even medical personnel, to show up to the Caucus. There will also be an effort to get minorities and youth involved, which are demographic groups that generally don't provide much support to conservative candidates.
Robinson said that young people and minorities have seemingly shown a great deal of support toward Ben Carson as they have turned out well at the committee's events at county fairs.
"If the turnout at some of the county fairs has been indicative of what the Carson candidacy can look like, then there is a great opportunity to bring in minorities and young people, who've generally haven't participating in the Republican Caucuses," Robinson said.
At the helm of the committee's efforts in Iowa is Goff, who is the committee's Midwest regional manager and has experience running several political campaigns in the past few years. She served as a volunteer coordinator in the 2010 campaign that led to the election of Iowa's current governor, Terry Branstad. Goff also worked on the 2012 campaign of Santorum.
Although the majority of the committee's efforts are in Iowa thus far, Robinson said that The National Draft Ben Carson for President Committee has also set up grassroots campaigns in other early primary states such as New Hampshire, North Carolina and South Carolina.
"The effort in the other early states is proceeding but is not as far along as what is happening in Iowa," Robinson said.
Support for Carson has grown tremendously since the committee was founded in August of 2013 by John Philip Sousa, IV. The group disclosed to the Federal Election Commission on Sept. 30 that it has raised over $10.5 million since July 1, 2013.
As the political blog Caffeinated Thoughts points out, the $10.5 million raised by the committee is quite an abnormal amount of money to be raised by a political action committee that is unaffiliated with its candidate. By comparison, The Draft Ted Cruz for President Committee has only raised over $300,000 since January of 2013. Official PACs of potential candidates haven't even raised as much as Draft Ben Carson . Mike Huckabee's official PAC, Huck PAC, has only raised over $1.5 million since January of 2013.
"It's all been the force of Dr. Carson's popularity," Robinson said. "I think that there has never been a time better for somebody who is not a part of the oligarchy that rules this country, of current politicians, to be thinking about running for president. I think the combination of Dr. Carson's communicating skills and [public] dissatisfaction with the political class has resulted in the outpour in support."