Ben Carson, Unlike Donald Trump, Can Name His Favorite Bible Verses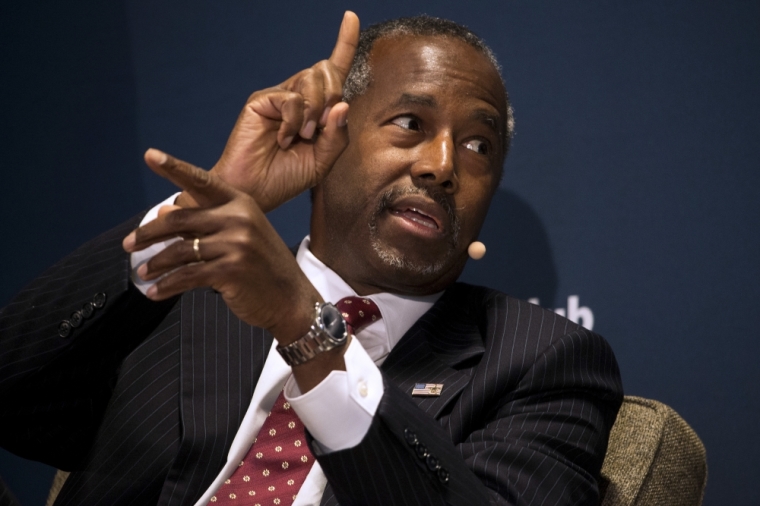 The top two Republican presidential candidates, Ben Carson and Donald Trump, traded barbs recently over favorite Bible verses and job creation.
Both candidates are political outsiders and are reaping support from an anti-establishment wave in the GOP. In a CNN/ORC poll released Thursday, Trump is leading at 32 percent and Carson is in second place at 19 percent.
Carson defended himself against accusations by Trump that he is not qualified to be president because he did not create enough jobs as a neurosurgeon. Plus, Carson demonstrated his knowledge of Scripture after Trump declined to name a favorite Bible verse even though he claims the Bible is his favorite book.
Carson appeared Tuesday on Fox News' "The Kelly File" and said he had a broad base of experience outside of medicine.
Carson was responding to a September 2 statement by Trump, who called Carson "a friend" but said he's created tens of thousands of jobs while Carson is "a doctor who wasn't creating jobs."
"Perhaps a lot of people don't know this, but I've actually done in things in my life other than medicine. I have decades of experience on corporate boards," Carson declared. He stated he served on the boards of Costco, Kellogg and Vaccinogen, and launched a national non-profit.
"Of all the things I have been involved in, the one that I cherish most, is being involved in saving the lives of young children," declared Carson.
"Changing a dark situation into a situation of light for those families, I think that far exceeds anything I've ever done in the world of business," he added.
On Fox News' "Special Report, conservative pundit Charles Krauthammer mocked Trump's criticism of Carson, saying Trump's problem with Carson is that when Carson separated conjoined twins, he didn't hire enough nurses.
Carson, unlike Trump, offered up some of his favorite Bible verses to Kelly from the third and 22nd chapter of Proverbs. Carson recited Proverbs 3:5-6 for Kelly and Proverbs 22:4, which says, "With humility and the fear of the Lord, that is where life and riches come from."
CNN reported Wednesday that Carson said he would consider Trump as his running mate saying, "all things are possible." He also took a dig at Trump's faith when asked the difference between them.
"I realize where my successes come from, and I don't in any way deny my faith in God," Carson said at a campaign rally in Anaheim, California.
NBC Nightly News ran a Tuesday feature on Carson, telling some of his life-story and youthful indiscretions before his religious conversion.
"Ben Carson has just been sort of in the slip-stream avoiding the spotlight, avoiding the scrutiny, and moving up in the polls," Amy Walter of The Cook Political Report told NBC Nightly News.
The largely positive profile of Carson implied the retired surgeon is a figure that naturally resonates with Evangelical voters.
Carson told Megyn Kelly that the situation with Kim Davis refusing to issue marriage licenses in Rowan County, Kentucky and her jailing "is a serious question." He called on the other branches of government "to pitch in and correct the situation." Carson said that Christian dissent based on faith "is a very basic right."
"A lot of our values and principles our based on our Judeo-Christian faith," said Carson. "When there are substantial numbers of people who actually believe in the traditional definition of marriage, I'm one of them, doesn't mean other people can't do what they are going to do, but I actually believe they have the right to force their way of life on everybody else, nor would I try and force my way of life on anyone else."
Carson said it requires "a little bit of effort" and "intellect" to protect the rights and conscience of all Americans.
Carson credited the recent debate on Fox to his rise in the polls: "As I've been going around the country and talking to people, they are able to see perhaps there is some substance there."
Carson said he has a vision of America that is shaped by a lot of citizens in the country, adding that he received a warm welcome Tuesday in San Francisco, typically not known for being a hotbed of conservatism.
The retired neurosurgeon also predicted on the Kelly Report that Hillary Clinton would not be the nominee of the Democrat Party: "She's become quite apparent to the people, as much as I'd like her to be nominee of their party, she's just going to continue to sink."
Carson said "there are a lot of possibilities" that Democrats can pull from and "Democrats have more sense to put up somebody who won't win regardless of who she is running against." Carson added the obvious choice is Vice President Joe Biden but "they get better get started pretty quickly."