Ben Carson Camp: WSJ's Prostate Cancer Story 'Invasion of Privacy' (Interview)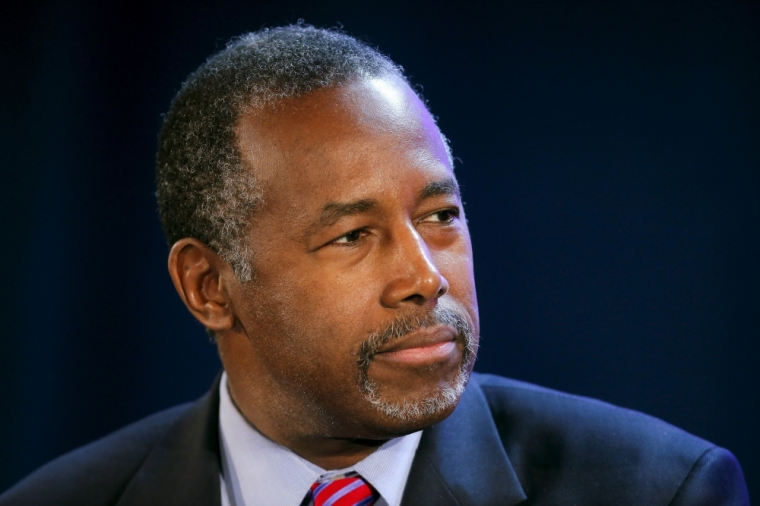 Despite a news report claiming presidential candidate Ben Carson may have had a recurrence of prostate cancer or problems related to it in 2009, a campaign spokesperson told The Christian Post that Carson has no health issues.
A Wall Street Journal report said Carson's struggle with the disease is suggested in a 2009 letter he wrote to the CEO of Mannatech Inc., which produces a nutritional supplement he said helped him recover from the disease when he first fought it in 2002.
"I also can't thank the organization enough for your support with my recent health problems," Carson noted in a copy of the letter cited by the WSJ.
When asked specifically by the WSJ what he was talking about on Wednesday Carson said: "Probably my prostate cancer, I would imagine."
The retired neurosurgeon however declined elaborating further noting: "I really don't want to get into all my personal health issues with you. I don't think that's appropriate."
Carson's campaign spokesman Doug Watts, told The Christian Post Wednesday that the retired neurosurgeon who turned 64 in September, did a checkup with his own doctor on Monday and he received a "clean bill of health."
"It just so happened serendipitously that Dr. Carson had a check-up and his check-up was a perfectly clean bill of health. No issues with his PSA [prostate-specific antigen]. And that's the end of that. That's six years later than the point in time the reporter was speculating on," said Watts.
When asked specifically if Carson's cancer had returned in 2009, Watts said: "I'm not answering anything like that, I don't even know anything like that. It doesn't really matter if it did or didn't because as I can tell you as of two days ago he has a completely clean bill of health."
He said however that the Carson campaign will provide more details on his health perhaps closer to the nomination period while pointing out that Carson had been open in the past about his prostate issues.
"He has answered some health questions. He admitted to having his prostrate issue in 2002 but that's all we are doing for the time being," said Watts.
"At some point in time we will release other records, perhaps closer to a nomination period, but he's been very open about his health before. He was on a phone call on other matters when this [WSJ] reporter [interrupted] and all of a sudden it veered into his health and he was like 'wait a minute.' He felt it was invasion of privacy. That's exactly the way he looked at it," Watts continued.
"He didn't feel like he had to answer him on questions on his health from 2009 that were entirely speculative," he added.
The WSJ noted that Watts had said Carson's PSA level, a test used to help detect prostate cancer or other abnormalities, was "well within the normal range" but Watts denied saying that.
"I actually said it was normal PSA," Watts said.
According to the National Cancer Institute: "There is no specific normal or abnormal level of PSA in the blood. In the past, most doctors considered PSA levels of 4.0 ng/mL and lower as normal. Therefore, if a man had a PSA level above 4.0 ng/mL, doctors would often recommend a prostate biopsy to determine whether prostate cancer was present."
It further noted: "However, more recent studies have shown that some men with PSA levels below 4.0 ng/mL have prostate cancer and that many men with higher levels do not have prostate cancer (1)."
David F. Penson, professor and chair of Vanderbilt University's Department of Urologic Surgery raised concern about Carson's detectable PSA level in the WSJ report.
"If you have a detectable PSA level, usually it is sign that there is cancer left in your body after surgery," he said. "It may not be clinically meaningful, but it's there."
During his interview with CP Watts clarified that Carson's check-up two days ago simply indicated there was "no issue" with his PSA.
According to the CDC, prostate cancer is the most common non-skin cancer among American men. Most types of prostate cancer also grow slowly and usually cause no health problems in men who have them.
As a part of his treatment in 2002, Carson did a "radical prostatectomy," or complete removal of the prostate and some tissue around it explained the WSJ. This was intended to spare sensitive nerves in the area.
While Carson insisted his medical records are private and refused to discuss them openly, Howard Markel, director of the Center for the History of Medicine at the University of Michigan told the WSJ that Carson gave up the right to privacy when he decided to run for president.
"The notion that you are entitled to privacy ends when you want to be president," said Markel.
The WSJ journal cited politicians including President Barack Obama and Democratic 2016 presidential frontrunner, Hillary Clinton who both made their medical reports public.
Medical disclosure "is one more piece of data that voters want to have when they make a decision about who is going to be [the] most powerful leader in the world," Markel said.
George J. Annas, director for the Center for Health Law, Ethics and Human Rights at Boston University School of Public Health argued, however, that the disclosure of medical conditions could create prejudice among some voters.
"We keep that information private because people make decisions based on that information, even though that information may be irrelevant," Annas said.
After drawing a virtual tie with GOP presidential frontrunner Donald Trump four weeks ago, the Quinnipiac University survey released Wednesday shows Carson tumbling after withering scrutiny over his lack of foreign policy expertise and his personal tale of redemption. Among Republican voters, Trump is now drawing 27 percent of the support. Carson, at 16 percent, is in a three-way tie for second place with Sen. Marco Rubio, R-Fla., at 17 percent and Sen. Ted Cruz, R-Texas, at 16 percent.