Ben Carson: Syrian Refugees Want to Go Home, Not Come to America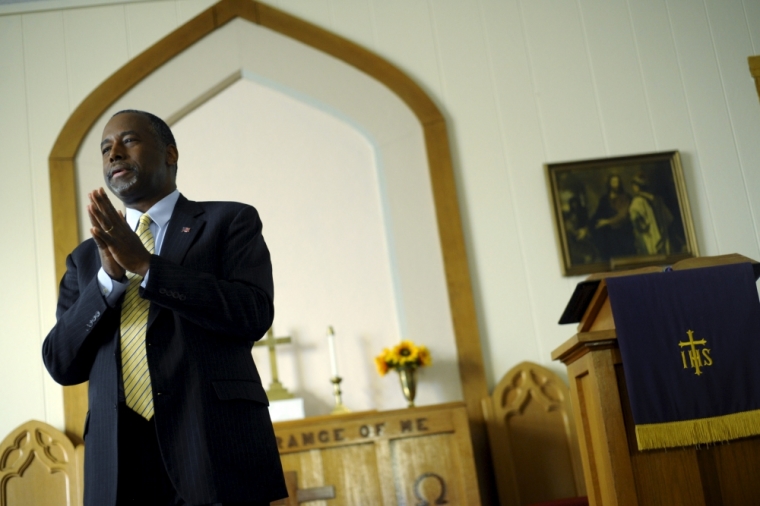 GOP Presidential candidate Ben Carson has said that he spent time with Syrian refugees at a Jordanian camp over Thanksgiving weekend, where the people told him they would rather go back home, than be relocated to America.
"I had an opportunity to talk to many of the Syrian refugees and ask them, 'What is your supreme desire?' And it was pretty uniform: They want to go back home," Carson told ABC's "This Week" on Sunday. "I was a little bit surprised with the answer, because it wasn't what we're hearing a lot. We're hearing that they all want to come here to the United States. And that's not what they want. They want to go back home."
Carson, who has spoken out against allowing more Syrian refugees to come to the U.S., said that Jordan is doing a great job of hosting 1.4 million refugees, but needs more of the world's support.
"The United States must do more. We can do our part to help this crisis without bringing 10-25,000 refugees to the United States," Carson added in a message about the trip on his Facebook page.
"Millions of refugees have now been waiting years for the end of the war to come in Jordan, Lebanon and Turkey. Some are giving up hope that they will ever be able to return to the country. We must keep their hope alive," he added.
The retired neurosurgeon said that Jordan is a safe place for the refugees, which has "welcomed them with open arms."
"But Jordan is a small country. They need the world's help to feed, educate, and care for these refugees until the war ends," he added.
Speaking further with ABC, Carson said that the refugees want nothing more than the end of the civil war in Syria, which for the past four years has torn apart the country.
"They want to go back to their lives. We must find a political end to this conflict," Carson added.
The civil war is being fought between the government of President Bashar Al-Assad, various rebel groups seeking to put an end to his regime, and the Islamic State terror group.
Over four million Syrians have fled their country, looking to escape war and terror, with the vast majority currently settled in refugee camps in neighboring countries. A portion of them are making their way up to Europe, however, and are hoping to be resettled in Western countries, including the States.
Carson has warned, however, that without the ability to vet the coming refugees, it would not be wise for the U.S. to open up its borders further.
"By letting refugees into our country without vetting we are putting America at risk. If our president cannot see the risk, then we must rise to the challenge and protect our country," the GOP candidate said earlier in November.
Security experts have said that migrants coming into Europe unchecked are increasing safety concerns.
"What we have now is the flood gates to Europe have been opened, and waves of migrants from all over the Muslim world are entering unabated. The current flow of migrants is chaotic and completely out of control, as everyone can see. Many so-called asylum seekers are not actually refugees fleeing warzones, but rather economic migrants seeking a better life in Europe," Soeren Kern, a distinguished senior fellow of the Gatestone Institute, a New York-based think tank, told The Christian Post last week.
Campaign officials said that Carson's goal in his trip to Jordan was to listen and meet with the refugees in order to get a better perspective of the crisis and foreign policy issues in the region.
"I leave Jordan knowing we need to get serious about ending the war in Syria. We need to stop whining and start winning. America's two greatest features are compassion and strength. We need to demonstrate both, here and now," he reflected in a follow up message on Sunday.