Ben Shapiro raises concerns about media's coverage of Texas, Nashville Christian school shootings
'It makes you doubt the narrative in this case', conservative podcaster says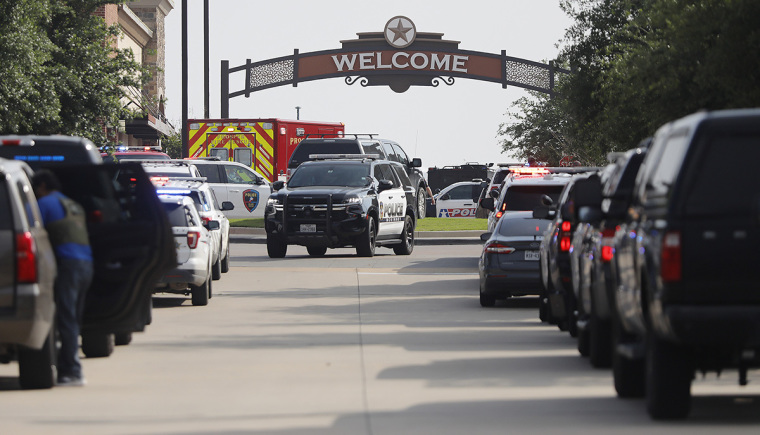 Conservative commentator Ben Shapiro has some questions about the mainstream media's response to the suspected gunman in the Texas outlet mall shooting compared to its coverage of a shooting at a Christian school in Nashville earlier this year.
On his podcast Monday, Shapiro asked how within hours of Saturday's shooting at the Allen Premium Outlets, located about 20 miles north of Dallas, media outlets like The Associated Press were able to identify the gunman's alleged "white supremacist" ideology while they remain seemingly disinterested in why a trans-identified woman killed six people — including three children — at the Covenant School, a ministry of Covenant Presbyterian Church in Nashville, Tennessee. 
At the same time, Shapiro added, mainstream media outlets such as The Washington Post and The Wall Street Journal were suggesting the gunman — later identified by authorities as 33-year-old Hispanic male Mauricio Garcia — was a "neo-Nazi" who might have had a "possible link with white supremacy" on their respective sites.
On Monday, Shapiro put out this tweet: "Within hours of the Allen, TX mass shooting, the media were able to uncover suspected white supremacist motivations. Weeks later, they can't figure out the motivation behind the Nashville Christian school shooting."
Within hours of the Allen, TX mass shooting, the media were able to uncover suspected white supremacist motivations. Weeks later, they can't figure out the motivation behind the Nashville Christian school shooting.

— Ben Shapiro (@benshapiro) May 8, 2023
By Monday afternoon, The Washington Post had changed its neo-Nazi headline to "Investigators examine Texas gunman's white-supremacist views after 8 killed," while the Wall Street Journal headline was unchanged. 
In questioning those claims, Shapiro pointed out the suspect's Hispanic surname as well as his parents' lack of fluency in English.
"This is a person with a very, very Hispanic name and his parents are obviously Hispanic. They required a translator in order to answer questions from the cops," Shapiro said. "It makes you doubt the narrative in this case because they've been so slow in coming out with other narratives."
Shapiro, who is the host of the "Ben Shapiro Show" as well as editor emeritus of The Daily Wire, went on to contrast the media's response to the 2016 Pulse nightclub shooting and, more recently, the tragedy in Nashville.
"We are still supposed to believe it's a giant mystery why a woman who identified as a trans man went and murdered a bunch of Christian schoolchildren in Nashville. This is all supposed to be a mystery," he said. "We still don't have a manifesto from this person. We don't know supposedly why this person did what she did when it's perfectly obvious to everyone why she did what she did.
"But we're supposed to pretend it's a mystery wrapped in an enigma."
NBC News also ran a similar headline — alleging the "Texas mall shooter shared extremist beliefs against Jews, women and racial minorities" — but acknowledged on its site that investigators have not announced any ideological basis for the shooting.
"So far, evidence that investigators have gathered suggests the shooter subscribed to a "mish-mash" of ideologies," the story added.
Allen Police Chief Brian Harvey declined to comment Sunday evening on details about Garcia, telling the AP, "we actually don't have a lot."
Unidentified officials who spoke to the AP on condition of anonymity said the investigation —  which is still in its early stages — was focused on Garcia's social media activity, including what the AP reported as "white supremacist and neo-Nazi views."
Shapiro's comments echoed a similar response from the mainstream media to The Covenant School in March, which saw some of the nation's leading news outlets — including the Post, the Journal and The New York Times — initially avoid referring to The Covenant School as a Christian school after a heavily-armed woman — who was later identified as trans — forced her way into the school and killed six people, including three young children.
The shooter, later identified as Audrey Hale, 28, of Nashville, was a former student at the school and self-identified as trans, according to Metropolitan Nashville Police Chief John Drake.
Immediately following the shooting, several national newspapers declined to identify the school as Christian: The New York Times wrote, "Heavily armed assailant kills 6 at school in Nashville;" The Post ran the headline "6 slain in shooting at Nashville school;" the Chicago Tribune wrote "6 dead in shooting at Nashville school;" and the Journal ran its headline as "Six Shot Dead in Nashville Elementary School."
Other outlets like NBC News avoided using the word "trans" or "transgender" in their headlines to describe the suspect.