Benham Bros. Reveal Time God Judged Them, Wall They Built Came Crashing Down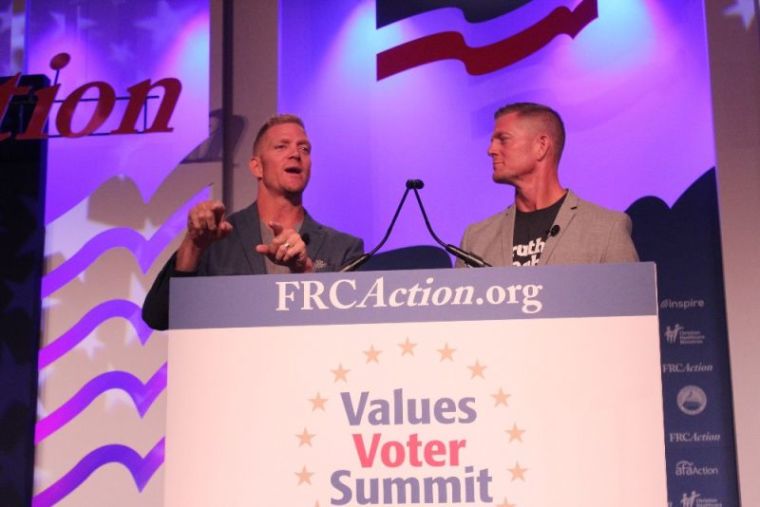 WASHINGTON — Popular Christian real estate entrepreneurs Jason and David Benham revealed on Friday how God judged them in the form of a million-dollar real estate fiasco because they refused to follow His command.
The twin brothers, most known for having their HGTV show cancelled in 2014 because of their conservative views on LGBT issues, who are also the sons of evangelical pastor Flip Benham, spoke again at the Family Research Council's annual Values Voters Summit.
Speaking on the topic of biblical foundation, the Benham brothers told the crowd that attempts to redefine objective truths in society in order to accommodate the comfort of people is "eroding" civil society "right before our very eyes."
"We have to get back to these foundational truths," David Benham, the older of the twins, said.
"Good law has to be based on an objective standard for people's safety, not a subjective standard for people's comfort," Jason Benham added. "If you mess that up and then everything gets messed up and then we end up in chaos."
Jason Benham continued by sharing their own personal experience that made them truly understand the importance of a good foundation.
"God put us through something in 2008, 2009, 2010 where we got a chance to see what foundations are all about," Jason Benham said. "We were building our company. We had just grown to about 50 or 60 real estate offices nationwide. We were well on our way to our 100th. It was 2008 where we said, we are going to buy a piece of property and build a new office."
The brothers, born in Texas, were seeking to build a 12,000-square-foot office in Charlotte, North Carolina. The brothers found an enticing piece of property to build on. However, the property had a sheer drop off into wetlands that would require them to build a 40-foot retaining wall.
"I remember as we prayed whether or not we should buy this piece of property. Get this, both of us felt like God said, 'Yes, this is the place that you need to buy,'" Jason recalled. "Let me just tell you this, what you need to know personally is that God's 'yes' and God's 'go' are two separate things."
Jason Benham stated that in many cases when God is saying yes to someone, there is "usually a period of waiting." During that waiting period, Benham said, God is preparing that person to handle what God had just said yes to.
"What we do often times is we will make a decision based on God saying I can do it and we just run out and do it but we haven't become the people that He wants us to become," Jason Benham said. "So, specifically, when he said yes to us, He said, 'Yes but don't go in debt.' But we were like 'God, we need to build this thing tomorrow.'"
In a rush to get the new building built, the brothers then got a bank loan of $1.7 million and had the building built within one year. Despite having three separate offers from contractors, the brothers chose to go with the lowest bidder to save money.
After the building and the 40-foot retaining wall were built, Jason Benham said that he, his brother and some of their office staff went to the building to pray and dedicate the building to the Lord. Noticing the 40-foot drop from the retaining wall, Jason Benham remembers praying specifically for the wall never to fall.
About two months after the building was finished and fully leased out, Charlotte was hit with about 10 days of steady rain.
"We began to pray, were were like, 'God this is so much rain, can you stop?' I walked out one day about seven days in and I looked down the side of that wall, I noticed that there was a little bulge," Jason Benham relayed to the crowd. "Boy, my heart hit my feet and I went and got [David], 'you need to see this.'"
The brothers called a few contractors to see if anyone could repair the wall.
"So, we had a contractor come out ... and the wall started to teeter a little bit and there was a ravine on this side of the wall and our building was about three feet from it," Jason explained. "Boy, we were in dire straights. I called in another contractor and he said, 'Guys, this doesn't look good. I don't know what we are going to be able to do.'"
About 15 minutes after walking back into the building, the wall crashed.
"We heard an earthquake — boom," Jason Benham remembered. "We went running out and that entire wall blew out and fell down. Fortunately, our building was so big that just the corner of it was exposed and there was nothing in there. That happens to be where our office is. You would step out the door and fall straight down 40 feet."
The brothers weren't sure what to do. David Benham admits that they tried to call the bank to see if they could just bankrupt their LLC. After figuring out that wasn't a possibility, the Benhams decided to just rebuild the wall.
A few days after the wall crashed, the brothers were slapped in the face with what they considered to be God's judgement in the form of Isaiah 30, which was on their scheduled Bible reading.
"'For this is a rebellious people, false sons, sons who refuse to listen to the instruction of the Lord who say to the seers, 'You must not see visions' and to the prophets, 'You must not prophesy to us what is right, speak to us pleasant words, prophecy allusions, get out of the way and turn aside from us, let us hear no more about the Holy one of Israel,'" David Benham recited. "Therefore thus says the holy one of Israel, 'Since you have rejected this word and put your trust in oppression and guile and have relied on them, therefore this iniquity will be to you like a breach about to fall, a bulge in a high wall whose collapse comes suddenly in an instant, whose collapse comes like the smashing of a pottery jar."
Upon reading those words, the brothers said they immediately felt convicted.
"[The Bible] judged us and we heard it loud and clear," Jason Benham said. "Listen, we were standing there and when that wall fell, it was [as described in Isaiah 30]. Literally within days, that was what was in our Bible reading schedule. We read that. That is what God was saying to us. Listen, he gave us his very clear word. 'Yes, I want you to buy this piece of land but I want you to trust me and don't go in debt for it.' God gave us his word. You know what we did with His word?"
Jason Benham said that instead of listening to God, the brothers did it their own way and put God's word to the side.
What happened, the Benhams said, is that God's word "came true."
"We realized in that moment that if we had just listened to God that we wouldn't have been in this predicament," Jason stressed.
After another contractor began the work to deconstruct the destroyed wall, it became apparent that the original contractor never put in drainage or a special type of matting that holds the wall together. The contractor also didn't dig a foundation for the wall.
"He simply put rock on top of raw dirt," Jason Benham said. "Because of that, when it rained, that rain had nowhere to go. So, it was building up that hydrostatic pressure."
It took 10 months for the wall to be rebuilt. Of that 10 months, Jason said that about seven of it was spent on the foundation.
"The amount of money it took for us to rebuild that wall and the amount of money that we had already spent in attorney's fees in trying to get our insurance to take care of these things and all of this stuff, if we had waited on God, we could have paid for the building and wall with cash but we didn't," Jason Benham stated. "Now we were still in debt and yet we had the wall rebuilt. God made us the message so that we can come and speak to you because we know a little something about foundations. You gotta do it right."
Putting their experience into a societal context, David Benham quoted Psalm 11 to say that when foundations are destroyed, the righteous "are to rebuild."
"We had to deconstruct the original wall, get all the lies out, be willing to stand for truth and be willing to stand for that value," David Benham remarked. "When we got those out, we dug down deep and rebuilt that foundation and now that wall is not going anywhere."