Bernie Sanders Says He's Not an Atheist, Believes in God in His Own Way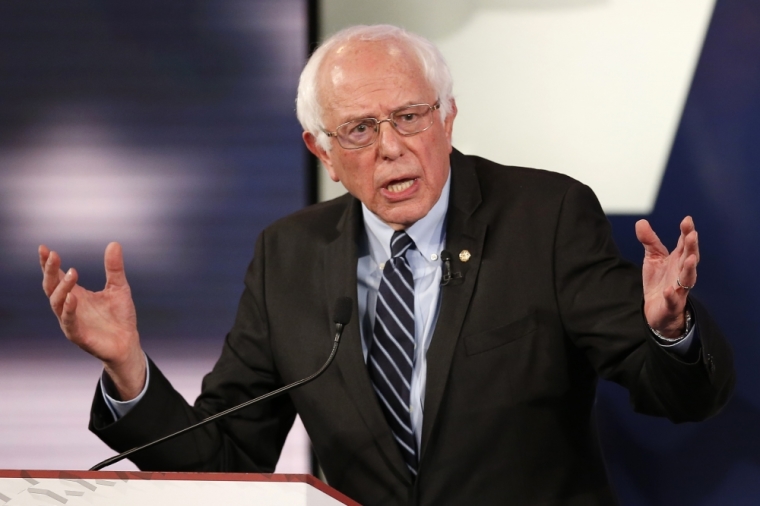 Democratic Presidential candidate Bernie Sanders has said that while he is not actively involved with any organized religion, he believes in God in his own way.
Sanders, who is of an American Jewish background, said that he has his own ideas about God.
"I am not actively involved with organized religion," he said, according to The Washington Post.
"I think everyone believes in God in their own ways," he added. "To me, it means that all of us are connected, all of life is connected, and that we are all tied together."
The 74-year-old junior senator from Vermont had previously not given a direct answer to the question, and when asked by late-night TV host Jimmy Kimmel in October whether he believes in God, the Democratic candidate said:
"I am what I am. And what I believe in, and what my spirituality is about, is that we're all in this together."
WP pointed out that the self-described "democratic socialist," who has made standing up to big Wall Street banks a centerpiece of his campaign, has prompted much speculation online with his seeming reluctance to put a label on himself when it comes to religion.
Still, the Democratic candidate revealed that his immigrant father and first-generation American mother raised him with a sense of morality found in Judaism and other faiths.
"I want to be treated with dignity and respect, and I want other people to be treated with dignity and respect," Sanders said.
"I think it is important that a sense of morality be part of our politics."
The Vermont senator talked about that morality in his speech in September at Evangelical Christian school Liberty University, where he referenced Jesus' Sermon on the Mount.
"I am motivated by a vision which exists in all of the great religions — in Christianity, in Judaism, in Islam, Buddhism and other religions — and which is so beautifully and clearly stated in Matthew 7:12," Sanders said. "And it states: 'So in everything, do to others what you would have them do to you, for this sums up the law and the prophets.'"
Sanders has also often mentioned his deep respect for Pope Francis, especially when it comes to the latter's speeches on the urgency for the world to address climate change, and the need for society to take care of the poor, the sick, and the elderly.
The Democrat's official Twitter page posts quotes by Pope Francis talking about such issues, and in his interview with WP he added:
"In terms of climate change, you have people as conservative as the evangelicals, many evangelicals, who understand that you cannot destroy God's planet. And you have Pope Francis, who as you know, I admire very, very much, talking about this planet and the suicidal direction regarding climate."
Sanders' main Democratic rival, Hillary Clinton, on the other hand, talked at length about her Christian faith during a campaign stop in Iowa earlier this week.
"I am a person of faith. I am a Christian. I am a Methodist," Clinton said in response to a question.
"I feel very grateful for the instructions and support I received starting in my family but through my church, and I think that any of us who are Christian have a constantly, constant, conversation in our own heads about what we are called to do and how we are asked to do it, and I think it is absolutely appropriate for people to have very strong convictions and also, though, to discuss those with other people of faith," she added.