Beth Moore leaves Southern Baptist denomination: 'This is not who I am'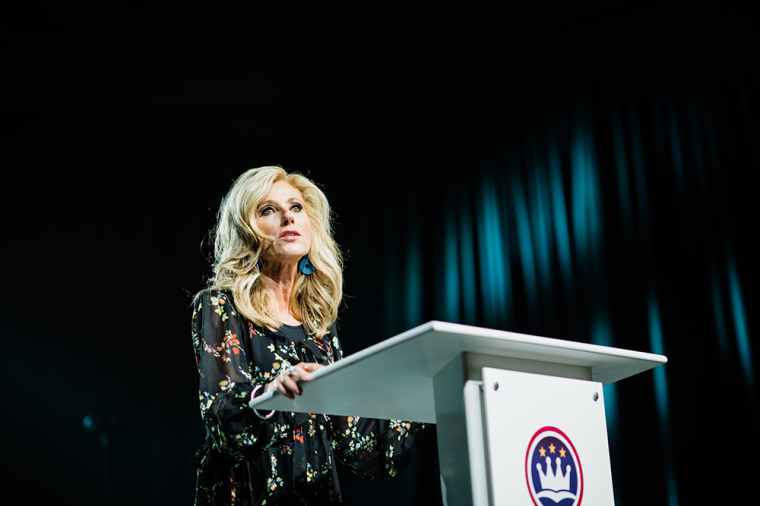 Living Proof Ministries head Beth Moore has announced she's leaving the Southern Baptist denomination, saying she does not "identify with some of the things" in its heritage which she claims "haven't remained in the past."
"I am still a Baptist, but I can no longer identify with Southern Baptists," Moore told Religion News Service. "I love so many Southern Baptist people, so many Southern Baptist churches, but I don't identify with some of the things in our heritage that haven't remained in the past."
"At the end of the day, there comes a time when you have to say, this is not who I am," she later added.
A New York Times bestselling author, Moore said she has also ended her publishing deal with Lifeway Christian Resources, though it will continue to sell her books. 
Having been one of the more prominent female figures within the Southern Baptist denomination, Moore grew increasingly critical of the denomination in recent years, particularly after the election of former President Donald Trump.
In a 2018 interview with The Atlantic, Moore was cited as believing "that an evangelical culture that demeans women, promotes sexism, and disregards accusations of sexual abuse enabled Trump's rise."
Recently, she condemned "Trumpism" as both "astonishingly seductive" and "dangerous to the saints of God," and warned against Christian nationalism.
Moore has also been vocal in her criticism of the Southern Baptist Convention's handling of critical race theory and racial issues in public posts on Twitter. 
She sparked controversy in 2019 when she argued that while complementarian theology does not necessarily cause abuse in the Church, having too few women in power has directly contributed to the sexual abuse crisis in churches. She also suggested that the SBC has placed too many restrictions on women's roles in churches, and that obsessing over the subject ultimately impedes the furtherance of the Gospel.
According to RNS, Moore and her husband have begun visiting a new church she described as "gospel-driven." She said that while she might join another denomination, she remains Baptist in her heart. 
On Twitter, Moore received support from others in the evangelical community. 
Ray Ortlund, pastor at Immanuel Church in Nashville, Tennessee, called Moore one of his "heroes."
Trillia Newbell, director of Community Outreach for the Ethics & Religious Liberty Commission of the SBC, tweeted: "I have deep love and respect for @BethMooreLPM. She let me know this was coming because she is human, and she loves others fiercely. As I think about our tendency to analyze and tear each other apart, I hope we'd resist it here and instead pray."
Kristin Kobes Du Mez, associate professor of history and gender studies at Calvin University, tweeted: "Wishing @BethMooreLPM all the best. This isn't just a public statement, it entails all sorts of personal and professional costs. I know so many who are facing their own decisions of this sort. As usual, she leads with grace and courage."