BET's 'Sunday Best' Premiering New All-Star Format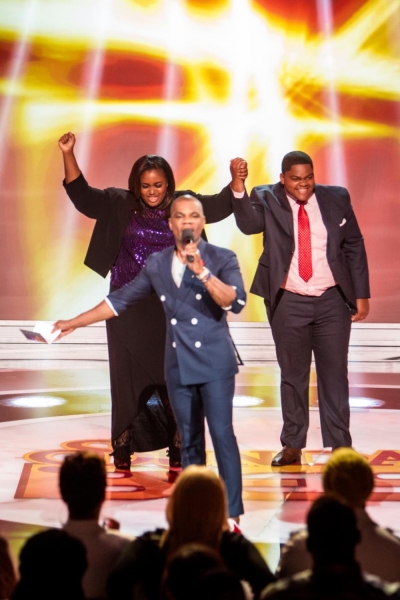 The eighth season of BET's hit gospel competition, "Sunday Best" is unlike any other, giving previous all-star contestants another chance to win the competition.
Instead of going through an audition process, fans will vote for the all-stars that they would like to see return for another chance of winning "Sunday Best." The voting process will begin online Wed, April 1 at 3 p.m. ET on BET's website.
Fans will also have the opportunity to reacquaint themselves with all-stars by logging on so that they can check out performance highlights before voting. The top ten finalists will be announced on-air when during the "Sunday Best All Stars" premiere, Sunday, July 19 at 8 PM ET/PT on BET.
Kirk Franklin will return to executive produce the show, and judges Donnie McClurkin, Yolanda Adams and Kierra Sheard will also be back. Kim Burrell will continue to mentor contestants during the upcoming season.
"The chosen SUNDAY BEST ALL STARS finalists will have a chance to showcase how their artistry and stage presence has grown since competing on the series," a BET statement obtained by The Christian Post reads. "Contestants will also compete for a cash prize, recording contract with Franklin's record label, Fo Yo Soul Recordings and a chance at redemption being crowned champion. This season, SUNDAY BEST ALL STARS will crown the new winner in a LIVE finale on Sunday, August 30."
After seven years of appearing on the popular BET gospel music singing competition, Franklin previously spoke to The Christian Post about continuing to be excited about returning to host the competition.
"It's very cool to see people get excited about content that is still very vertical," he told CP. "That's what I want to do and get involved in. I continue to try to push that agenda."
Although Franklin said he could never judge the competition because he would have a hard time sitting still, the veteran gospel musician is an executive producer for the show and decided to sign "Sunday Best" winners to his Fo Yo Soul record label. Tasha Page-Lockhart won the competition last season, which resulted in Franklin signing her and executive producing her recently released debut album, "Here Right Now."
Franklin has a vision, not only for Page-Lockhart's album or for his singing group The Wall Group, but for his record label to which they belong.
"We're trying to create content that is very culturally forward without compromising the push of the gospel," he told CP.