'Bible Answer Man' Hank Hanegraaff's cancer in remission: 'God's grace'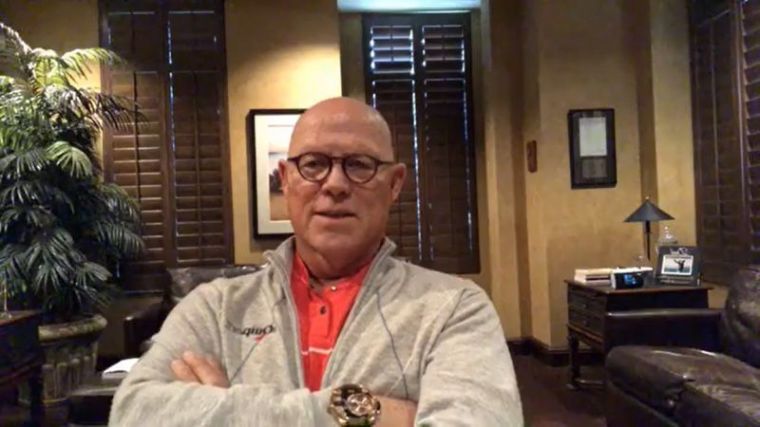 Hank Hanegraaff of the "Bible Answer Man" program has revealed that his cancer is in remission following a clinical trial, and cited "God's grace."
"It's been about three months since I had my last CT scan, and I just had a scan this Monday," Hanegraaff said last week in a Facebook video on his battle with mantle cell lymphoma.
He revealed that the doctor read him the results of the scan, as well as from his most recent blood work.
"The bottom line is, I heard a word that I did not think that I would hear this soon. And that is the word 'remission.' For the first time since I started the battle with cancer 20 months ago, I am finally in remission," he said.
"It's been an interesting journey. I was diagnosed on April 15, 2017, so most of 2017 was taken up by going through chemotherapy," he noted.
Hanegraaff provided updates about his health throughout the process, including some bad episodes, such as when he suffered a bad chemotherapy reaction in his first round of cancer treatment in 2017.
The Orthodox Christian author said at the time that the reaction caused him to "shake uncontrollably."
"Suddenly, in the middle of it, I got short breath, and I had a real strong pain in my chest, and all of a sudden I started to shake uncontrollably. The symptoms caused the nurses to shut down the chemo until they could get me back to a place of stasis, and they did," he described.
Still, he said that God knows what He's doing. He positioned that God creates a tapestry, and sometimes "we just see the underside of that tapestry, and it doesn't look so good, but God knows exactly what He's doing."
In his latest video, Hanegraaff said that there were complications in the treatment and getting the cancer out of the bone marrow, as doctors could not create enough stem cells from his body. He noted that in February 2018, the tumors had returned but did not get into any of his major organs.
"By God's grace, we got into a clinical trial, and through that clinical trial I have achieved remission. It has been an extraordinary journey," he said.
The Christian Research Institute leader said that his ministry has also been undergoing changes, such as rebuilding its studio and website. And at the same time, despite his cancer battle, he has been able to continue traveling and providing biblical analysis on important topics.
"All of that is made possible by friends who stand shoulder and shoulder with me in the battle of life and truth," he said.
The "Bible Answer Man" further revealed that he is currently working on the "the most important book I've ever written," the title for which will be Truth Matters; Life Matters More.
"I am grateful to God," he said, as well as to "so many people who have prayed for me, stood with this ministry, not only in terms of prayer support, but also financial support. As we approach the year end, and it's coming up soon, we depend on God's people to be generous, to give not to our ministry, but through our ministry, and touch the lives of people for time and for eternity."
Watch Hanegraaff's cancer update below: