Bible Translator Killed, Houses Burned Down, Huge Disruption to Bible Projects in Cameroon Crisis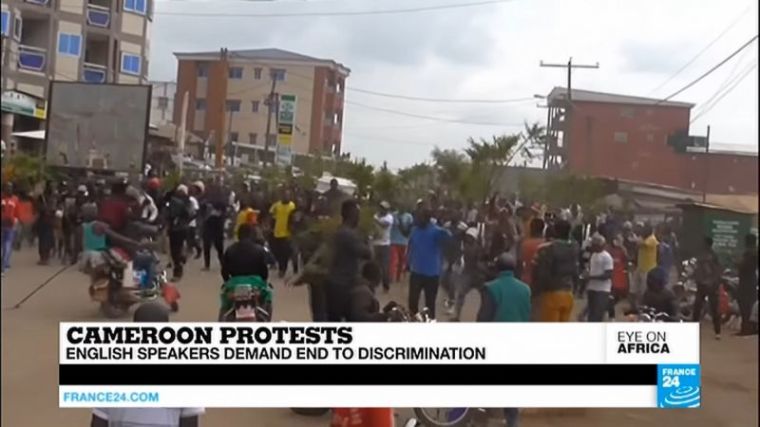 A Bible translator has been killed, with Christians seeing their houses burned down and major disruptions to Bible projects in Cameroon, which has recently been gripped by wide-spread violence in clashes between French and English-speaking populations.
Bruce Smith, president and CEO of Wycliffe Associates, told Mission Network News last week that at least one local translator, named Anka Terence, was killed by soldiers in the Ngwo region on May 23rd.
"There has been a number of people that have had their homes burned," Smith said. "They have had to flee into the bush. ... The problem is the violence just seems to continue to be escalating with no end in sight. We're concerned, naturally, for the people of the country, but also for the progress of Bible translation there as well."
He added that a number of the 85 Bible translation projects taking place in Cameroon have had to be put on hold as the violence has worsened over the past few months, with 17 of the projects located in the dangerous western region of the country.
"There is just a huge disruption to the whole family of Bible translation projects that are going on. Even though it's only affecting 20 percent of them, 20 percent is a pretty large number when it's your brothers and sisters in Christ," Smith said.
Amnesty International separately reported that English speakers in the country have been attacked by the Cameroon military and armed Anglophone separatists. The human rights group shared of victims beating beaten, tortured and electrocuted by soldiers.
The crisis has grown out of longstanding grievances the English-speaking provinces in the country, which make up around 20 percent of the population, have with the Francophone central government.
So far, more than 160,000 people have been displaced by the violence, with close to 21,000 having to flee as refugees to Nigeria.
Wycliffe Associated clarified that it is not so much a religious war and that the Church has not specifically been targeted, but Christians are still caught in the crossfire.
"Unfortunately as the Church leaders have tried to mediate this disagreement between different parts of the country, they have also been targeted in lawsuits by the government and basically intimidated in order to back down so that they wouldn't continue to influence the process," Smith said.
He explained that his group has been trying to help other Bible translation partners that have gone missing.
"We're trying, first of all, to secure the people's safety, the translators that are part of the teams that have been driven out of their homes. Most of them have lost their fields, they have lost their herds, their animals, things like that as well as their physical homes," he continued.
"They're basically just surviving [by] hunting and gathering in the bush. So we're trying to locate them, we're trying to get them to safe places, trying to help them reconsider resuming their Bible translation work, but they really have to go through some counseling and some adaptation in between now and then in order to make that possible."
Wycliffe Associates has launched projects in some of the most dangerous places in Africa, including recently in the Democratic Republic of the Congo, where people have seen shocking forms of violence.
"It grabs at my throat to think about what the people have gone through in the DRC," Smith said in April.
"Generations of tribal violence ... people hunted like animals ... torture, mutilation, kidnapping, executions ... fear and anger and utter, total despair that anything can ever be different."