Biden admin. will bar schools from outright banning boys in girls' sports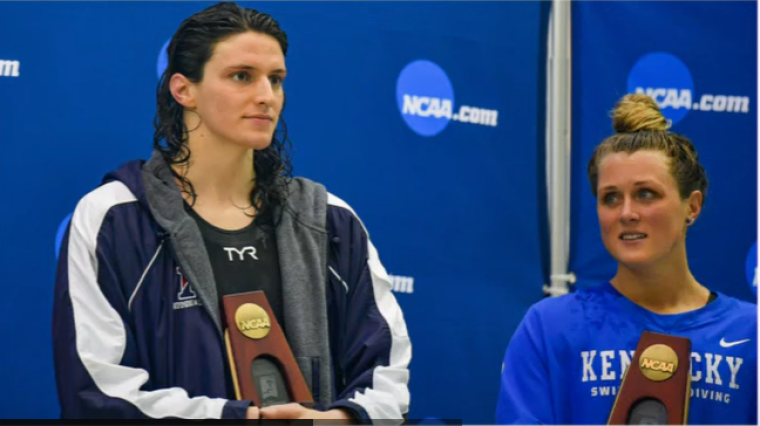 The Biden administration is taking fire from both sides of the political aisle after proposing a new rule limiting the ability of schools and universities that receive federal dollars to ban males from competing in women's sports as 20 states have enacted such measures. 
The U.S. Department of Education released a notice of proposed rulemaking Thursday, indicating an intention to create a new rule to establish a "regulatory standard under Title IX that would govern a recipient's adoption or application of sex-related criteria that would limit or deny a student's eligibility to participate on a male or female athletic team consistent with their gender identity."
Title IX is a federal civil rights law requiring schools to create equal opportunities for women and girls in education, including athletics. Federal law requires educational institutions to comply with Title IX in order to receive federal funding.
"If a recipient adopts or applies sex-related criteria that would limit or deny a student's eligibility to participate on a male or female athletic team consistent with their gender identity, those criteria must, for each sport, level of competition, and grade or education level: (i) be substantially related to the achievement of an important educational objective, and (ii) minimize harms to students whose opportunity to participate on a male or female team consistent with their gender identity would be limited or denied."
The proposed rule acknowledges that "fairness in competition may be particularly important for recipients in some sports, grade and education levels, and levels of competition." The proposal adds that "some uses of sex-related eligibility criteria would satisfy the standard in the proposed regulation in some sports, grade and education levels, and levels of competition."
However, the department characterized outright bans on trans-identified athletes competing on teams that correspond with their gender identity in all cases as inconsistent with the new federal policy.
"Criteria that assume all transgender girls and women possess an unfair physical advantage over cisgender girls and women in every sport, level of competition, and grade or education level would rest on a generalization that would not comply with the Department's proposed regulation," the rule states. 
"Criteria that categorically exclude all transgender girls and women from participating on any female athletic teams, for example, would not satisfy the proposed regulation because, in taking a one-size-fits-all approach, they rely on overbroad generalizations that do not account for the nature of particular sports, the level of competition at issue, and the grade or education level of students to which they apply," the proposed rule added.
In a statement shared with The Christian Post, Penny Young Nance of the conservative advocacy organization Concerned Women for America declared that the Biden administration "has put the final nail in the coffin of Title IX." The activist predicted that "under this rule, equal rights for female athletes are history" because "those 50 years of women's achievements can now go to men pretending to be women."
Ryan Walters, Oklahoma's Superintendent of Public Instruction, chastised the proposed rule as "outrageous" in a video posted to Twitter Thursday. He assured the residents of his state that "we remain firm in our values." Oklahoma is one of 20 states with a law requiring athletes to compete on sports teams consistent with their biological sex. 
No, @JoeBiden boys will not play in girls sports in Oklahoma. pic.twitter.com/P2OOJXJeXP

— Superintendent Ryan Walters (@RyanWaltersSupt) April 6, 2023
"We understand the difference between boys and girls. We will not allow boys to play in girls' sports. We will protect all children, especially our girls," he vowed. "We will not allow for this to happen. I will continue to fight back against this most radical presidency in American history."
In a subsequent tweet, Walters announced that a "Special Board" meeting will take place Wednesday, where he will "make clear to the board his intention to oppose the rule, and will ask all districts to submit within 21 days an outline of their existing sports programs." He signaled his intention to "sue the federal government" if "the Biden administration implements this illegal rule." 
This is an incredibly misguided and stupid escalation by the radical agenda by Biden. The Biden Administration will stop at nothing to destroy our families and endanger girls in every school. This insanity stops here. pic.twitter.com/Ud4Hkj8Jp5

— Superintendent Ryan Walters (@RyanWaltersSupt) April 7, 2023
LGBT advocacy groups offered a mixed reaction. As they praised some aspects, they suggested that the proposal did not go far enough.
"This proposed rule includes critical recognition of the importance of participating in sports for transgender youth and shows why 100% of the state bans are invalid," Lambda Legal Senior Attorney and Director of Lambda Legal's Nonbinary and Transgender Rights Project Sasha Buchert said in a statement. "We are concerned about whether the proposed rule can properly eliminate the discrimination that transgender students experience due to the pervasive bias and ignorance about who they are."
"These students must have full and equal chances to participate because participation in athletics provides many long-term benefits for young people, including important health benefits, and chances to develop leadership skills, discipline, and self-confidence," she added. 
"Given the importance of the opportunity to participate in athletics to students' educational experience, we look forward to submitting comments and working with the administration to further remove those remaining bigotry-based barriers to full and equal participation by transgender youth."
Kelley Robinson, president of the Human Rights Campaign, praised the proposed rule for making it "abundantly clear" that "discriminating against transgender athletes is wrong and a violation of federal law." She insisted that "every student deserves to be treated with dignity and respect," adding, "this includes transgender girls of all ages and in all sports, without exception."
"The new rule should be clarified to ensure that all transgender students should be presumed eligible to participate in sports consistent with their gender identity," she added. "This moment we're in is truly a crisis for transgender young people — and we're calling on elected leaders at every level of government to fight harder for our kids. For all of us who believe in equality and justice for all, we should be relentless in our work to undo the harms that have already been done and our pursuit of a better tomorrow."
Supporters of state laws requiring athletes to compete on sports teams consistent with their biological sex point to the biological differences between men and women as the reason why the state policies are necessary. USA Powerlifting has listed "increased body and muscle mass, bone density, bone structure, and connective tissue" as factors that give biological males, on average, an advantage over biological females in sports.
Reports of trans-identified male athletes dominating female sports competitions have made national headlines. One of the most notable examples is Lia Thomas, who swam on the University of Pennsylvania's women's swimming team in 2021 after competing on the men's swimming team for three seasons. Thomas broke records throughout the season and won the 500-yard freestyle NCAA Division I national championship.
As for the Biden administration's new rule, a notice within the draft published by the Department of Education notes that "this document has been sent to the Office of the Federal Register and is being scheduled for publication." When that happens, the public will have 30 days to offer comments. 
In January 2022, the NCAA unveiled a new policy allowing each sport to determine its policies regarding the participation of trans-identified athletes. The new policy is similar to guidelines enacted by the International Olympic Committee, giving each sport's governing body the ability to set its own rules.
The NCAA labeled its policy a "sport-by-sport approach to transgender participation that preserves opportunity for transgender student-athletes, while balancing fairness, inclusion and safety for all who compete."
In May 2022, the World Swimming Coaches Association released a position statement expressing pessimism that the push for including trans-identified biologically male athletes in women's swimming can't be balanced with competitive fairness. 
"Competitive fairness cannot be reconciled with self-identification into the female category in a gender-affected sport such as swimming," the statement reads. "The average differences in strength, stamina, and physique between the sexes is significant. Transgender females are, on average, likely to retain physical advantages listed above even if testosterone suppression is utilized."