Biden slammed for firing EEOC lawyer who worked to combat religious discrimination in workplace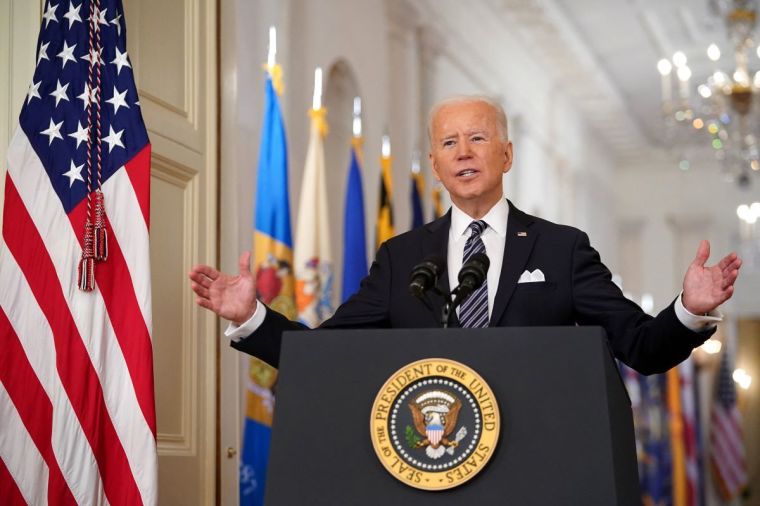 A group of Republican senators is criticizing President Joe Biden's firing of Equal Employment Opportunity Commission General Counsel Sharon Fast Gustafson, who worked to combat religious discrimination in the workplace, an action they described as "dangerous."
Sens. James Lankford of Oklahoma and Rand Paul of Kentucky led a group of six senators who sent a letter to Biden Tuesday expressing concern about Gustafson's firing. She was nominated by former President Donald Trump in 2018 and refused to step down when asked.
The letter's other signatories are Sens. Mike Braun, R-Ind., Roger Marshall, R-Kan., Rick Scott, R-Fla. and Tommy Tuberville, R-Ala.
Gustafson's firing took place on March 5, more than two years before her four-year term was set to expire. 
Gustafson was "the first Senate-confirmed female General Counsel at the EEOC since that agency was created in 1965."
"In her letter refusing your demand for her resignation, Ms. Gustafson mentioned that you gave no reason for making such a demand," they wrote. "She conveyed concerns, however, that it may have been because of her work bringing together believers of all faiths to explore how the EEOC could better respond to religious discrimination in the workplace."
The senators quoted from a portion of Gustafson's letter to Biden, where she asserted that "I do not know which of your advisors recommended that you made the request. But please be aware that there are those who oppose any advocacy on behalf of employees who experience religious discrimination and on behalf of constitutional and statutory protections for religious entities."
"We truly hope that Ms. Gustafson's termination was not motivated by opposition to her work fighting religious discrimination, but in the absence of any explanation, all we can do is hope," the signatories maintained. "Whatever the reason, this termination does more than set a dangerous precedent; it exceeds presidential authority."
They cited the fact that "the EEOC is a quasi-judicial agency designed by Congress to be bipartisan and free from coercive political interference" whose "General Counsel is nominated by the President and confirmed by the Senate for a fixed four-year term."
"Well-established Supreme Court precedent leaves no doubt that for-cause removal applies to term-limited political appointees at quasi-judicial agencies, even if they perform substantively executive functions within those agencies," the senators continued.
"Sharon Gustafson's termination, in defiance of Supreme Court precedent and well-established practice, undermines the ability of the Equal Employment Opportunity Commission to function as the meaningfully independent entity Congress designed it to be," they concluded. "We therefore call on you to reinstate Ms. Gustafson immediately to her position as General Counsel."
Several pro-LGBT civil rights groups voiced concerns with Gustafson's nomination in 2018, citing her "evasive answers regarding the rights of LGBT workers" during a Senate confirmation hearing. 
Gustafson's firing is not the only development causing conservatives alarm about Biden's stance on the issue of religious liberty.
Almost immediately after taking office, the president signed an executive order prohibiting discrimination based on sexual orientation and gender identity. 
In response to that executive order, Tony Perkins, president of the socially conservative Family Research Council, warned that "President Biden's executive order effectively targets people of faith and faith-based organizations that provide social services that are even more vital in the midst of a pandemic."
Additionally, Biden has expressed support for the wide-reaching Equality Act dating back to his time on the campaign trail.
While the legislation's proponents portray it as a necessary measure to prevent discrimination against LGBT Americans, its critics argue that it would force people of faith to violate their convictions about marriage and sexuality and fund abortion on demand. 
In 2019, Perkins, along with 20 other Christian conservatives, penned a letter to leaders of the U.S. House of Representatives and the Senate as the House considered the Equality Act for the first time.
In the letter, they contended that the bill was "anti-life and creates a right to abortion on demand." Perkins elaborated on his concerns in a separate op-ed for The Daily Signal.
After explaining that the Equality Act would expand the protections of the 1964 Civil Rights Act to include bans on discrimination based on "pregnancy, childbirth, or a related medical condition," Perkins shared the implications about the proposed amendment to federal law. 
"Under this big new umbrella of 'discrimination,' any American who doesn't want to fund, offer, perform, or participate in abortion on demand will have no real choice," he wrote. "They can conform — or they can be punished."