'Big Bang Theory' Actor Hopes to Encourage Discussion on Faith With New Show 'Living Biblically'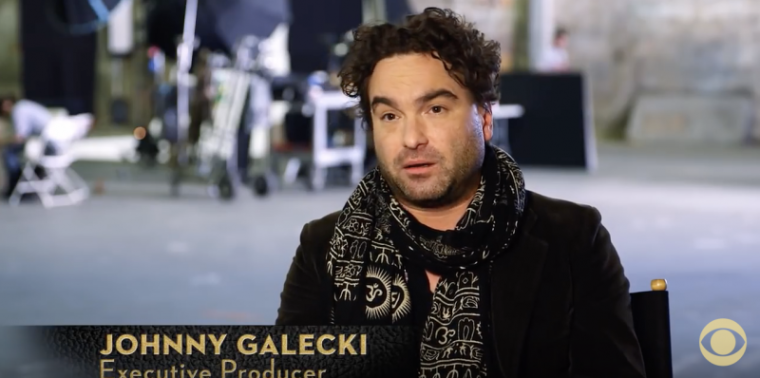 "Big Bang Theory" star Johnny Galecki is hoping his new show "Living Biblically" will encourage discussions about the Bible in everyday life.
Galecki, who plays physicist Leonard Hofstadter on the hit comedy series "The Big Bang Theory," goes behind the camera as the executive producer for his new CBS show "Living Biblically."
The show will center around a man named Chip Curry (Jay R. Ferguson) who drastically changes his life to live strictly by the Bible.
Galecki told reporters during a recent press tour that he believes it's crucial to do a show surrounded by faith. The 42-year-old believes the faith-based demographic is extremely underrepresented on TV.
"When I started my production company, it was No. 1 at the top of the list to try to do a comedy about religion," he told a panel at the Television Critics Association's Winter Press Tour. "I recognized that these conversations [about religion] weren't being had despite the fact that ... 80 percent of people in the world subscribe their lives to some sort of spiritual belief."
As a result, the actor set out to create a series that could "inspire a conversation around the water cooler" about the Bible.
"One of the biggest hurdles is the fear to have the conversation about [religion] ..." he continued. "The best way to approach [a topic] that people may be uncomfortable with is with comedy."
Galecki went on to discuss his own upbringing, which he labeled a "hippie Catholic" childhood. His religious practices consisted of sitting on the floor with his legs crossed singing with guitars about God. He shared that his mother spent "many years" in a convent before marrying his dad.
"There were a lot of elements of Catholicism in my upbringing," he said. "There are a number of people involved in the show who are devout with their beliefs."
Created by Patrick Walsh, "Living Biblically" has already completed 13 episodes for the first season so far. According to Walsh, he sought the counsel of various consultants to ensure the script was always accurate and respectful.
"We have a priest and a rabbi read every draft of the scripts and tell us where we are wrong or where we could use a better example from the Bible," Walsh said during the press tour.
Walsh maintained that the show will not at all bash faith in any way.
"I think, hopefully, [people of faith] will find this show a cool take on what a lot of people base their entire lives around," he assured.
Galecki said that he was encouraged by the reactions they received from religious studio-audience members during the live tapings.
"... There was one shoot night where the audience wasn't as raucous as they had been in previous tapings, and I couldn't figure out why so I talked to [the company that gathered the audience] ... and they said the only difference was that this was the first ... live audience where there wasn't a religious group there," he added. "And that was so galvanizing to us. Like I almost get misty-eyed talking about it because our fear was such the opposite.
"Our fear was that we might offend those people who we deeply, deeply respect and want to represent in a very sane, grounded, respectful manner. So the fact that we weren't turning those people off, the fact that they were invested in the show just made us feel like 'OK, we're on the right track at least.'"
For the future he hopes the new series will "inspire a conversation" about religion. "... Let's talk about it," he insisted. "Let's feel safe enough to talk about it in a respectful way."
"Living Biblically" premieres on CBS on Feb. 26 and stars Jay R. Ferguson, Lindsey Kraft, Ian Gomez, David Krumholtz, Tony Rock and Camryn Manheim.
For more information, visit the show's website.