Bill Clinton on Mid-East Violence: Religious Extremists Won't Survive 21st Century
Former President Bill Clinton commented on the current unrest in the Middle East in a recent interview, suggesting that religious extremists living in shame-based cultures are unlikely to survive the 21st century.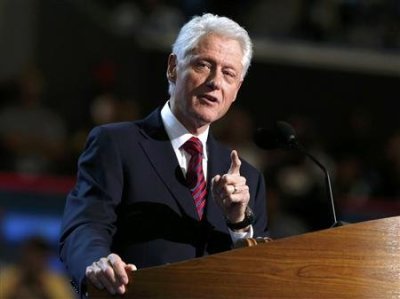 "If you live in a shame-based society where you think nothing good's gonna happen, the temptation is to wait for somebody to say something you'd find offensive and you can lash out against it. But free people absorb destructive things and refuse to be destroyed," Clinton said in an interview with "CBS This Morning" co-hosts Charlie Rose and Norah O'Donnell.
"You cannot live in a shame-based world. You won't make it in the 21st century," he added.
An anti-Islam video produced in the U.S. and posted on YouTube enraged Muslims in several Middle Eastern countries, causing wide-spread violence that hit numerous Western embassies. In one of the most serious attacks, U.S. Ambassador to Libya Christopher Stevens was killed along with three other Americans after Islamists stormed the consulate in Benghazi.
Former President Clinton, who has backed the Obama administration's handling of the issue, has said that ultimately the problem lies with people who are offended and react violently every time they feel an aspect of their religion is targeted. He also insisted that preserving religious freedom and freedom of speech is essential and the U.S. should stand firm against calls by Islamic states to establish global blasphemy laws.
"We weren't disrespecting Islam by not squelching a film trailer that nobody in authority knew anything about; that 99 percent of us think was crude, and disrespectful, and awful," he said. "We have learned the hard way, over more than 200 years, that in order to preserve freedom, and liberty, including the freedom of religion, you have to allow people to say and do things that you find abhorrent. And you can't react every time you're insulted."
Noting that he does not believe such shame-based religious extremism will thrive in this day and age, the former president continued: "There's too much diversity. There's too much stuff going on the Internet. You gotta be able to say, if you believe in Islam, that, 'I believe in a god and a prophet strong enough to withstand the criticisms of petty, narrow-minded, mean-spirited people. I believe that the cultural crassness I abhor will, in the end, fall before the values that I exalt.'"
Clinton's comments come on a day when the United Nations General Assembly is meeting to discuss the ongoing violence in the Middle East and issues such as religious freedom and blasphemy laws.
President Barack Obama delivered an address in which he recalled the life of slain U.S. envoy Stevens, and used the incident to highlight the need for nations to work together and end the violence and intolerance that has led to the attacks on Western embassies.
 Bill Clinton speaks at the 2012 DNC (C-SPAN) - Full Speech