Bill Gates Supports Gay Marriage With $100K Gift
Microsoft co-founder Bill Gates has waded into the same-sex marriage debate in Washington State with a $100,000 contribution to help defeat a referendum that would ban same-sex marriage.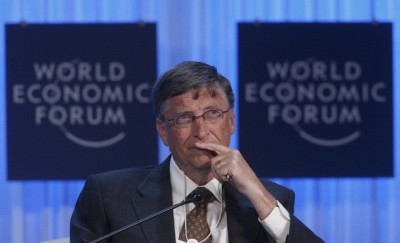 Gates, along with Microsoft CEO Steve Ballmer, both made the same six-figure contribution said Zach Silk, campaign manager for Washington United for Marriage, the group leading the charge for gay activists.
"It's going to make a tremendous difference," Silk told The Associated Press. "It's very important for us to have the broad support from business leaders and companies themselves."
In addition to Microsoft, other noted Washington State based companies such as Starbucks and Nike have also made sizable contributions.
The ballot initiative known as Referendum 74 seeks to overturn a law passed earlier this year by legislators and signed by Gov. Chris Gregoire legalizing same-sex marriage. Opponents of the measure, led by Pastor Ken Hutcherson of Antioch Bible Church, gathered twice the number of required signatures in order to get the referendum before the voters.
However, this is not the first time a Microsoft officer or executive has donated a sizable contribution to support homosexual rights and according to Hutcheson, the homosexual community has a tremendous amount of influence on the company.
Ric Weiland was one of Microsoft's first five employees and was instrumental in helping Bill Gates and Paul Allen launch Microsoft in the company's early years.
A quiet and unassuming man, friends often said he was uncomfortable with the amount of personal wealth he made as a result of his work at Microsoft. But after suffering with depression for many years, Weiland, who was gay, committed suicide in 2006 and left $65 million to several gay rights organizations.
Yet in spite of the contribution of Gates and other wealthy residents, Hutcherson expects supporters of traditional marriage to prevail at the ballot box in November.
"My warning to the folks supporting Referendum 74 is they have picked a fight like they've never seen before," Hutcherson told The Christian Post. "The fight to protect marriage is not about money, it's about motivating Christians to get out and vote."
And this isn't the first time Hutcheson has taken on the executives at Microsoft over the same-sex marriage issue. When company lawyers testified in front of a Washington State legislative committee in support of gay marriage, Hutcherson met with Microsoft and warned the company that if they continued, he would start a campaign to encourage his congregation – many of whom are employees of Microsoft – and other Christians to sell the company's stock.
Hutcherson admits that Washington State, known for its liberal leanings, is not the ideal place to wage a fight for same-sex marriage but also realizes that money alone cannot overpower the will of God.
"No doubt, it's a politically correct state out here," noted Hutcherson. "It's an important election because homosexuals are desperate for a victory after 32 consecutive losses. However, if we can win and bring the total up to 33 states, it will give Christians an even greater voice in Congress."
"Microsoft does exert a tremendous amount of influence out here so it is important that Christians mobilize for this election."
READ: GAY MARRIAGE - CULT WAR OR AMBUSH?
Interview with Bill Gates