Billy Graham, Pastor to the Presidents, Says Nancy Reagan 'Was an Extraordinary First Lady'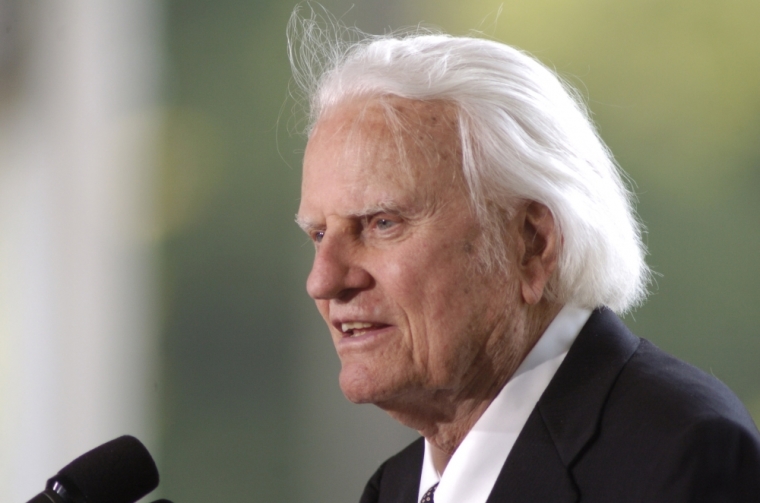 The Rev. Billy Graham described Nancy Reagan as an "extraordinary first lady" whom he looks forward to "being reunited with in Heaven" following the 94-year-old's death on Sunday.
Graham, 97, released a statement mourning the former first lady's passing on the Billy Graham Evangelistic Association's website, saying he was "privileged to know Nancy and Ronald Reagan for more than 50 years and greatly valued their friendship."
"I am saddened by the news of Nancy's passing," the evangelical leader continued, adding that Nancy "will be greatly missed, and I look forward to being reunited some day in the future in Heaven."
Graham said he believes one of Nancy's best qualities was her "steadfast and loyal support for her husband. She was an extraordinary first lady."
"On behalf of our family and the Billy Graham Evangelistic Association, we extend our condolences to the Reagan family, and pray God's continuing blessings on those Nancy has left behind," the religious leader added.
Graham has long been described as the "pastor to the presidents" for his close relationship to the country's leaders, often acting as their spiritual guide.
As stated on the BGEA website, Graham recalls knowing Nancy's late husband, President Ronald Reagan, before he became commander-in-chief in 1981.
"I remember when Reagan was president of the Screen Actors Guild, a union leader, and a very strong Democrat," Graham recalled.
As president, Reagan spoken about his relationship with Graham, saying the evangelical leader taught him how to pray.
"It was through Billy Graham that I found myself praying even more than on a daily basis ... and that in the position I held, that my prayers more and more were to give me the wisdom to make decisions that would serve God and be pleasing to Him," Reagan said, according to BGEA.
Joanne Drake, a spokeswoman for the Ronald Reagan Presidential Library, released a statement announcing Nancy Reagan had died at her home in Bel Air, California, on Sunday from congestive heart failure.
"Mrs. Reagan will be buried at the Ronald Reagan Presidential Library in Simi Valley, California, next to her husband, Ronald Wilson Reagan, who died on June 5, 2004. Prior to the funeral service, there will be an opportunity for members of the public to pay their respects at the library," Drake said.
Along with Graham, Republican presidential candidates also released statements mourning Nancy's death.
"Nancy Reagan will be remembered for her deep passion for this nation and love for her husband, Ronald. The Reagan family is in our prayers," Texas Sen. Ted Cruz said in a statement.
Florida Sen. Marco Rubio added: "Today our nation mourns the loss of Nancy Reagan, a true example of integrity and grace. My prayers are with the entire Reagan family."
President Barack Obama and first lady Michelle Obama also released a statement, saying that Nancy "redefined the role in her time" at the White House, and later "became a voice on behalf of millions of families going through the depleting, aching reality of Alzheimer's" after her husband was diagnosed with the degenerative disease.