Billy Graham Says His Heart Aches for 'Deceived' America
The Rev. Billy Graham has posted a new prayer letter on his website where he addresses the people of the nation and tells them he is very much afraid of the damage that the American lifestyle is doing in the eyes of the Lord.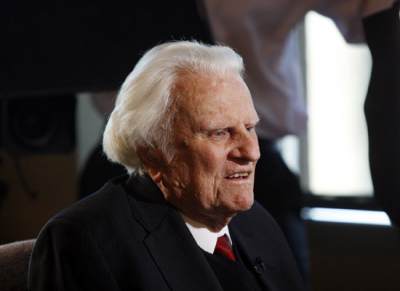 The 93-year-old evangelist begins his letter by recalling an incident a few years ago when his wife, Ruth, who has since passed away, remarked that "If God doesn't punish America, He'll have to apologize to Sodom and Gomorrah," referring to the cities in the Old Testament destroyed for the sinful nature of their residents.
"I wonder what Ruth would think of America if she were alive today. In the years since she made that remark, millions of babies have been aborted and our nation seems largely unconcerned. Self-centered indulgence, pride, and a lack of shame over sin are now emblems of the American lifestyle," Graham remarks.
The pastor then goes on to refer to several other incidents in recent times where he sees the American government and American society as a whole coming down on Christians – including instances where chaplains who serve the police department have been told to no longer say the name of Jesus during prayer.
"Our society strives to avoid any possibility of offending anyone – except God," Graham says. "Yet the farther we get from God, the more the world spirals out of control."
"My heart aches for America and its deceived people," Graham continues. "The wonderful news is that our Lord is a God of mercy, and He responds to repentance. In Jonah's day, Nineveh was the lone world superpower – wealthy, unconcerned, and self-centered. When the Prophet Jonah finally traveled to Nineveh and proclaimed God's warning, people heard and repented."
Despite the critical condition he sees America in today, Graham shared that he still sees hope in the future, and believes that the people still have a chance to repent and change their ways. Sharing of future plans for his ministry, he described a project his son Franklin Graham will be working on – launching an outreach called "My Hope with Billy Graham," which has the mission to bring the Gospel into every neighborhood in America next year. The outreach effort has already reached more than 50 countries around the world.
"We've worked in close partnership with local churches across each country, and those churches have reported millions of life-changing decisions for Christ. Carrying out a nationwide American version of this evangelistic outreach will be an enormous undertaking, but in my spirit I know God has called us to do this, and I pray He will stir your heart to join us in prayer and support," Graham explained.
Sharing of his summer activities, the preacher noted that he is enjoying visits from his family and grandchildren, but that he is also working hard on a new book that outlines the path toward eternal salvation so that the world can wake up to what the Bible says.
"Although age and health restrict my mobility and my stamina, not to mention my eyesight and hearing, I am thankful for the days God has given me, and I am humbled by His continued hand of favor on the Billy Graham Evangelistic Association. The Lord draws people to Himself daily through BGEA's various evangelistic ministries, and I am so deeply grateful," Graham concluded.
Rev. Billy Graham at age 92 (Most Recent Interview)