Billy Graham: World Has Reverted to Barbarism as People Have Forgotten Jesus' Words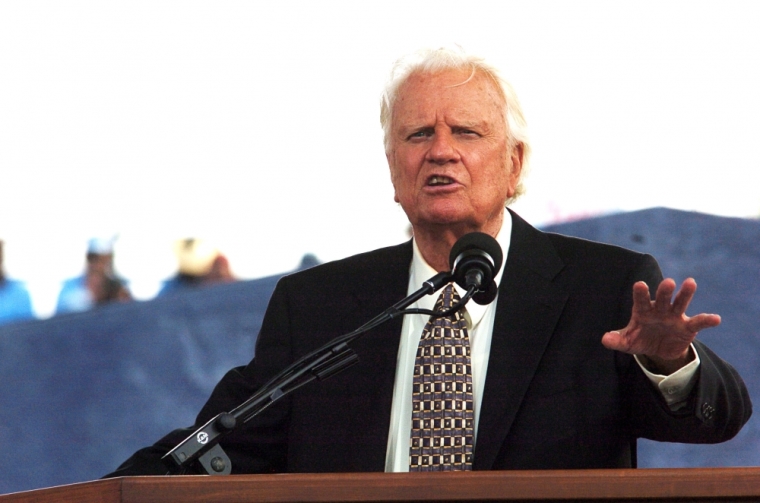 The Rev. Billy Graham warned in a daily devotional post that the world has reverted to a "sort of barbarism," with practical Christianity declining and people forgetting Jesus' words.
"The world, in the last few years, has reverted to a sort of barbarism. As practical Christianity has declined, rudeness and violence have increased. Neighbors quarrel with neighbors. Fighting is a major problem in our schools and the 'gang wars' of the teenagers have come to present a serious menace in our cities," the world-famous evangelist wrote in a devotional published on his website Saturday.
"Fathers and mothers wrangle and bicker. Homes are disintegrating. High government officials in Washington engage in name-calling and in heated disputes not at all in keeping with the dignity of their office."
The increasing vitriol in the nation was called out by Republican Sen. Marco Rubio earlier this year. While on the Senate floor, he warned that "we have become a society incapable of having debates anymore."
"I don't know of a civilization in the history of the world that's been able to solve its problems when half the people in a country absolutely hate the other half of the people in that country," he said. "And I'm just telling you, we are reaching a point in this republic where we're not going to be able to solve the simplest of issues."
In Graham's devotional, which is titled "An Angry World," the 98-year-old evangelist pointed to one reason for the "savagery" that has "crept into our social life."
"It is because we have forgotten Jesus' words, 'Happy are the meek; for they shall inherit the earth,'" he said, referring to one of the Beatitudes.
"I have seen tough, rough, hardened men open their hearts by faith, receive Christ as Savior, and become gentle, patient, merciful gentlemen."
Ending the devotional with a prayer, Graham said, "Fill me with Your mercy and love, Lord. In an angry world let me be used to bring peace where there is strife."
In an earlier column, the evangelist tackled the question of what the one unforgivable sin is — that is, "the sin of refusing His forgiveness".
"No matter who we are or what we've done, God still loves us, and He promises to forgive us — totally and completely — if we will only turn to Him in repentance and faith," wrote Graham.
"Is this hard for us to accept? Yes, it is — because it's not the way we usually treat each other ... if someone deeply hurts us or cheats us or lies about us, then we have a much harder time forgetting about it or forgiving them."
Earlier in June, it was reported that the Billy Graham Evangelistic Association has been receiving threats made online, which prompted the Charlotte-Mecklenburg police to get involved.
"The Billy Graham Evangelistic Association can confirm that it has communicated with law enforcement regarding comments received via the internet containing potential threats to a third party," a BGEA spokesperson said at the time.
"As this is an on ongoing investigation, we defer any additional comments to law enforcement and appreciate their attention to the matter."
The threats reportedly began on April 11, with eight of them recorded in the last two months.