Bishop Eddie Long Divorce Petition Filed by Wife Has Not Been Dropped
New Birth Missionary Baptist Elder Vanessa Long's Attorneys Say Divorce Is Still On
In a strange series of events Friday, it was brought to the public's attention that Vanessa Long, the wife of New Birth Missionary Baptist's Bishop Eddie Long, had filed for divorce, per a statement from her attorneys. However, just three hours later, the Lithonia, Ga., megachurch issued a statement said to be from Long insisting the first lady had experienced a change of heart. Again, shortly thereafter, Mrs. Long's attorneys released a second statement, making it clear that Mrs. Long had every intention of following through with a divorce – and was seeking to do so "expeditiously."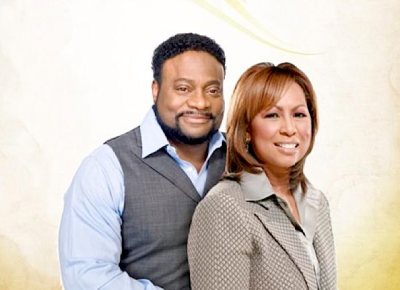 The most recent statement for Mrs. Long, an elder at New Birth, came from Kilpatrick, Townsend and Stockton law firm partner Michael W. Tyler, according to the Atlanta Journal-Constitution. The statement, made available to members of the media Friday evening, reads:
"Consistent with her original statement made this morning, Mrs. Long continues to hope that this matter may be resolved expeditiously, harmoniously and fairly; however, she has determined that dismissal of her divorce petition is not appropriate at this time."
The statement also verified that any future comments regarding the divorce proceedings from Mrs. Long would come through her attorneys to "avoid any undue confusion."
The confusion began when Mrs. Long reportedly informed the media early Friday that she had "decided to terminate [her] marriage to Bishop Eddie L. Long," which she had authorized her attorneys to do on Thursday, Dec. 1.
By lunchtime, a second statement came through. The second statement, issued in Elder Vanessa Long's name, was made on New Birth letterhead from the church's media relations department. The statement was also published on the megachurch's Facebook page:
"Upon prayerful reflection, I have reconsidered and plan to withdraw my petition for divorce from my husband, Bishop Eddie L. Long. I love my husband. I believe in him and admire his strength, and courage. My filing followed years of attacks in the media that frustrated and overwhelmed me. I love my family and church family, New Birth Missionary Baptist Church. Therefore, my husband and I have mutually agreed to find healing from these attacks. We ask that you respect our privacy during this time."
Reportedly, after learning that his wife had no desire to drop her divorce suit, Bishop Long issued a statement on New Birth Missionary Baptist Church's Facebook page:
"God has blessed us with a wonderful family. Vanessa is, and has always been, a loving, dedicated and committed wife and Mother. My love for her is deep and unwavering. It remains our sincere desire to continue working together in seeking God's Will in these circumstances. We will do so as privately as possible and with a spirit of love and sensitivity to our family. We ask that you be in prayer for our family and that we be allowed to privately pursue this important path without need, or request from the media, for further comment."
Followers of New Birth on Facebook expressed prayers of support and love for the Longs.
"If you both can stand to go through it; we can love you through it. We can be the Body of Christ. In being the Body, our role is not to judge or to gossip or really even to know or ponder the details. WE ALL HAVE ENOUGH OF OUR OWN BUSINESS TO HANDLE!" wrote Cheryll Andrews.
Some others, however, wondered at both Mr. and Mrs. Longs' requests for privacy.
"Enough already. Everyone wants their privacy respected but they post on Facebook or send news releases to the AJC," wrote Joseph Flauta.
Bishop Long, already embroiled in a slew of legal matters, was recently named in a lawsuit by 10 members of his church who claim he coerced them into investing with businessman Ephren Taylor Jr. Taylor is currently being probed Georgia authorities for allegedly carrying out a series of Ponzi schemes.
Long has also come to the defense of a former security guard accused in a burglary at the church and has also recently settled in a case involving the default of a $2 million loan for a gymnasium.
Also, in late September, Long requested repayment of settlement money from Jamal Parris, Spencer LeGrande and Centino Kemp, three men who had accused him in a 2010 lawsuit of luring them into sexual relationships with lavish gifts and trips when they were teens attending New Birth.
The settlement had a confidentiality agreement, which Long's attorneys say the young men violated when they spoke publicly about the allegations. Long was reportedly seeking at least $900,000 in repayment from the young men, with speculation that a total of $15 million was paid out to a total of five accusers, which included Maurice Robinson and a fifth accuser not named in the lawsuit.
There were reports in June of this year that Vanessa Long had contemplated moving out of their home. Those rumors were denied, however, by New Birth.
The Longs have been married for 21 years and share three children.
According to the AJC, this would be Bishop Long's second divorce, after divorcing Dabara S. Houston in 1985. Houston and Long's son, Edward Long, serves at New Birth.
Update Dec. 5, 2011: Bishop Eddie Long has announced he will be taking a break from his church. Please see the video below:
Bishop Eddie Long Takes Brief Leave of Absence