Bishop Eddie Long's Wife to Withdraw Divorce Suit After 'Prayerful Reflection' (VIDEO)
Vanessa Long's Change of Heart Comes Hours After Statement Declaring Intent to Divorce
Only hours after it was announced Friday that the wife of legally embattled Georgia minister Bishop Eddie Long had filed for a divorce, it now appears that Vanessa Long has had a change of heart, as the first lady of New Birth Missionary Baptist church has announced that she will withdraw the suit.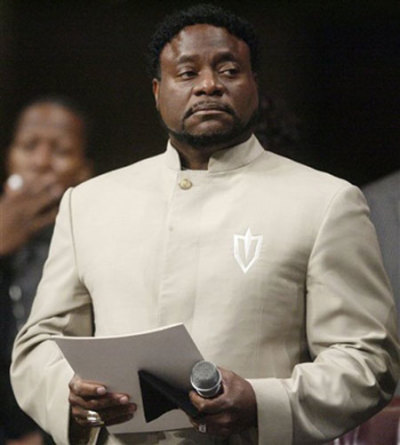 Vanessa Long issued a statement Friday morning saying that after "a great deal of deliberation and prayer, I have decided to terminate my marriage to Bishop Eddie L. Long" and that she had authorized her attorneys to do so on Thursday, Dec. 1, according to the Atlanta Journal-Constitution.
However, by the afternoon, Mrs. Long sent a second statement, saying, according to the Atlanta Journal-Constitution: "Upon prayerful reflection, I have reconsidered and plan to withdraw my petition for divorce from my husband, Bishop Eddie L. Long. I love my husband. I believe in him and admire his strength and courage."
She reportedly blamed "attacks in the media" for her initial decision to divorce Long.
Long, pastor of New Birth Missionary Baptist Church in Atlanta, Ga., has been charged recently with sexual harassment and sued for allegedy enmeshing his congregation in a million-dollar Ponzi scheme.
Long has been scrutinized by the Christian community since he was accused of sexual misconduct in Sept. 2010 by four young men, all former members of New Birth. The men filed a lawsuit against the pastor claiming that he had lavished them with gifts, trips and money while coercing them into sexual contact.
Long denied the charges of sexual misconduct and vowed to fight them, all the while maintaining that he tried to serve as a father figure to the young men and offer them support, financial assistance and guidance.
In the midst of the case, the Georgia minister was sued by a fifth man, who was not a member of the church, and who reportedly received $94,000 without ever officially becoming an "accuser."
In May of 2011, an out-of-court settlement was reached between Long and his accusers in which each was to receive undisclosed sums of money as long as the case was not discussed. Sources estimate the cost of the settlement to have been around $15 million.
In October, 10 members of Long's church filed a civil suit against him for allegedly using his influence to convince them to invest in a what turned out to be a million-dollar Ponzi, or pyramid, scheme, according to court papers.
In Vanessa Long's first statement announcing the divorce, she said that it was her "sincere hope that this matter can be resolved expeditiously, harmoniously and fairly. I ask that you respect my privacy and that of my family, as my attorneys and I have agreed that we will not try this case in the media, and I do not intend to make any further statements concerning this matter."
The couple married in 1990 and have three children together.
Members of New Birth and supporters of the Longs offered prayer for the Georgia couple as news concerning the divorce emerged.
Bishop Eddie Long's Wife Withdraws Divorce Petition
One commenter, Art Lopez, wrote on New Birth's Facebook page, "Jesus loves you Pastor Eddie, be forthright with Him and He can do a miracle regarding your [situation]."