Black Pastors Speak Out on Obama's Gay Marriage Stance
Black pastors across the country dwelt on President Barack Obama's stance during worship services Sunday, after Obama's May 9 announcement that he supports gay marriage.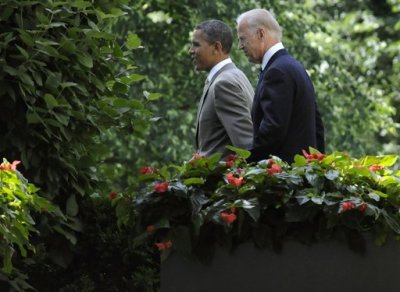 The Rev. Emmett C. Burns Jr., a politically influential black minister, held an event Sunday at his Rising Sun Baptist Church in Baltimore, Md., to publicly withdraw support from Obama over his same-sex marriage support, CNN reported. "I love the president, but I cannot support what he has done," Burns was quoted as saying at the church. He also predicted that Obama's stance would lead to his defeat in November.
Many other black ministers differed with Obama's stance but also said they'd continue to support him.
The Rev. Wallace Charles Smith of the largely black Shiloh Baptist Church in Washington said the church is against same-sex marriage. However, he did not fully condemn the president, noting there were "larger challenges that we have to struggle with." He said, "We may disagree with our president on this one issue. But we will keep him lifted up in prayer. ... Pray for President Barack Obama."
The willingness of African-American pastors to openly talk about same-sex marriage is an emerging trend, some believe, and can possibly hurt Obama.
Atlanta-based Tim McDonald, founder of African-American Ministers Leadership Council, was earlier quoted as saying that more black pastors were talking about gay marriage than ever before. "Three years ago, there was not even a conversation about this issue. There wasn't even an entertainment of a conversation about this."
A poll held in April by Pew Research Center found that almost half of all African-Americans oppose legalized same-sex marriage, as compared to 43 percent of whites who oppose it.
A May 10 USA Today/Gallup poll also warned that the president's support of gay marriage might make some independents and Democrats less likely to vote for him in November. It found that 23 percent of independents and 10 percent of Democrats say it makes them less likely to vote for Obama, while a smaller 11 percent of independents and 2 percent of Republicans say it makes them more likely to vote for Obama, the first president to publicly support gay marriage while in office.
Obama made the historic announcement last Wednesday in an interview with ABC News. He said, "[I]t is important for me to go ahead and affirm that I think that same-sex couples should be able to get married." Obama cited friends, family and staff as well as the Golden Rule for his position in now supporting gay marriage.
Dr. Ken Hutcherson, pastor of Antioch Baptist Church in Redmond, Wash., told The Christian Post last Thursday that he would never vote for someone who believes in same-sex marriage and abortion, "regardless who it is, regardless how white they are, regardless how black they are."
Rick Santorum has urged presumptive Republican nominee Mitt Romney to use Obama's support of same-sex marriage as a "potent weapon" in the November election.
The former presidential candidate told Arkansas TV station KARK, "This is a very potent weapon, if you will, for Governor Romney if he's willing to step up and take advantage of a president who is very much out of touch with the values of America."
Santorum also said during his interview with the channel Friday night that he hoped Romney would continue to "stand tall for his position on this issue and understand how detrimental it would be for society for it to have this changed." The presumptive GOP nominee, Santorum added, "has to talk about his values. That's the most important thing."
Romney reiterated his opposition to gay marriage after Obama's announcement, but he later seemed hesitant in making it one of the main issues of his campaign.
Romney told Fox News last Thursday, "I believe that marriage has been defined the same way for literally thousands of years by virtually every civilization in history and that marriage is by its definition a relationship between a man and woman." He also said it's fine for gay couples to adopt children.
However, in North Carolina, where voters approved a constitutional ban on gay marriage and civil unions by a large margin last week, Romney remained silent on the issue during his visit last Friday.
Notably, a day later, he reaffirmed his support for traditional marriage in front of thousands of evangelicals at Liberty University's commencement ceremony.
READ: PASTORS, DON'T GO WOBBLY OVER GAY MARRIAGE!
Tracking Obama's "Evolving" Gay Marriage Position