Blizzards, Tornadoes Kill 43 Across US, Thousands of Homes Destroyed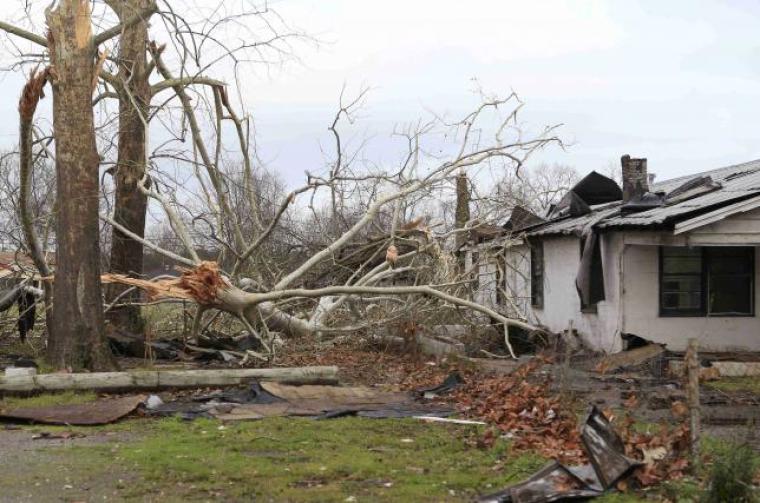 Extreme weather conditions, ranging from blizzards to tornadoes, have killed at least 43 people across seven states over the Christmas period.
"This is a huge impact on our community, and we're all suffering," said Garland Police Lt. Pedro Barineau from Dallas, where eight people were killed and 15 were injured, according to Fox News.
New Mexico, West Texas and the Oklahoma Panhandle suffered heavy snow fall, while at least nine tornadoes swept through the country, destroying as many as 1,450 homes.
The National Weather Service revealed that the Dallas area was hit by an EF-4 tornado with winds up to 200 mph on Saturday. At least three of the victims were found dead in their vehicles, with cars appearing to have been thrown from Interstate 30.
Dallas County Judge Clay Jenkins declared the city a disaster upon assessing the damage.
"I don't declare local disasters lightly," Jenkins said. "But I looked at the scene for 10 minutes, spoke to the incident commander and then called the lawyers to bring the paperwork."
"It is total devastation," Barineau added. "It is a very difficult time to be struck by such a horrible storm the day after Christmas."
Reuters noted that 13 people died in Missouri and Illinois due to flash flooding, while the governors of Missouri and New Mexico declared states of emergency.
New Mexico Gov. Susana Martinez noted that a winter storm had dumped 2 feet of snow across the state, with the city of Roswell seeing its one-day snowfall record broken after it received 12.3 inches by Sunday night.
Close to 1,500 flights were also canceled across the U.S. on Sunday, according to FlightAware.com, due to the bad weather.
The Billy Graham Rapid Response Team said on Sunday that it sent two crisis-trained chaplains of the Dallas area to provide emotional and spiritual care to the residents who have been affected by the tornado damage.
"For many people across Texas, Mississippi and Alabama, the new year will begin with heartache as they mourn the loss of loved ones and pick up the pieces from devastating Christmastime storms," the organization said.
"Chaplains Carolin and Desi Perez are traveling to Dallas from their home in Oklahoma. They'll join sister ministry Samaritan's Purse, which has sent workers to survey the damage and see how they can help."
The RRT, founded by the Billy Graham Evangelistic Association, regularly sends chaplains to disaster areas across America. It says it has ministered to over 110,000 people since its founding in the wake of 9/11.