Boko Haram Massacre: Woman Slaughtered While Giving Birth; Satellite Images Reveal 'Catastrophic Devastation'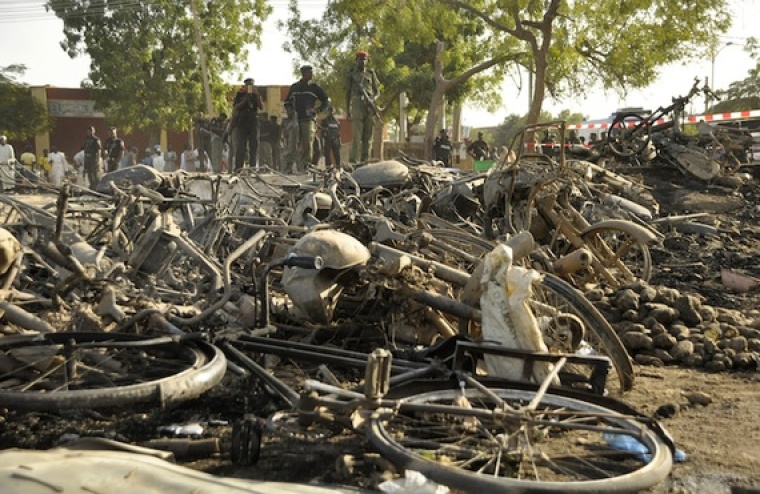 Jihadists from Boko Haram reportedly killed a woman in the middle of giving birth to a baby boy, witnesses to last week's massacre in Baga and surrounding villages have said. Satellite images released by Amnesty International revealed the extent of the "catastrophic devastation" following the attacks, which are believed to have killed up to 2,000 people.
"They killed so many people. I saw maybe around 100 killed at that time in Baga. I ran to the bush. As we were running, they were shooting and killing," one witness said.
Another pointed out that Boko Haram killed women and children indiscriminately, including one woman who was in labour.
"[H]alf of the baby boy is out and she died like this," the witness described.
Boko Haram's massacre on Baga followed an earlier offensive where a key military base there was captured by the jihadists, who've been waging war on the Nigerian government since 2009.
There have been conflicting reports on how many people were killed in total, since the Islamic terrorists still control the area.
While the Nigerian government has denied that thousands of people died in the attack, western media reports have noted that officials often look to play down the precise number of dead in order not to incite further unrest in the country.
Amnesty released satellite images comparing how Baga looked before and after the attack, and estimated that as many as 3,700 structures were damaged or completely destroyed in the raid.
"These detailed images show devastation of catastrophic proportions in two towns, one of which was almost wiped off the map in the space of four days," said Daniel Eyre, Nigeria researcher for Amnesty International.
"Of all Boko Haram assaults analyzed by Amnesty International, this is the largest and most destructive yet. It represents a deliberate attack on civilians whose homes, clinics and schools are now burnt out ruins."
Christian leaders in Nigeria last week noted that several churches were also burned down in the attack.
"I received a message of the Christians Association of Nigeria, the association of Christian churches in Nigeria, which states that in that area Boko Haram has burned several churches and caused numerous victims" said Fr. Patrick Tor Alumuku, director of social communications of the Archdiocese of Abuja.
Thousands of people have fled the region and sought refuge in the neighboring country of Chad, while the Nigerian army has faced mounting criticism for its failure to contain Boko Haram.
Pastor Laolu Akande, the executive director of the Christian Association of Nigerian Americans, said earlier this week: "The numbers are adding up fast and it is becoming clearer and clearer that the Nigerian governments, both federal and states, are failing resoundingly in their responsibility to protect innocent lives and prevent this mass atrocities from going forward. These atrocities are increasingly becoming worse and worse as the times go by."
Fox News reported that American lawmakers have noted last week's horrific attack and are calling for the White House to develop a strategy to contain the terror threat.
"If we don't stop it in its tracks, we are destined for this horrible group to not step back but to continue to be in power," said Rep. Sheila Jackson Lee, D-Texas.
Reps. Patrick Meehan, R-Pa., and Peter King, R-N.Y., added in a letter to Secretary of State John Kerry:
"It is clear that the United States needs a comprehensive strategy to address Boko Haram's growing lethality."